News
What made Stewart Cink's unlikely Safeway Open win special is who was there to share it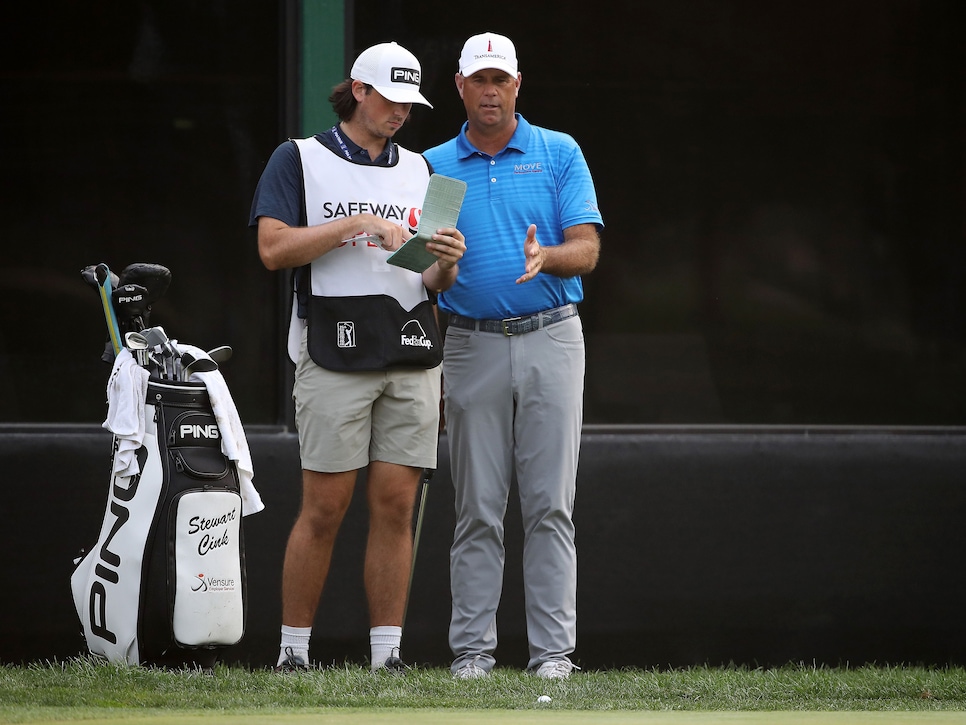 This day, this win, like his last one more than 11 years ago, didn't belong solely and totally to Stewart Cink. This win, Sunday at the Safeway Open, at age 47, he still had to share. And he didn't mind one bit.
But then, he didn't mind sharing the spotlight more than a decade ago at Turnberry, either, when he cradled the claret jug while standing next to the man he vanquished, the man who nearly pulled off one of the most epic victories not just in golf but in all of sport.
Tom Watson came so achingly close to capturing the 2009 Open Championship at the inconceivable age of 59 until fate and Cink intervened. The Georgia resident was too good—and too much younger than a worn-out Watson—in the playoff and won easily, but so much of what is remembered about that day boils down to what could have been.
Finally finding the winner's circle again, well-earned after a 65-65 weekend and the tournament record in relation to par, Cink deserved to take a bow alone after his two-stroke victory over Harry Higgs at Silverado Resort & Spa in Napa, Calif. Only he couldn't. He wouldn't let himself. Not when he had his son, Reagan, on the bag. Not when his wife, Lisa, a champion in her own right after fighting off cancer, was following every step of the way.
"I've got to share it with Reagan this time," said Cink, who gave his son loads of credit for saying or doing the right things at the right time while caddieing for his dad for just the fourth time.
Early in the final round, when Cink started two strokes behind leaders Cameron Percy, Brian Stuard and James Hahn, Reagan had an epiphany and said, "Dad, you know what, your tangibles are really, really good right now," referring to the Ping clubs the elder Cink had dialed in during a visit to the equipment manufacturer's headquarters in Arizona two weeks ago. He's talking about the clubs. "Let's just take care of the intangibles today."
"That was great advice," the father admitted.
Lisa did her part earlier in the day, too, reminding her husband of 27 years how good he can be, how good he still is. She had a feeling about the week. "One thing I always get from my wife," Cink said, "is she always has this like … she will grab me by the shirt and say like, 'Do you know how good you are?' Sometimes it takes somebody around me who's really close … to remind me like, oh, yeah, I'm pretty good, because I tend to wander away from that belief. So she has a good way of doing that and she did that a little bit this week. She did that this morning."
Stewart Cink glances at the claret jug he won over Tom Watson in 2009.
David Cannon
As he walked off the 14th green, Stewart approached Lisa as she hovered near the ropes. He grabbed her arm and whispered to her. She has been such an inspiration to him, the way she battled and overcame breast cancer. Stewart took a leave of absence from the tour in 2016 to support her. "I just told her how grateful I was at that moment," said Cink, a man of strong faith who underwent surgery on his nose in 2018 for skin cancer. "I just was feeling this great sense of gratitude."
That feeling likely only got stronger when he birdied three of his last four holes after that to offset a three-putt bogey at the par-4 17th, just his second bogey of the week. He finished at 21-under 267 to register his seventh career PGA Tour title and end a winless drought of 4,074 days.
Long before capturing the season opener, which will keep him exempt on tour until he turns 50, Cink had come to terms with the possibility that he might never win again after that surreal day in Scotland, and that, "maybe age might have caught up with me."
There's some irony for you.
But, he added, "I wasn't ready to concede that."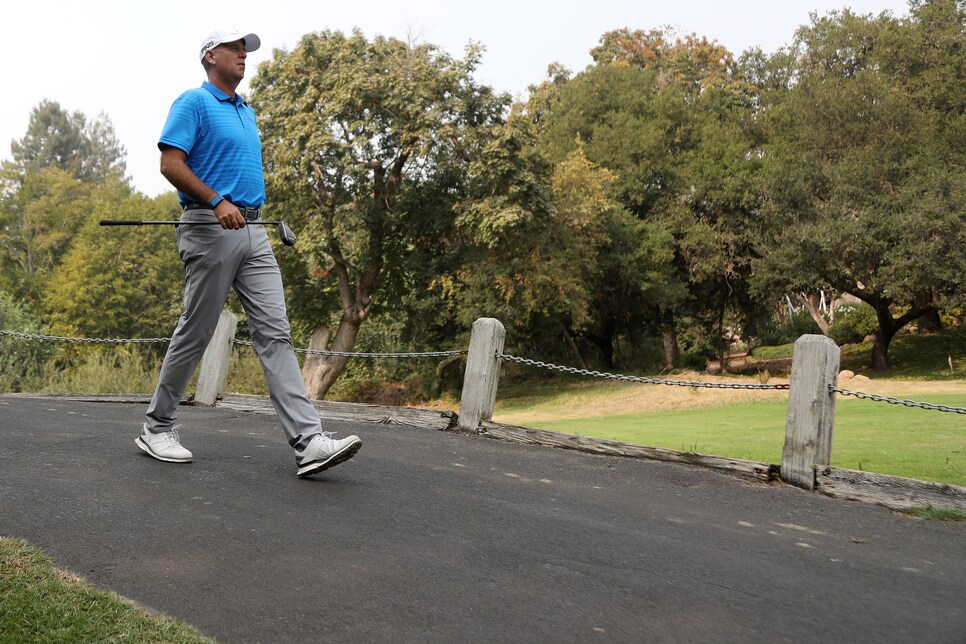 Cink walks on the eighth hole during the final round of the Safeway Open.
Jed Jacobsohn
Cink got the sense that he wasn't just around to make a decent check and that he could win the thing after the events at the 11th hole. He missed the green short at the par-3 but found his ball, "on the most beautiful, perfect lie. Perfect lie," he said. "The chip basically became so simple that all I had to do was treat it like a putt and catch it on the clubface somewhere."
Which he did so well that the ball went straight into the cup. "It was a little bit of an omen," Cink conceded. "I just felt like that was a really big moment there that propelled me into like a real like lockdown type of focus."
Cink, who fought his emotions during the round and lost that battle after when standing between Reagan and Lisa during a Golf Channel interview, felt compelled to share the credit for that, too. He gave a nod to his instructor James Sieckmann, his swing coach, who also has been helping him in recent weeks with the mental side of the game.
Geez, that spotlight is getting kind of crowded.
But that's Cink, who said on Sunday that, "I don't want winning to be something that I have to do to, like, fulfill myself."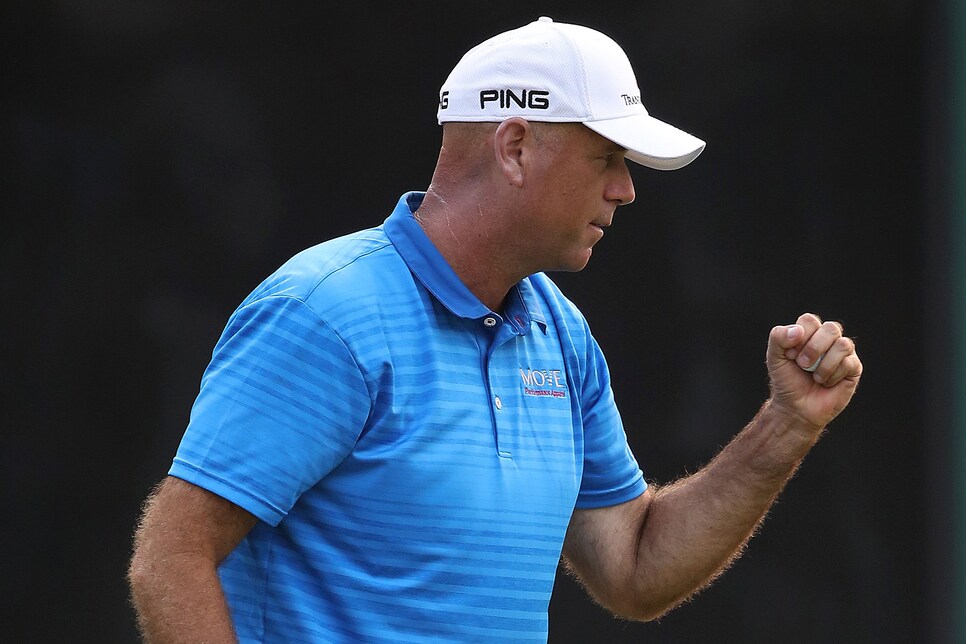 Stewart Cink celebrates after his birdie on the 18th to finish -21 in the final round and win the Safeway Open.
Sean M. Haffey
Which is why, on that sunny day 11 years, one month and 25 days ago, he couldn't begrudge anyone making such a big deal about the quality of golf that Watson produced over those four mystical days. Cink found it inspring. Why shouldn't everyone else?
"I always felt that Tom deserved every bit of the accolades that he got from his performance that week," Cink said. "People ask me this all the time. I feel like I won the Open Championship that year. I don't feel like I took it out of Tom's hands or I disappointed the world. I don't care what they all think about that, and I don't think Tom would ever think that either. I don't mind sharing the spotlight with him for that.
"This week, yeah, it is special because I got to share it with Reagan, but if I had to share it with another player or if there was another person in the spotlight this week that was part of the story, too, I wouldn't care at all."
But, no, Cink deserves kudos alone. He proved to himself that he could still hit the shots under pressure, that he could keep his nerve. Forty-seven isn't 59, but Cink, who had just one top-10 finish last season and missed the FedEx Cup Playoffs, persevered against competition that seems to get younger by the hour. He is the oldest winner on the PGA Tour since Phil Mickelson won last year's AT&T Pebble Beach Pro-Am at 48.
Cink seemed ready to at least give himself a little credit. He talked about being clear-headed and calm down the stretch. "It just felt like the right place for me to be up near the top of the leader board," he said before reverting to type. "Then when it came time for me to kind of wrestle the bull to the ground, we were able to keep our composure, me and Reagan both—at least it looked like it on the outside—and get the job done."
Sure, they got it done. The Cinks, together. But just like at Turnberry, the story of the Safeway Open might have many characters deserving of mention, but only one man's name is going on the trophy.