Company man
British Open 2023: Stewart Cink refuses to reveal how bad his travel issues were, is the ultimate company man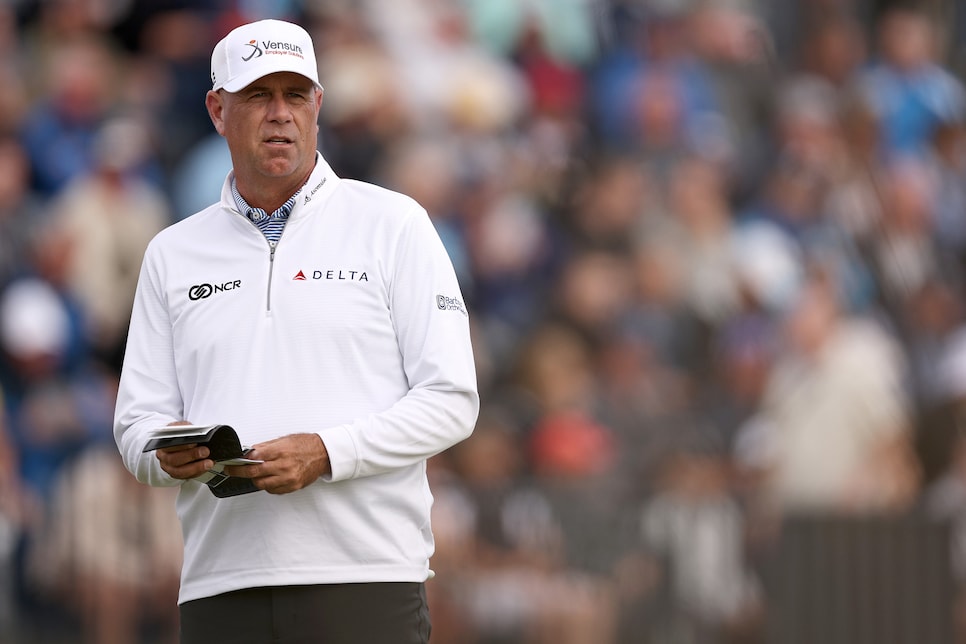 Anyone who has attempted to travel via airplane over the last few months is keenly aware of just how bad it has gotten. Two-hour delays are now the standard. Cancellations have become common and the reasons as to why usually amount to a shoulder shrug. And it's no single airline that's at fault. They are all equally terrible.
Even former major champions are not immune to travel issues. Stewart Cink, who broke the golf world's heart by defeating 59-year-old Tom Watson at the 2009 Open Championship, had some serious trouble getting to Royal Liverpool this week. The 50-year-old was supposed to fly to Hoylake on Sunday evening, but Sunday evening turned into Tuesday morning due to "travel difficulties," as Cink described.
He would not go into detail, however, because he is the ultimate company man.
"We had some travel difficulties, and because of what is right there on my shirt, I'm not going to tell you what happened," Cink said on Thursday. "Our flight Sunday night got cancelled so we had to reroute, and the best we could do was fly 24 hours later from Atlanta."
Notice the logo on Cink's quarter zip, right over his heart:
A real life version of "*COUGH COUGH* Delta *COUGH*." A very smart and financially-sound move by Cink not to actually call the airline in question out. Don't bite the hand that feeds you.
The good news is, the late arrival had no effect on his play in the opening round at Royal Liverpool. The former champion golfer of the year started his week with a three-under 68, which currently has him two shots off the lead of amateur Christo Lamprecht, a fellow Georgia Tech Yellow Jacket who played directly in front of Cink.
Of course, it was still a mad scramble to get ready with 48 less hours to prepare.
"We had to really organise ourselves as far as -- we had to sort of balance rest, preparation on the course," Cink said of his late arrival. "I've played here the last two times, but it hasn't really helped me because I don't remember that much about it, to be honest, and we played two vastly different conditions. 2006 it was like -- It was a drought. Then we had the flood. This year we've had probably more flood type conditions than drought.
"But it's been three different kind of golf courses, so we had to get out there and figure out the golf course, make a game plan," he added. "We had to rest and help ourselves adjust to the time. We had a super long day on Tuesday, and I got in trouble for that. Lisa [Cink's wife] got mad at me because I kept at it too long. We're still trying to get there, but that's one of the great things about golf, is when the gun goes off and you start in the tournament, you've got that adrenaline, and adrenaline does wonders for your jetlag."
Some extra rest will do wonders too, and Cink should get plenty of that after playing in the morning wave. Even better news - if he keeps this up, he'll be moving on to the weekend, and thus won't have to deal with more travel "difficulties" on Friday night.