Mitsubishi Electric Championship
Steve Stricker wins by 6 shots in Hawaii and the rest of the Champions Tour should be very afraid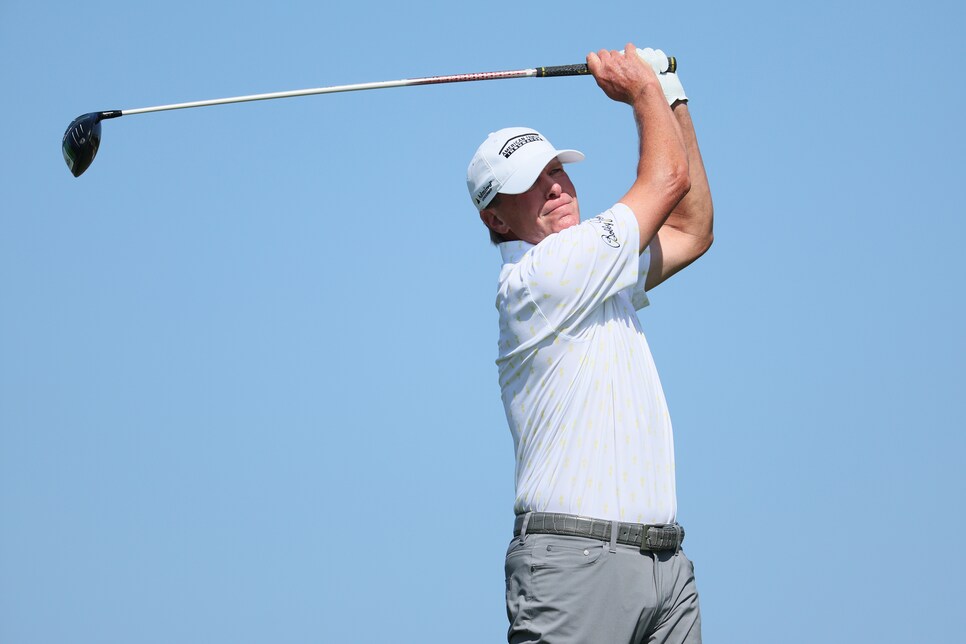 Steve Stricker hits his tee shot on the second hole during the final round of the Mitsubishi Electric Championship.
Andy Lyons
It took only a single tournament into the 2023 PGA Tour Champions season for a frontrunner to emerge, the player to beat from here on out. Steve Stricker put down that marker on Saturday with his victory in the season-opening Mitsubishi Electric Championship at Hualalai on the Big Island of Hawaii.
Stricker, 55, wrested control of the tournament a day earlier by virtue of his 12-under par 60, a course record, that staked him to a two-shot lead, and he closed out his 12th senior victory with a final-round seven-under par 65. His 54-hole score of 23 under par was six better than a foursome of runners-up— Darren Clarke, Mike Weir, Ken Tanigawa and Steven Alker.
"It was a lot of fun," Stricker said. "It's a great way to start the year, right? To win here, I didn't know what kind of game I had coming into this week, but it was pretty good."
This likely will be the first year that Stricker plays a full schedule of senior events, which doesn't bode well for the competition. Stricker has won precisely one of every four tournaments he has played as a senior—12 of 48, or 25 percent of them, best percentage in the history of the senior tour for those with 10 or more victories.
"I'm going to play a little more," he said. "I've got a full schedule. I'd like to get in a couple of regular tour events, too. I'm going to concentrate on out here and playing as much as I can out here. It's a good start."
When Stricker turned 50 in 2017, he continued to play numerous PGA Tour events, and when he was named captain of the 2020 U.S. Ryder Cup team, which was pushed to 2021 by the COVID-19 pandemic, he wanted to remain playing PGA Tour events for the purpose of evaluating potential team members.
Then last year, a serious illness delayed the start of his season by five months, after which he won four of 12 starts. He has not played more than 13 events in a season, that coming when the shortened 2020 season was folded into the 2021 season.
Now healthy and likely playing virtually all his golf on the senior circuit, well, the competition has been put on notice.
Perennially one of the best putters in golf, Stricker had a minor problem creep into his stroke in the first round, when he shot a 68, three strokes off the lead. He identified the flaw, resulting in a bogey-friend round of 60 on Friday.
"It was something really simple, just ball position," he said. "I was struggling on the ball kind of jumping left on me a little bit. I've been putting OK in the week prior to this, just trying to practice, but just moved the ball back a little bit, my hands got a little ahead and all of a sudden the ball seemed to start on my line a lot easier.
"It paid off. I made a nice putt right away at the first hole, a 10-footer, eight-footer, whatever it was. That kind of gave me some confidence right out of the chute that I was doing something right."
In the final round, none of those chasing got closer than two strokes of Stricker's lead. Stricker methodically fended off every challenge, and when he holed a 40-foot eagle putt on the par-5 14th hole, his lead was four.