News
Steve Stricker 'sure I could still win,' three off the lead at AT&T Pebble Beach Pro-Am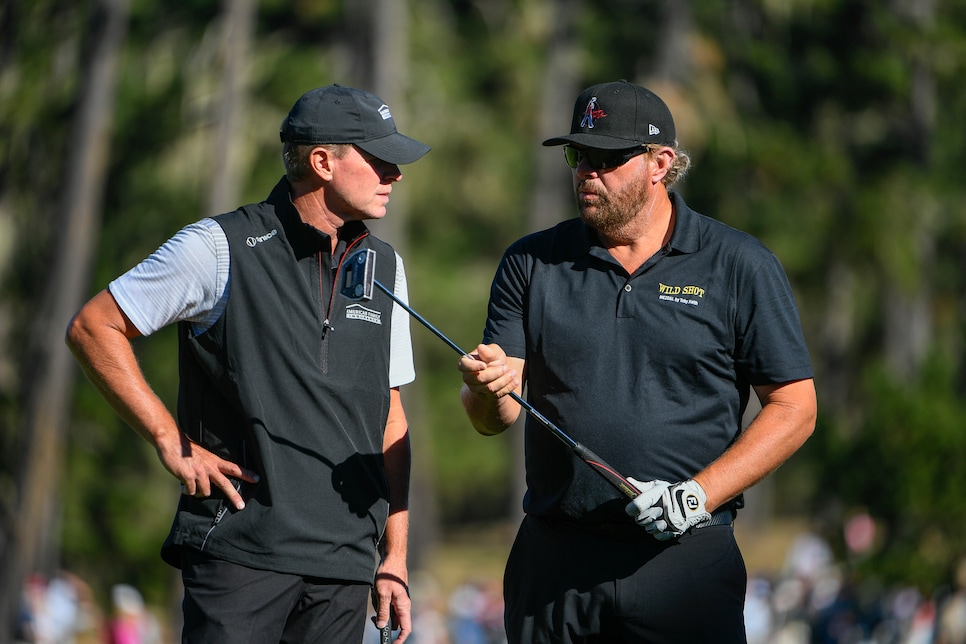 PEBBLE BEACH, Calif. – Steve Stricker appeared to put a deservedly rewarding exclamation point on a solid career in October when he led the U.S. Presidents Cup team to one of the most breathtaking victories in the history of either of the game's professional team match play events – the Presidents Cup or Ryder Cup.
Stricker might not have won a major title, but his 11 PGA Tour wins and his rise from a protracted slump to No. 2 in the world behind Tiger Woods are testament to a resolute doggedness that complemented his abilities and were at variance with his undeniable amiability. In short, he knew how to be a nice guy and not finish last.
It's impossible to gauge how much of that rubbed off on his American players in the 12th Presidents Cup, but one thing is certain, and that is Stricker sure didn't get in their way as the U.S. nearly clinched another victory on Saturday night, an inexplicable show of dominance over a talented International squad.
Nice way to ride off into the sunset. Time for some senior golf. Fifty-four holes on less arduous courses and where most of the players are older and not young enough to be your sons.
Stricker got the memo. Then he crumpled it up and binned it.
"I think I can still play, and given the right conditions, I'm sure I could still win," he said Friday after his 6-under-par 65 at Monterey Peninsula CC elevated him into the thick of the competition after two rounds of the AT&T Pebble Beach Pro-Am. At 9-under 134, the Wisconsin native trails world No. 1 Dustin Johnson and tour rookie Beau Hossler by three strokes.
Making just his second start of the season, Stricker birdied three of the four par-3 holes Friday at the Shore Course at MPCC and finished with five birdies and an eagle against a lone bogey. He ended the day with a vintage Stricker long putt for par. His opening 69 at Spyglass Hill also had but one bogey.
After a year of juggling captaincy duties and competition – he still managed to qualify for the FedEx Cup Playoffs – Stricker is free to resume his identity solely as a player. He makes it sound easy.
"I think it's harder to go the other way to not be a player than to be a captain and then go back to playing," he said. "This is what I've done forever. I kind of looked forward to getting back into playing. I enjoyed the captaincy and being with the guys, but I'm more of a player than anything. It's fun to get back into it."
Stricker has a notable soft spot for Pebble Beach, and not simply because of its raw and mesmerizing natural beauty. His comeback in 2006 started in this event when he received a sponsor invitation and parlayed it into a T-14 finish. Two starts after that he was third at the Shell Houston Open.
"For sure, this played a big part in my comeback. It showed me I was on the right track," he said.
Stricker, 50, scaled down his schedule six years ago to spend more time at home with his family and to avoid a case of burnout before it had a chance to make inroads on his psyche. Even as a part-time golfer, he showed he could hang with the regulars, and this week's effort is merely a continuation of that theme.
"I didn't want it to be that it was a downer to go play again and be on the road," he explained. "I wanted to be excited each and every time. And I am. That's why I think I can still play fairly decently. When you are excited to play, it shows up in your game. When you're fighting being out here, that's when your game goes south in a hurry."
He'll play close to a full schedule this year, and hopes his game is good enough to raise his world ranking significantly from its current slot of 127th and qualify for a few majors.
"That's the goal. The challenge is age and getting back to that good golf I played four, five, six years ago," he said. "I hit it out there a decent length still. Some of the scoring clubs I'm not as sharp. But my body feels good, my back feels good. I'm excited for the year. I still prepare like I'm 30 years old."
And perhaps that will pay off this week. Stricker knows his strengths and how to maximize them. True, he has seldom been in contention of late – he posted just two top-10 finishes last year while wearing dual hats – but he can use urgency to his advantage over the next two days. He doesn't merely feel good physically. He likes where he's at in life and in golf.
"I'm almost 51. I'm still trying to take advantage of the opportunities I have, make the most of these next few years while I'm still pretty competitive," he said. "I'm having fun. The game is fun. I'm really excited about the position I'm in, and I just want to keep it going."
Hey, there is no limit on exclamation points.