News
Dustin Johnson shoots 64 at Monterey Peninsula CC, shares AT&T Pebble Beach Pro-Am lead with Beau Hossler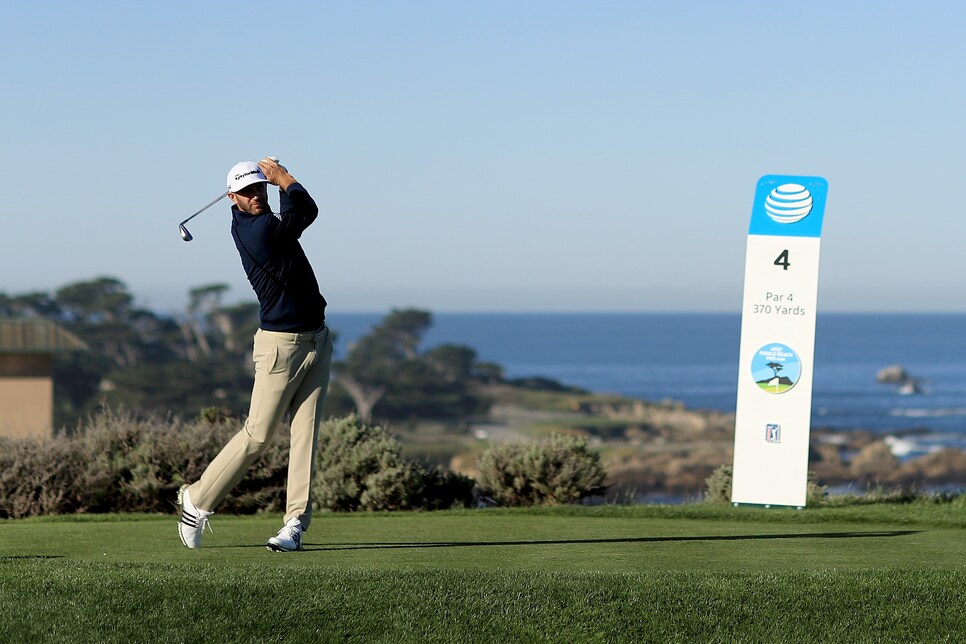 Golf doesn't anoint its winners, though it might be tempted to do so with Dustin Johnson, in the lead, at Pebble Beach.
Johnson, who has now been No. 1 in the World Ranking for a full year, shot a seven-under-par 64 on the Shore Course at Monterey Peninsula Country Club on Friday and shares the 36-hole lead of the AT&T Pebble Beach Pro-Am with Beau Hossler.
Though Hossler moves to Monterey Peninsula CC, the easiest of the three courses, on Saturday, it's still advantage Johnson, given his ranking, his form and his history at Pebble Beach. All that and the fact that he got through Monterey Peninsula unscathed.
"I think it's probably my lowest by about seven shots at Monterey Peninsula," he said, "so I was happy with that. It's probably the first time, too, I think we have ever played over there with nice weather, so it was definitely a good day. But, yeah, kind of the same as yesterday, I just felt like I played really solid, hit a lot of really good shots, hit a lot of good putts and it was a pretty easy day."
Johnson, who will play Pebble Beach on Saturday, has won the tournament twice and also is coming off an eight-stroke victory in his last PGA Tour start at the Sentry Tournament of Champions (he also tied for ninth in the European Tour's Abu Dhabi HSBC Championship two weeks later). Moreover in his only other PGA Tour start this wraparound season, he tied for second in the WGC-HSBC Champions, where he squandered a six-shot lead through 54 holes.
His form is beginning to resemble that which made him a prohibitive favorite heading into the Masters last year. In his four starts prior to arriving in Augusta, he finished third, followed by three straight victories, before a set of slippery stairs and an ensuing back injury ended his tournament before it began.
"The game's really close," he said. "I don't know if it's quite as good as it was during that stretch. That was probably some of the best golf I've played in my career, but parts of the game are just as good. I would say that I'm driving it well, but I'm probably not quite as good as I was when on those three wins, but everything else feels like it's really good."
Hossler, who shot a five-under-par 67 at Spyglass Hill, has played a bogey-free 36 holes in his bid for a first victory in this only his 10th start as a PGA Tour member.
"I just had a pretty consistent game plan, haven't tried to do anything crazy," Hossler said. "The thing is with golf you've got to be pretty patient. I've just really tried to focus on my game plan, to hit to a lot of the middle of the greens with longer clubs, try and be more aggressive with the wedges and take what the golf course gives me. Fortunately it's been coming around a little bit."
Troy Merritt and Julian Suri are tied for third, two back of the co-leaders, while Phil Mickelson climbed into a tie for fifth, three off the lead. Mickelson had a rare bogey-free round, a six-under 65 at Monterey Peninsula.
"I was expecting to play like this the first couple of weeks so the first couple of weeks was a little disappointing," Mickelson said. "But now the scores are starting to come out, I'm able to get out of the mechanics of it and just start playing the round and hitting shots. I'm very optimistic about this weekend and I'm optimistic about the year."