Majors
Steve Stricker can still win third straight senior major, but another record run is over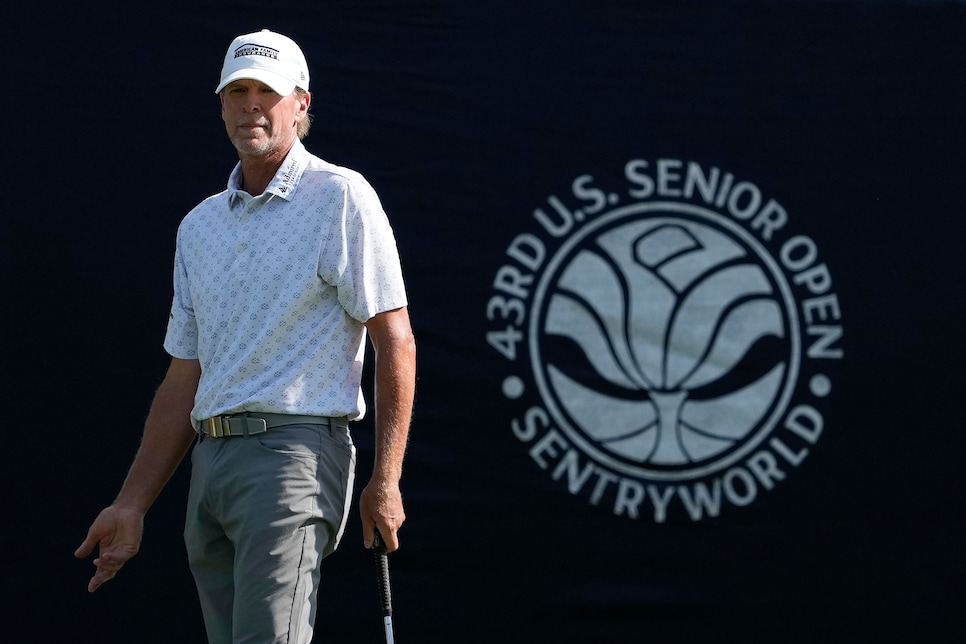 Steve Stricker reacts after a putt on the ninth hole during the first round of the U.S. Senior Open.
Patrick McDermott
Steve Stricker remained just four shots off the Rod Pampling's lead after Day 1 of the U.S. Senior Open, the winner of 2023's first two senior majors hardly out of the hunt to win the third. But with a one-over 72 showing on Thursday at SentryWorld in his home state of Wisconsin, the 56-year-old saw an impressive streak come to a record-breaking halt.
For the first time since the third round of last year's U.S. Senior Open, Stricker posted an over-par score, ending a PGA Tour Champions best run of 55 straight rounds of par or better.
Stricker got off to a hot start on Thursday, shooting two-under 33 on his front nine, but made double bogeys on the 10th and 12th holes. He birdied the 13th then made pars on the next four holes, before giving himself a shot at a birdie on the final hole that would have extended the streak. However, he couldn't convert the 20-foot right-to-left putt.
"Yeah, and I thought about [the streak] coming down the stretch," Stricker noted after the round, "if I could get one more birdie to get another round of par or better. Really it's not that big a deal. I was just trying to make birdies to get back in the game.
"Again, I'm not that far out of it. But tomorrow's an important round to try to get something under par for the total and set myself up for the weekend."
Stricker's mark is impressive on several fronts. For starters, it's the previous record on the PGA Tour Champions was only 14 rounds. In fact the best run on the PGA Tour was only 52 straight rounds of par or better, shot by Sticker's close friend, Tiger Woods, over the end of the 2000 season and the start of 2001.