The Loop
Steve Kerr was pleasantly surprised to get a congratulatory text from Tiger Woods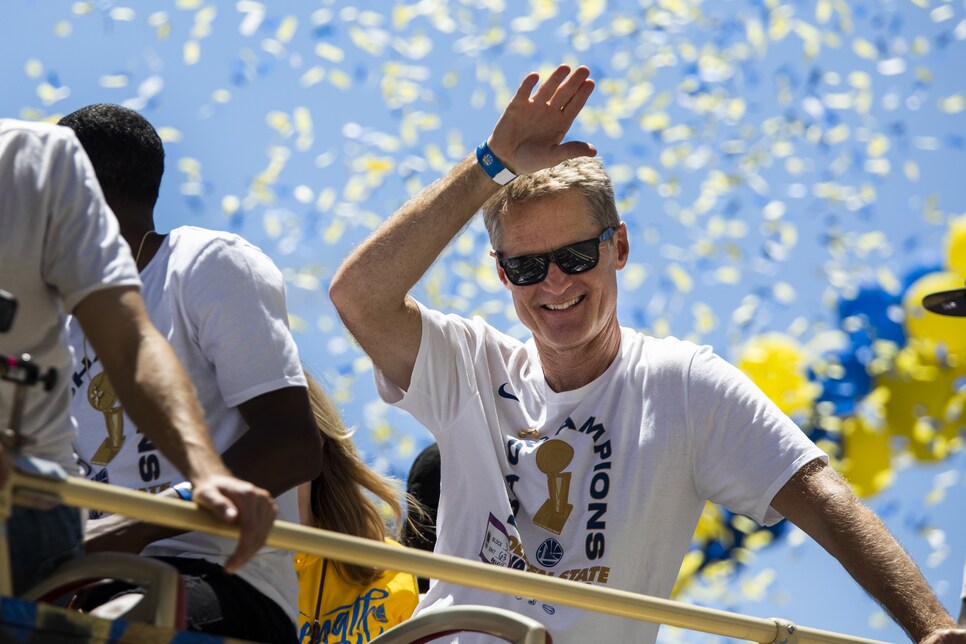 If you're a casual fan of the NBA, the Golden State Warriors have become tough to root for. In addition to the team simply being too good (Thanks, Kevin Durant), the super squad boasts the league's most annoying (Draymond Green) and cocky (Steph Curry) players. But everyone still likes head coach Steve Kerr. Everyone, including Tiger Woods, apparently.
On Thursday, Kerr was asked on 95.7 The Game if he got any surprise texts following the Warriors' third NBA title in four years and he singled out the 14-time major champ.
"I don't want to be a name-dropper but I guess the one that kind of (surprised me) was Tiger Woods," Kerr said. "That was pretty cool."
Name-drop all you want, Steve. You're the man. And we're talking about Tiger freaking Woods.
So how did these two guys become acquainted? Kerr is an avid golfer, but he went on to say in the interview that he and Tiger bonded "over our back problems" last year.
We're glad to see both guys are doing better physically. However, after a Thursday 78 at the U.S. Open, it doesn't appear Kerr will be sending his buddy any congratulatory texts back this week.