LOUD NOISES!!!
Stephen A. Smith delivers six-minute rant about PGA Tour-LIV Golf deal, takes flamethrower to everyone and everything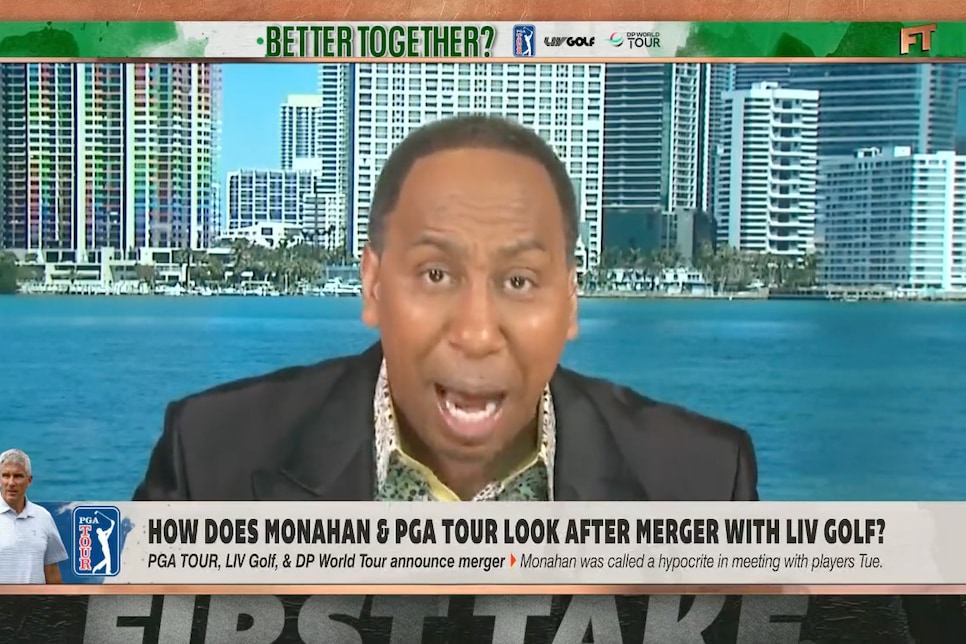 By now you've probably had your filling of the talking heads. No, not the band. You would still throw "Psycho Killer" on the jukebox any day of the week. We're talking about the talkers. We're talking about Jay Monahan, Rory McIlroy, Greg Norman, Bryson DeChambeau, Brandel Chamblee and, yes, even Phil. Since LIV Golf first became a twinkle in Prince Mohammed bin Salman's eye, it's all anyone with a platform in golf has talked about. Sure, opinions varied, sometimes wildly, but after awhile it all began sounding the same — like grown-ups talking in a 'Peanuts' special. Mwop, mwop, mwop, mwop.
No matter how sick to stinking death of it you are, however, we beg you to hang in there for just a little bit longer. Just six more measly minutes, which is how it will take you to watch ESPN blabber-in-chief Stephen A. Smith take a flamethrower to everyone and everything in golf on Wednesday's edition of 'First Take.' Sound way the hell up.
OK, so first things first, he refers to the PGA Tour as "the PGA" throughout the increasingly animated solo tangent. He's not a golf guy and in this case that affords him some valuable distance and perspective. Try not to get bogged in semantics.
Smith's point, as he slowly but steadily ratchets up the decibel levels, crescendoing with a microphone-clipping list of American corporations already in the bed with the Saudi sovereign wealth fund, is that although this is morally wrong and feels bad, it is how EVERYTHING in this country—not just golf—operates. Why, then, is the business of golf being held to a different standard?
He calls out Jay Monahan's hypocrisy. "If I'm the golfers that stood by his side," he says of the embattled PGA Tour commissioner, "I would despise him for life." But he doesn't stop there. He also takes aim at the golf writers (oh hey, what's up) and politicians who were incensed about LIV Golf's Saudi financing while simultaneously filling their gas tanks at Mobil stations and cashing their checks at Bank of America. He takes aim at Connecticut governor Chris Murphy, who tweeted the following on Tuesday.
"DUH!" Smith shouts. "If the United States government don't seem to have concerns about it, if a multitude of corporations in the United States don't seem to have a problem with it. Last time I checked the PGA [Tour] is a business. So if it's a business like everybody else and everybody is doing business, what's the problem with the PGA doing business?"
The problem, as some have pointed out, might be that the Saudi Public Investment Fund isn't taking a small stake in the PGA Tour, as they do with other corporations from Starbucks to Shell. They are now the sole investor in the new joint golf venture and have right of first refusal on any future investment. That puts them in the driver's seat, not riding shotgun. Still Smith makes some very valid points, and even if you don't agree with what he has to say, you have to respect the volume at which he says it.