Equipment
Srixon Z-series irons meet the distance and feel needs of two classes of better players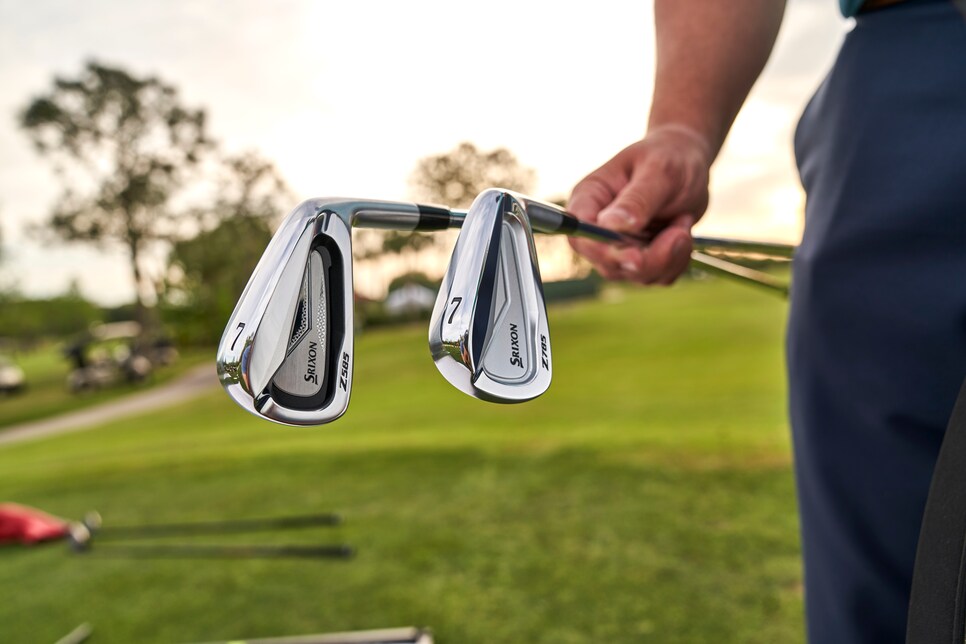 The two new Srixon Z-series irons aim to give two classes of better players help with the things that matter to them most while still providing a fairly classic shape that both demand. The Z585 iron provides more distance technology, while the Z785 focuses on feel. Yet each does it in ways not so easily seen.
The Z585 is the latest upgrade to the Z-series "500 series" family of players distance irons. Like its predecessor (Z565), the Z585 uses a high-strength steel face insert (SUP 10) supported by a soft 1020 carbon steel body and hosel. Hidden on the interior of that face insert is a groove indented around the perimeter of the face.
"You're trying to allow this to deform more at impact," said Jeff Brunski, vice president of research and development for Srixon/Cleveland/XXIO, noting that he thinks the groove's effect is to make the face insert compare favorably in terms of Coefficient of Restitution (or, spring-like effect) with other types of high-flex face designs like cup faces or other high-strength alloys. "From a performance standpoint, we're trying to make a more flexible face insert and the expected CORs are there."
Meanwhile, the one-piece forged Z785 uses 1020 carbon steel to improve feel. Its shaping is changed slightly from the Z765, including more compact short irons, but the shaping, including a narrower sole, also helps the club's center of gravity be more in line with the center of the face.
"There's also a little bit of the feel balancing in some of the shaping of the muscle," Brunski said, referencing the concept first debuted in the company's Cleveland RTX-3 and now RTX-4 wedges. "By having more impacts occur near the sweet spot obviously makes it feel better."
Another key to the design toward improving the feel of both new Z-series irons is the next iteration of the Tour VT sole, which features a higher bounce angle toward the leading edge that tapers to less bounce on the trailing edge. The Z785 and Z585 both feature a slightly more aggressive initial bounce angle for better turf interaction.
"We've seen in our testing that given the same iron with and and without the VT sole, players say consistently that the iron with the VT sole feels better," Brunski said. "The difference is the turf interaction."
The new Z-series irons also include the U85 utility iron, which features a wider sole for a lower center of gravity as well as the same SUP 10 high-strength steel face insert found in the Z585 iron.
The Z-series irons are set to be in stores in North America on Sept. 14 ($1,000 for seven irons, 3-AW on both Z785 and Z585 irons; $200 each for U85 utility irons; 18-, 20-, 23-, 26-, 29-degree lofts).