LIV Golf
Jordan Spieth explains why Dustin Johnson is missed more than most LIV Golf members
PEBBLE BEACH — This week's AT&T Pebble Beach Pro-Am coincides with the Saudi International, an Asian Tour event that is notably sponsored by Saudi Arabia's Public Investment Fund, the primary backer of LIV Golf. The Saudi-backed circuit has spurred a schism in the professional game, leading to hurt feelings and contentious views on both sides of the feud, yet one defector who seemingly remains in good standing with his former peers is Dustin Johnson. This week Johnson's absence especially rings true, as Johnson is a two-time Pebble winner and boasted eight top-10s in 13 appearances.
Jordan Spieth was asked about Johnson when speaking with the media Wednesday at Pebble, and Spieth explained why Johnson was particularly loved at this event.
"Well, I think he had, what does he have 20, 21 or 22 wins? Yeah, he's one of the, he's a Hall of Fame player, somebody who guys, people and the celebrities here really enjoyed being around," Spieth explained. "He was—he's a freak athlete that plays golf. He really loved this event. Loved playing with Wayne [Gretzky, his father in law]. We had a blast. I know that because we had a blast with him for, what, eight years I think we played with them. Eight or nine we played together."
Spieth mentioned he misses a number of guys who have left for LIV, but Johnson is missed more than others because he never caused any trouble to others.
"I think DJ being maybe the first one to go over there and somebody who is not, never was really controversial over here and more so just kind of worked his butt off, it paid off, got his breakthrough at the U.S. Open, then went and won the Masters," Spieth said. "Just a Hall of Fame player that didn't create controversy with any other players and played on a bunch of Presidents Cup and Ryder Cup teams. Represented them really well. He was a friend of mine. He is a friend of mine. I just haven't seen him.
"But I always really enjoyed playing with him and being around him. He plays fast. Easy to play with. Fun to watch."
Asked if he had any fond memories of Johnson at Pebble, Spieth noted the games he and celebrity partner Jake Owen would have with Johnson and Gretzky, and laughed when passing along the smack talk that would take place in the group.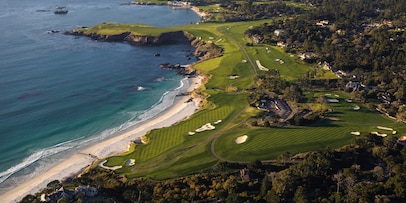 Not just the greatest meeting of land and sea in American golf, but the most extensive one, too, with nine holes perched immediately above the crashing Pacific surf—the fourth through 10th plus the 17th and 18th. Pebble's sixth through eighth are golf's real Amen Corner, with a few Hail Marys thrown in over an ocean cove on the eighth from atop a 75-foot-high bluff. Pebble hosted a successful U.S. Amateur in 2018 and a sixth U.S. Open in 2019. Recent improvements include the redesign of the once-treacherous 14th green, and reshaping of the par-3 17th green, both planned by Arnold Palmer's Design Company a few years back—and the current changes to the iconic eighth hole.
View Course
"I was always interested in the DJ and Jake banter. It was always really fun for me. Because Jake would always just—he was more interested in asking DJ questions than me. And like DJ would kind of fire back, you know. There was some good banter between them. Certainly I miss that.
"Me and DJ wouldn't really talk smack to each other because we were both playing in the tournament. But like it was designated -- and Wayne wasn't going to do it to me. So it was kind of a Jake and D.J. back and forth within our match."
Johnson is scheduled to compete in this week's Saudi International, while Spieth enters Pebble as the tournament favorite.