News
Someone actually loves the LPGA dress code. Here's where they're woefully misguided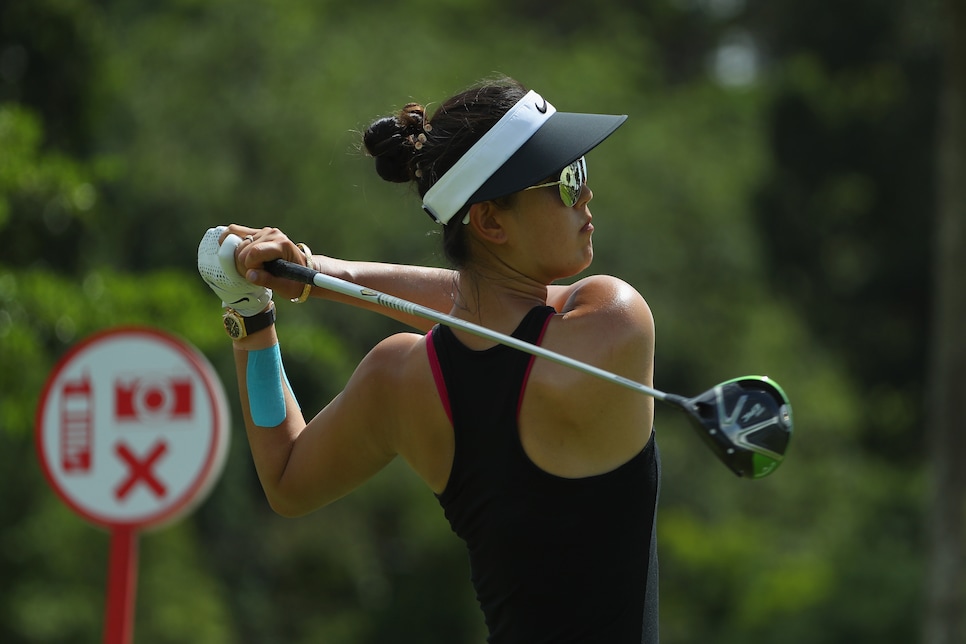 When we reported on the LPGA's new dress code, more than just the golf world was upset. Female golfers, including Sandra Gal, Lexi Thompson, Charley Hull and Paige Spiranac had negative reactions. And then publications like the New York Post, Fox, CBS, Teen Vogue and Marie Claire chimed in as well. The dress code was derided as dated and limiting. We hadn't seen anyone say anything good about the dress code, until now.
Madeleine Winnett, a writer for the Lady Golfer, is apparently a big fan of the new LPGA dress code.
In her piece, which you can find here, the argument is made that some types of clothing make more sense to different generations. Jason Day's joggers and high tops are mentioned, and how they make no sense to the older generation but are attractive to younger generations. And that's fair. Jason Day wasn't hurting anyone by wearing joggers. He looked athletic and young. And that's great. Glad we can all agree. The piece continues to say that the rules some private clubs have requiring women to wear knee-length shorts are awful. Again, glad we're on the same page. Knee length shorts are tough.
But, then things take a turn.
You should be able to wear whatever makes you most comfortable. But not when that style turns to immodesty or offence. And this is what the LPGA are trying to stamp out.
There's a lot to agree with in that first sentence. Golf gains huge accessibility points when it allows players to wear clothing similar to what they'd wear in either their day-to-day lives or what they'd wear for other physical activities. The last thing we want, or need, is for a woman to be turned away from golf because she's worried she doesn't have the right clothes. There's been a lot of conversation about yoga pants, for example. Many women wear yoga pants in their normal lives and have transitioned them onto the golf course – with varying degrees of acceptance. Personally, I don't wear yoga pants on the golf course because I don't feel comfortable. But should I see another player wearing yoga pants, am I offended? Absolutely not. What she's wearing doesn't affect how I play. If anything, I'm psyched to see another woman on the course.
By all means dress to be sassy if you think that will appeal to others. Wear makeup and get your nails done. Burn your diamond sweaters and rip up your knee length shorts if it makes you feel better.
Just save your 'plunging necklines' and 'bottom areas' for the beach as your primary role is to motivate, not titillate.
Yikes. It's hard to imagine that when LPGA players get up in the morning of a tournament round, they're thinking, 'OK, so what can I wear that's titillating and sassy?' That is ridiculous. The players on the LPGA have plenty of other things to worry about, but Winnett propogates the mentality that women don't dress for the task at hand or for themselves, they dress for other people.
LPGA players aren't women trying to look 'sassy for others,' they're athletes performing. Things that matter when you're putting clothes on to play golf are what will be easiest to swing in, what fabrics will breathe away sweat, what lengths of shorts or skirts are easiest to move in, what cuts of clothing will function best, and yeah, what looks good.
As for the whole 'bottom area' discussion, it's hard to even fully understand what 'bottom area' means, but plenty of athletes -- think, swimmers, runners, skiers, cyclists, wrestlers, tennis players, pole vaulters -- compete with spandex over their 'bottom areas.' Are they accused of trying to be sassy or titillating? They're just wearing what makes the most sense for the way their body needs to move in their sport.
This idea that female athletes are focused on dressing in a 'sassy' or 'titillating' way assumes that women place the only value of their appearance in the way other people perceive them. Shouldn't we just support women to dress in what makes them feel comfortable and good about themselves?
Look, I respect the difficult position the LPGA is in when it comes to dress codes. They have to balance a game rooted in tradition with fashion trends that are very untraditional. And that's tough. But at the same time, if adhering to traditional attire is limiting the number of people who enter the game, then concessions – some would call it progress -- needs to be made.