The Loop
LPGA alerts players that a stricter dress code is coming
Professional golf has become increasingly progressive when it comes to all-things fashion. Rickie Fowler regularly wears joggers with high tops; Nike started making polos without collars; and the European Tour allows its golfers to wear shorts during practice rounds. So it'd seem like a curious time for any of golf's governing bodies to enforce a stricter dress code that limits an athlete's style options.
But that's exactly what the LPGA Tour has done.
Starting on Monday, July 17, the LPGA Tour will enforce a dress code policy that cracks down on athletic wear. In an email directly to Tour players on July 2, LPGA Player President Vicki Goetze-Ackerman outlined a list of items that will no longer be allowed. The email was marked as "important" and had a subject line that read, "Updated Policy to begin in Toledo." Here's the new dress code as it appeared in the email:
The harsh language here -- capitalization of every NOT; dated phrases like "plunging necklines" and "bottom area" -- begs the question: Who on the LPGA Tour began dressing offensive enough to drive the implementation of this new policy?
Goetze-Ackerman went on to explain that it's an LPGA Tour player's "job" to notify her clothing sponsors of this new policy, and that "penalties for violating the dress code will be a $1,000 and it will double with each offense."
When we asked the LPGA to comment, Heather Daly-Donofrio, the tour's chief communications and tour operations officer, offered the following statement: "The dress code requires players to present themselves in a professional manner to reflect a positive image for the game. While we typically evaluate our policies at the end of the year, based on input from our players, we recently made some minor adjustments to the policy to address some changing fashion trends. The specifics of the policy have been shared directly with the members."
In an era when Instagram "golf babes" are dressing more provocative than ever and consequently attracting more attention and sponsorships than many professional golfers do, perhaps the LPGA Tour is trying to set an entirely different tone in an effort to command respect and separate itself as a highly different, more professional product. Even so, why take away a golfer's freedom to feel like an athlete in joggers? Or leggings? Or racerback tops? These pieces of clothing can look highly polished when worn correctly, so why not encourage a more professional look instead of banning such pieces altogether?
Ross Kinnaird/Getty Images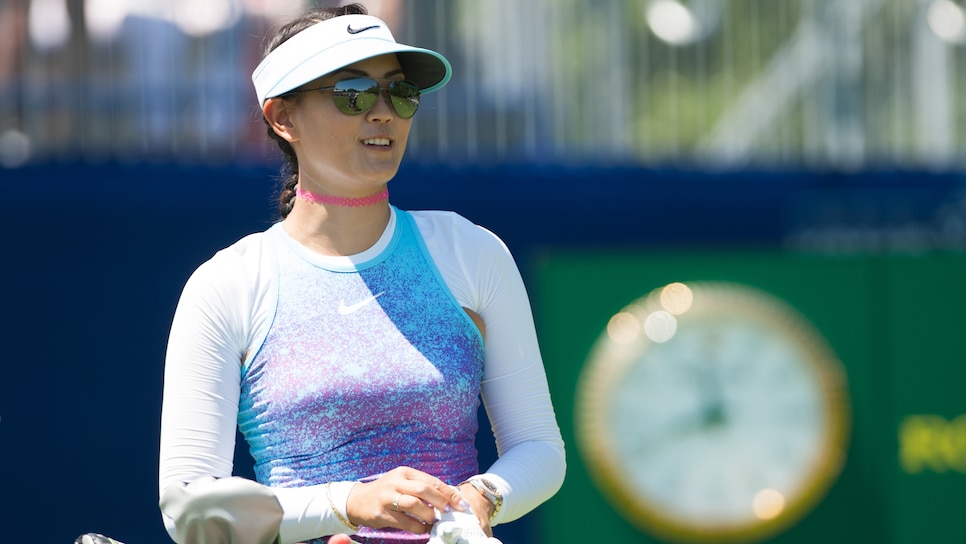 Traci Edwards/PGA of America
Lately, however, Wie has been wearing sun sleeves to cover up her arms, most likely in an effort to appease those who are offended by her bare shoulders. And going forward, she and her LPGA Tour colleagues might have to be careful about the length of their skirts should they want to avoid those significant fines.
In 2017, that's a sentence you might not expect to read.