Rules
Solheim Cup 2021: Why Nelly Korda couldn't do anything other than accept Saturday's unusual ruling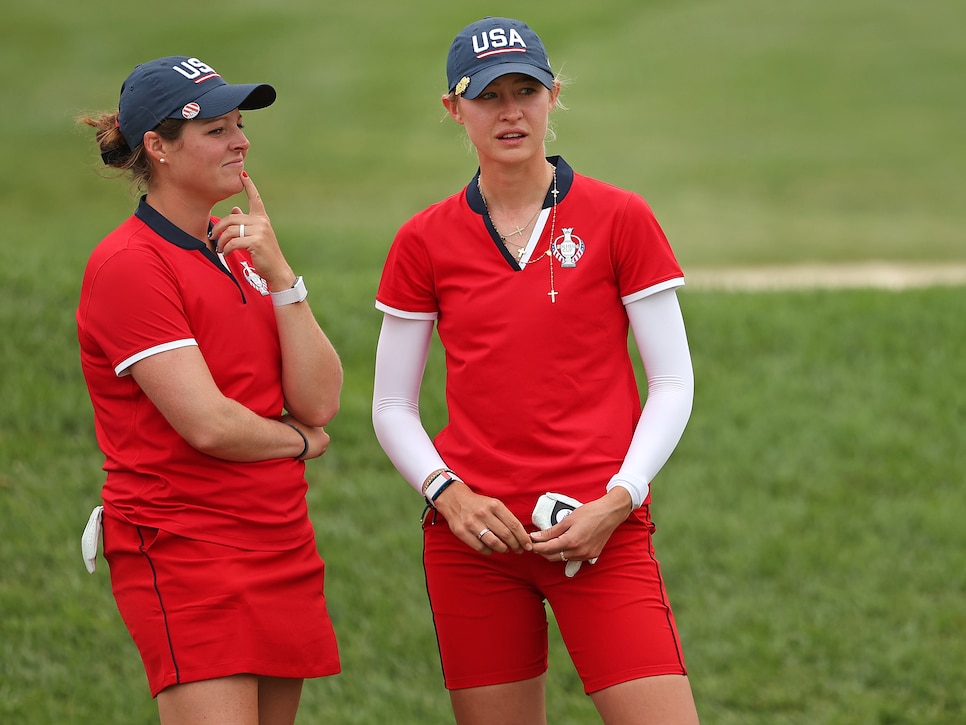 A controversial ruling dominated the conversation Saturday afternoon at the Solheim Cup—lingered into Sunday. Playing in the four-ball session for the U.S., Nelly Korda just missed an eagle putt on the par-5 13th at Inverness Club in Toledo, Ohio, her ball coming to rest close to the edge of the cup, Europe's Madelene Sagstrom scooped it up and tossed it to Korda. Sagstrom thought she and her partner Nanna Koerstz Madsen had halved the hole with Korda and Ally Ewing with birdies. But Sagstrom found out otherwise as soon as she left the green.
While coming off the green, Sagstrom was approached by rules official Missy Jones, who told her that she'd broken Rule 13.3b: "If the opponent in match play deliberately lifts or moves the player's ball overhanging the hole before the waiting time has ended, the player's ball is treated as holed with the previous stroke." Sagstrom picked the ball up before the allotted 10 seconds, so Korda's putt was ruled as in. Korda/Ewing won the hole and ultimately the match, 1-up.
Here's a video of where the ball ended up. Team Europe was convinced the ball wasn't actually on the lip. You be the judge as to if it was or wasn't:
Following the ruling, there was much chatter on social media regarding what happened, and what should have happened next. One suggestion we've seen pop up that we want to clarify: Some have voiced the opinion that Korda should have declined the ruling and halved the hole.
But even if Korda had wanted to, she couldn't have.
Once a rules official makes a ruling, the conversation is over. Players can argue and disagree, but once that ruling has been made, it stands. Even the team that stands to benefit can't ask for the ruling to be waved.
Rule 20.1.b. states, "If a referee is assigned to the match, the referee must rule on any issue that comes to his or her attention in time and the players must follow that ruling."
The LPGA Tour said in a statement: "The chief referee, match referee, observer and TV observer all deemed that Nelly Korda's third shot on No. 13 was overhanging the hole and was picked up by her opponent before the waiting time had ended. Therefore, her third stroke was treated as holed."
So, for everyone saying Korda should've waived the ruling away and taken a birdie instead of eagle, that was never an option.