CASARES, Spain — It's not the best. But it's the next best thing. Europe didn't beat the United States in the 18th Solheim Cup. But the Old World side didn't have to, not to retain the trophy anyway. So it is that, after an epic 14-14 tie with their New World counterparts, the Solheim Cup officially stays on the eastern side of the Atlantic.
It all just goes to show that golf is a game that can be played well in different ways, often very different. Marked by the advancement of tactical theories many and varied, the run-up to this week's biennial event was, when it came to captaincy, the ultimate contrast in styles. On one side stood a numbers cruncher in the diminutive and relatively demure shape of America's leader, Stacy Lewis. On the other, the glaring intensity of European skipper Suzann Pettersen spoke, amongst other things, to the Norwegian's preference for (hopefully) timely inspiration.
Well, to paraphrase Lewis, the numbers do not lie. But it took them a while to make up their mind. And in the end, inspiration won. Sort of. But it was close. Boy, was it close. Couldn't be close really.
Throughout a seemingly endless Sunday singles session of fluctuations, both teams led more than once before the eventual climax. Some may say that a draw is unsatisfactory. But in this case, they would be wrong. For the third time in succession (after Europe's narrow wins in 2019 and 2021), the Solheim Cup provided the sort of excitement that puts the recently predictable and rather pedestrian Ryder Cup to shame.
"My team played their hearts out," Lewis said. "Just so proud of 'em, the way they fought. We played the back nine better all week, and they just hung in there and hung in there with every match. I just told 'em, we didn't lose. It was a tie and there is so much to build off this week. I think the rookies learned a lot and that's what it's about. All week I thought we made really good decisions. These things come down to one shot or one putt, and it's just amazing of all the matches that we played, that's what it comes down to."
Indeed, on the course at least at Finca Cortesin, this was everything that is best about golf, forgetting for a moment the glacial pace of play. There were team efforts on both sides. For the Europeans, Carlota Cignada of Spain fitting earned the point that officially allowed them to retain the Cup. Ciganda was the only player from the host country competing, and the win capped off a perfect 4-0 week.
Meanwhile, only Celine Boutier emerged pointless (a true surprise given the career year she has had in 2023), with Gemma Dryburgh the only other home player not to win a match. Then again, the Scot didn't lose any either, halving both her games.
On the American side, all 12 players contributed to their 14-point total, with Rose Zhang and Jennifer Kupcho the only pair not to win at least a full point. And it was a message of unity Lewis passed on to her players in an impromptu huddle on the 17th green at the close of play.
"I made them all cry, which wasn't my intent," said the American captain (below). "Again, I told them how proud I was of them. I don't want to sound like a sore loser, but it was a tie. We came into this environment with five rookies. This will be very good for them. These girls played their hearts out. it wasn't looking good for a lot of the front nine. But they kept fighting. They did everything I asked of them. I'm so glad to be their captain."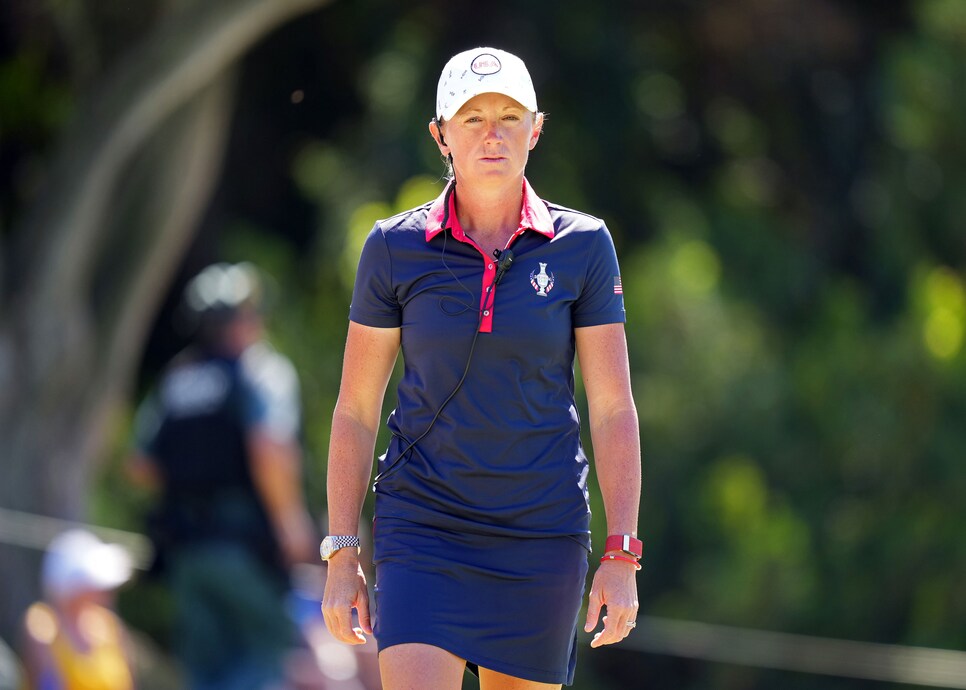 And the eternal question as to whether or not a draw is best left as it turns out, or should it be settled with some sort of playoff?
"At the closing ceremony we were talking about whether it should be a tie," Lewis said. "Maybe it would be a better experience for the fans if there was some sort of playoff. But I don't know. All I can say is that this feels like a win. Look at where we were two years ago in Toledo and where we are now."
Fittingly too, both sets of players were full of praise for the contrasting jobs done by the two captains.
"I was playing for everybody on the team," said Danielle Kang, who emerged with a 2-2-0 record. "Anytime I hit a shot, anytime I wanted to get down on myself, anytime I was mad, it wasn't about me. It was bigger than me. It was about everybody who was working so hard to bring a point or a half a point for this team. So I played for everybody."
That was surely the motto of the week for both sides and an indication that the most relieved people on the premises at close of play were Dryburgh and Georgia Hall. Had even one of them clung on to the two-hole advantages they enjoyed on the 15th tee, then victory would have been Europe's.
Then again, in match-play golf, the ultimate game of ifs and buts and maybes, who would have predicted the five-birdie burst in six holes that carried Caroline Hedwall to an unlikely victory over a previously serene Ally Ewing? Maybe not even Pettersen, who neglected to play the Swede until Saturday afternoon's four balls. Although she did have something to say about that, albeit tongue-in-cheek
"Does it get any better than this?" asked the Norwegian. "This is a dream come true. We had a massive challenge. These girls are legends. It's been a lot of preparation leading up to this. We had an amazing team. Yes we got off to a rocky start. But it was a wake-up call for us.
"We've been doing so well for a few years now. But life can be tough, too. We showed character. Today I must give a lot of credit to Caroline Hedwall. She turned her match around just when we needed that to happen. That's why I picked her, of course. Both Stacy and I knew it would go down to the wire. It seems like every Solheim comes down to one shot or putt here or there. I did feel a bit helpless standing there. The momentum when up and down. It really is so much easier to play."
Still, in a match where there were no losers, just about everyone was able to enjoy the moment.
"It's just been a blast," said debutant Cheyenne Knight, whose 2-0-1 record was the best of the American rookies. "All the fans, even when they're not rooting for me, made it just a really cool experience for me and for women's golf in general."
Dryburgh's verdict was more to the point. "A regular event will be pretty boring now," said the Scot.
Yes, it will. Thankfully, though a quirk in the schedule, the next Solheim Cup is less than a year away.