Solheim Cup
Spain's Carlota Ciganda starring role on her home turf 'something I won't ever forget'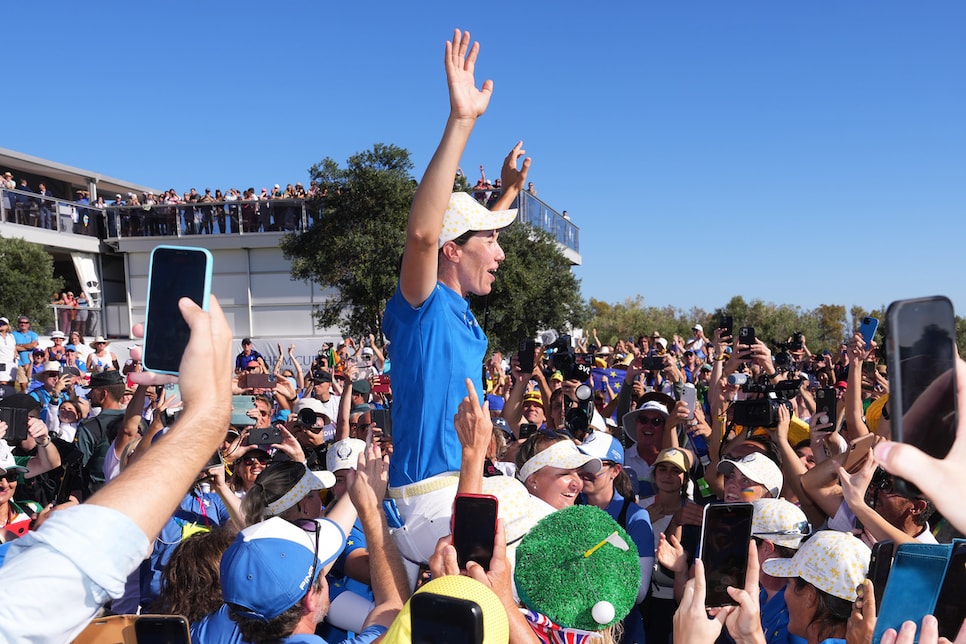 CASARES, Spain — The search for the star performer in the 18th Solheim Cup was short and to the (4) points. That was the significant contribution Carlota Ciganda made to the European cause on her home soil at Finca Cortesin. The Spaniard was the one player on either side to win all of her matches. Indeed, only three others remained unbeaten—Megan Khang, Cheyenne Knight and Gemma Dryburgh.
Following a script even the most imaginative Hollywood script writer may have rejected as "too unlikely," Ciganda marked her sixth appearance in the biennial contest between the best women golfers on either side of the Atlantic with golf of the highest standard in front of an adoring crowd packed with compatriots, never mind an army of pals and relatives.
World No. 28 Ciganda's overall record in Solheim play now reads 11-8-4. In other words, 13 points from 23 matches. Pretty good but, to put things in perspective, just over half the points (25) accumulated by the legendary Laura Davies from 46 matches. So a long way to go before true immortality can be attained.
"It's amazing," was the University of Arizona grad's predictable reaction to her new national heroine status. "All the support from my family, friends. I have a lot of people here. To play in Spain is always special. To play a Solheim Cup here has been just an unbelievable week. There is nothing like this. To play in Spain in front of your home crowd, and to have my name being chanted was really amazing, very special. It is something that I won't ever forget."
Perhaps the most impressive aspect of Ciganda's performance in her 2-and-1 singles victory over Nelly Korda was not just that she saw off the world's third-best player, or that she was nicely under par in doing so. No, it was that she achieved all of that knowing the responsibility on her shoulders.
While the unpredictability of 18-hole match play is part of golfing lore, it was clear to all that, for Europe to win—or retain the trophy—Ciganda was going to have to win. For her teammates to amass at least 6 points from the other 11 matches was not something many would wager on. Indeed, confirmation of that weight on her shoulders was underlined late in the match when European captain Suzann Pettersen appeared for a chat. Not that Ciganda was too coherent by the time she and her teammates sat down to talk to the press.
"This was a team effort," she said. "I'm so proud of everyone here. I can't remember what I thought when I holed the winning putt. I just went crazy. The Americans excel in singles, they are really good players. But we had a great team and I thought we could do this. The team was ready to go out there, fight and give their best. And we did.
"Suzann came to me on 16," the two-time LPGA winner continued. "She came to me, told me to go out and do this in front of your country and in front of your people. Then I hit a great shot. And then 17 was just amazing. To finish like that, I have no words. It's a week that I'm going to remember forever. I knew what I had to do. I love the captain, I love Suzann and I just really wanted to play good for her. The Americans played amazing as well, so congrats to both teams."
Fair enough. But special self-congratulation wouldn't go amiss either. Spain has a new golfing hero to set alongside the likes of Seve Ballesteros, Jose Maria Olazabal, Sergio Garcia and Jon Rahm. A "cinco famosos" if you prefer.