solheim cup
Solheim Cup 2023: Stacy Lewis bemoans lost chance to promote Solheim Cup, Ryder Cup together in Europe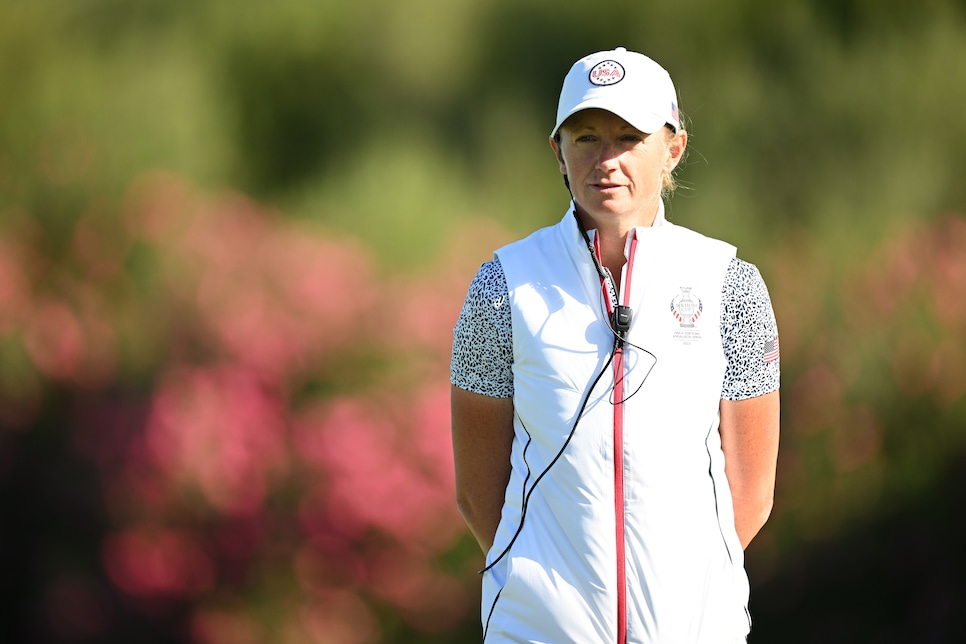 CASERAS, Spain — You've got to love Stacy Lewis. Bucking the normal tediousness that typically tends to mark pre-match press conferences at team contests, the U.S. Solheim Cup captain managed to be both thought-provoking and interesting during a 20-minute session two days before her side takes on what many are calling the best European team ever.
First there was disappointment. Lewis' regret centered on the fact that, with the Solheim Cup and Ryder Cup uniquely being played in consecutive weeks not too far apart in Spain and Italy, a chance has been missed. Missed by the game that is.
"I thought this could have been marketed together as two weeks in Europe, two cups for play," Lewis said. "I think it was a missed opportunity for the sport of golf. I wish people could get the sponsorship things out of their head and figure out how we can work together. This may not ever happen again, the two Cups being played in the same year. So I thought it was a massive missed opportunity.
"We tried to do a little bit with the guys and just weren't really able to move things along the way I would have liked," she continued. "I tried. I tried really hard, actually. I probably spent more time on it than I should have. But whether it was timing or it was too late in the process, I don't know. To really market it correctly this probably had to happen two years ago. So it's something that, going forward, golf needs to get on the same page and do better with. I just would like to see it for the good of the game. It's not to further women's golf. Let's further the game of golf in general.
"For the good of the game, for the game of golf, I think two weeks like this could be really cool," she concluded. "If we could continue it for the future. I actually really like having both cups in the same year, if we can get some common ground and do it together."
Food for thought. Interesting food, too.