Solheim Cup
Solheim Cup 2023: Fearsome and fiery as a player, Suzann Pettersen showing her calmer side now as captain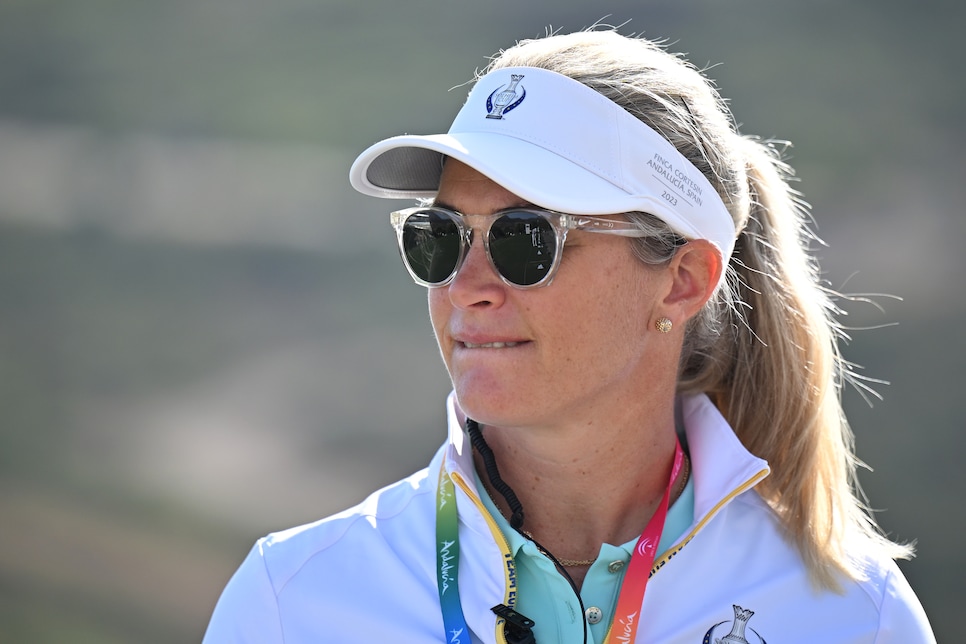 CASERAS, Spain — As a Solheim Cup player, Suzann Pettersen brought her own distinctive level of drive and intensity to the nine European teams she was a part of.
The Norwegian remains the only player from either side in the biennial contest to unwittingly utter a four-letter curse word live on national television, a feat she pulled off as a rookie at Interlachen in 2002 after defeating Michele Redman.
In 2015 at St. Leon Rot in Germany, Pettersen's claiming of the hole when Alison Lee raked back her ball after missing a short putt caused a huge trans-Atlantic storm.
And it will be a long time before another golfer, professional or amateur, man or woman, climaxes a career by holing the winning putt in one of the highest-profile events in the sport. Which is exactly what Pettersen did when she made a six-footer on the 18th green at Gleneagles to keep the Solheim Cup in Europe.
Now, however, the 42-year-old mother-of-two is the Old World team's captain, a role she will repeat at the Robert Trent Jones Golf Club in Gainesville, Va., next year. Seven months ago, at the official announcement of her new position, Pettersen was clear as to how she would handle all that would come her way. It was clear even then how much thought she had already put into every facet of the job.
"My most important key is to kind of facilitate for the players, the surroundings of the team, make sure the energy is there," she said. "My competitive side has changed a little bit through becoming a mother and then stepping away from a competitive life. That feistiness and determination I had inside the ropes is probably still there, but it doesn't come out as often as it used to.
"I really admire how Beany [Catriona Matthew] captained the last two Solheim," she continued. "Obviously I've seen other great captains, but Beany showed how just being herself in all aspects made it so easy for the players to feel comfortable. So I'm going to be a more relaxed Suzann that you've probably seen."
How well Pettersen has achieved those aims remains to be seen once hostilities begin for real on Friday. But for now at least, she seems to be handling everything well enough. Certainly, her players seem to be happy with her so far.
"She is the perfect captain," says Linn Grant. She is very, honest, open and straightforward. She tells you what she wants you to know. She is great fun too. We've had lots of laughs this week. She is the perfect mix of what a good captain should be. She has the ability to make even the most serious situation as light as it can be. Whether it is the first tee or the 18th green, she knows how to manage it all. We've heard a few jokes, too. She has a contagious laugh that sticks with you."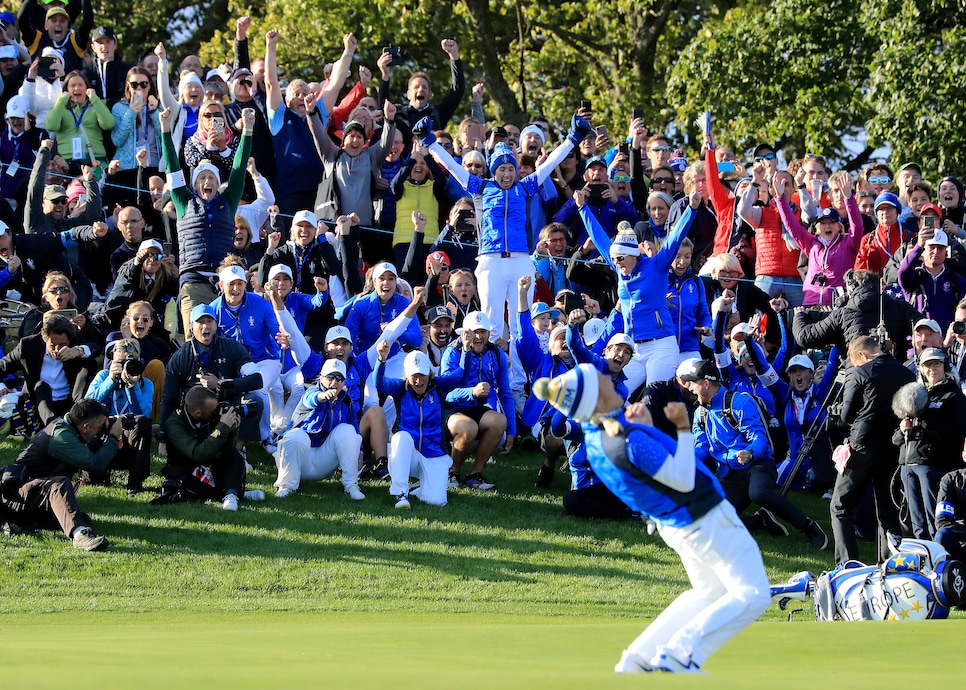 In one of the most iconic moments in Solheim Cup history, Suzann Pettersen holed the winning putt during the final singles matches in the 2019 Solheim Cup at Gleneagles.
David Cannon
There has also been lots of music. An eclectic mix, according to Gemma Dryburgh.
"We've had non-stop music blaring," says the Scot. "All sorts of stuff. Norwegian. Swedish. Regular pop stuff. Some oldies. A real mix. I don't mind a bit or karaoke if I've had a few bevvies. My specialty is 'Wanna Be' by the Spice Girls. Whatever, I feel like she has done a great job of pumping us up.
"Suzann is always telling us how proud she is to be our captain," continues Dryburgh, who is making her Solheim debut this week. "It means a lot to hear that sort of thing. If I am typical, I know she has us all ready to play hard for her. On the other hand, she knows how to keep us calm too. I know she'll be a great help on the first tee when it will be important to keep the adrenaline in check. This week can all a bit overwhelming at times and Suzann knows that."
Caroline Hedwall is another impressed with her old teammate. Especially in the vital area of communication, Pettersen has apparently excelled. Every player is pleased to know exactly what is happening when it comes to, for example, Friday's pairings.
"Her plan is clearly to be transparent within the team," says Hedwall. "I love that. It's good to know what is going on. In the past that has sometimes been different, depending on the captain. I like her style. She is very passionate and that's what she brings to the team room. So I'm not surprised she is really good, but I am surprised she is even better than I thought she might be.
"We all know what is going on," continued the Swede, who this week will make her fifth appearance in Europe's colors. "We know who is playing with whom. In the past I've been playing in the morning without knowing if I'm going out there again in the afternoon. Knowing what is happening allows me to prepare in the best way. That's clearly what Suzann thought as a player and she has brought that to her captaincy."
Still, perhaps the member of the European squad best qualified to comment on Pettersen's strengths and weaknesses is one of her four assistants, Laura Davies. Teammates on five Solheim teams between 2002 and 2009, the pair are great friends, which gave Davies the freedom to offer the most realistic assessment of the European captain's style.
"She's a lot calmer than I thought she was going to be," said Davies with a smile. "I'll be honest with you. I've played alongside her, with her, and against her in normal tournaments, and she's always been the same. She's just friendly, a little bit fearsome now and again, but brings everyone together. I think all the young players in the team respect Suzann so much because of what she's done. But when they saw this lovely person greeting them and bringing them into the team room, I think they were surprised, number one. But number two, they are very, very pleased to be a part of her team and know how valued they are by her. As she said, without doubt, this is the strongest European Solheim Cup team we've ever had."
The last word, however, must go to Pettersen herself. Characteristically clear on how highly she rates the squad at her disposal, she calls the side, "the best ever European team on paper." And she confirmed Hedwall's assessment of her approach to the job.
"I kind of take a little bit from everything, but I think what I've kind of emphasized the most is transparency," said Pettersen. "I want the players to be part of the decisions that we make. The more we can do it as a team, the stronger we stand together. That's always what I appreciated the most as a player."