Solheim Cup
Solheim Cup 2021: Breaking down all 12 singles pairings for Day 3 at Inverness Club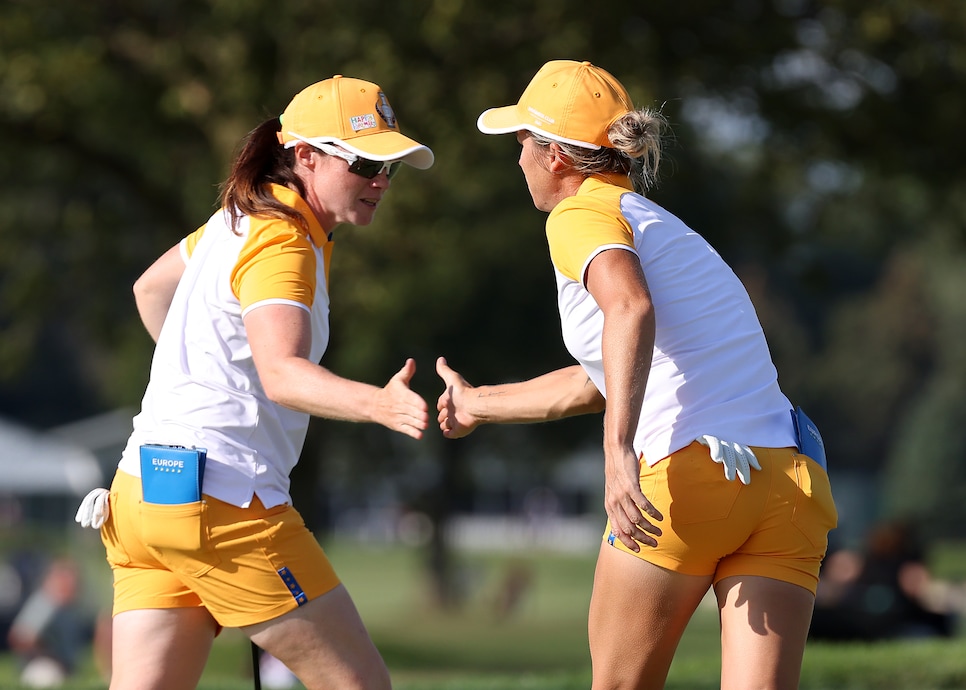 Europe's Mel Reid and Leona Maguire react on the 16th hole during the Fourball Match Sunday afternoon at Inverness.
Gregory Shamus
On paper, Team USA looked to be the stronger of the teams at the 2021 Solheim Cup at Inverness. But after two days of competition, the Americans trail the Europeans, 9-7, with 12 points to be had during the singles matches.
Team Europe needs only to win five of the 12 matches to get the 14 points needed overall to retain the cup, which they won in dramatic fashion at Gleneagles in 2019. Here are the pairings for Monday's matches:
12:05 p.m.: Anna Nordqvist (E) vs. Lexi Thompson (USA)
Fresh off her major victory at the AIG Women's Open, Nordqvist has been strong at Inverness, winning two of her three matches. The duo played against each other in one of the most intense singles matches in Solheim Cup history in 2017 at Des Moines. That year, their match ended all square.
12:15 p.m.: Madelene Sagstrom (E) vs. Ally Ewing (USA)
Sagstrom was involved in a rules situation on Saturday, when she picked up Nelly Korda's ball that was perched on the lip of the cup. She waited three seconds instead of the allotted 10, which led to Team Europe losing the hole and then the match, 1-up. Korda's partner in that match: Ally Ewing. Tension was high in the group after the ruling. It will be interesting to see if it will linger into this match on Monday.
12:25 p.m.: Leona Maguire (E) vs. Jennifer Kupcho (USA)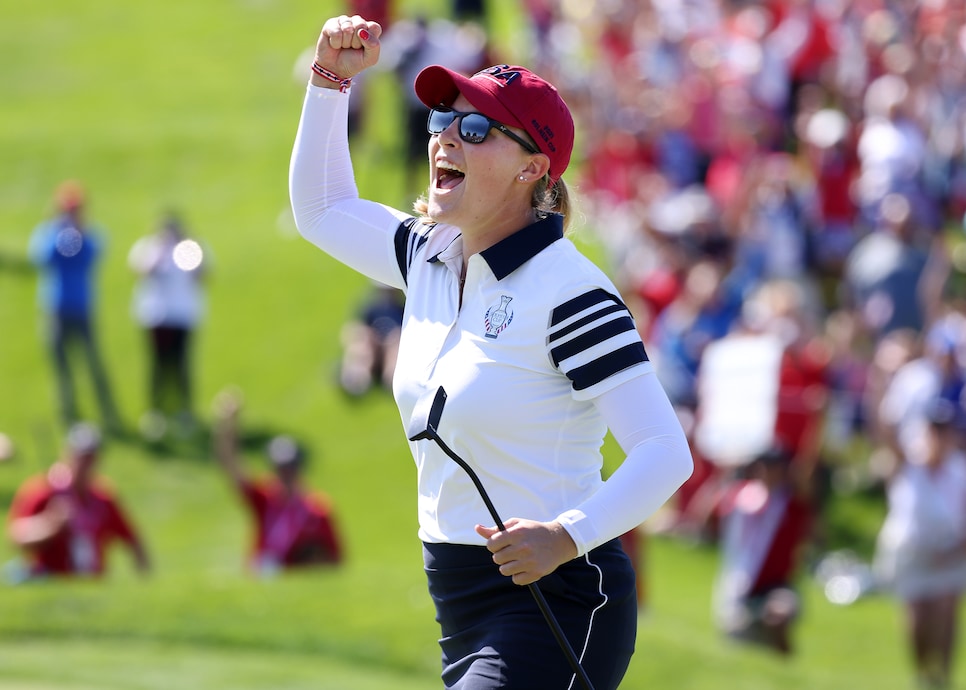 These two Solheim Cup rookies have been bright spots for their respective teams at Inverness. They played against each other in afternoon fourball on Sunday, with Maguire dropping a big putt on 16 and Kupcho answering with a chip-in on 17. Look for similar fireworks on Monday.
12:35 p.m.: Georgia Hall (E) vs. Nelly Korda (USA)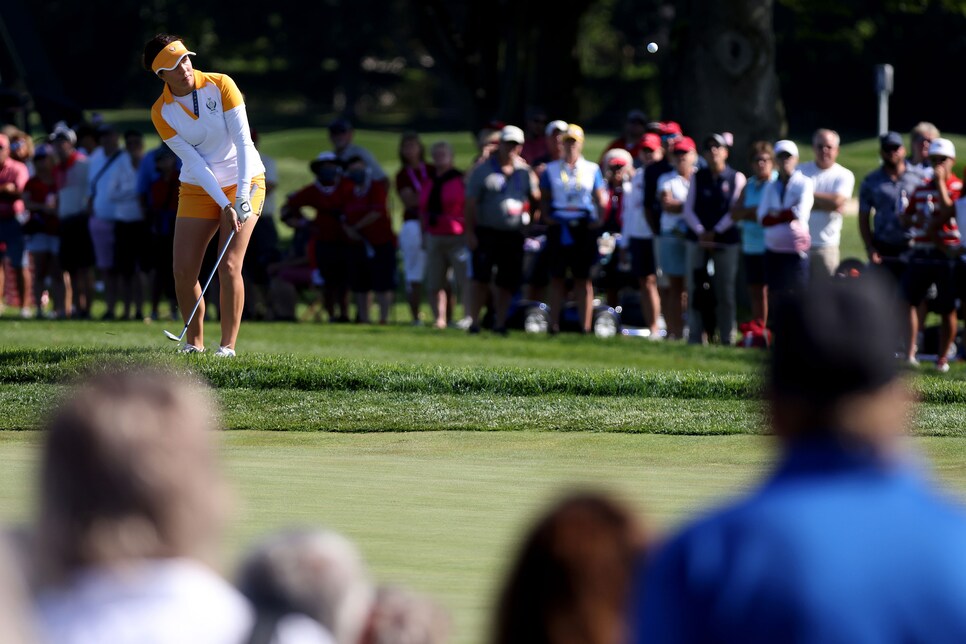 Korda is the No. 1 player in the world, but she has only earned one point for Team USA in three matches this week. Hall has played three matches as well, winning 1½ points. Both players sat Sunday afternoon, so should be fresh for Monday's contest.
12:45 p.m.: Celine Boutier (E) vs. Mina Harigae (USA)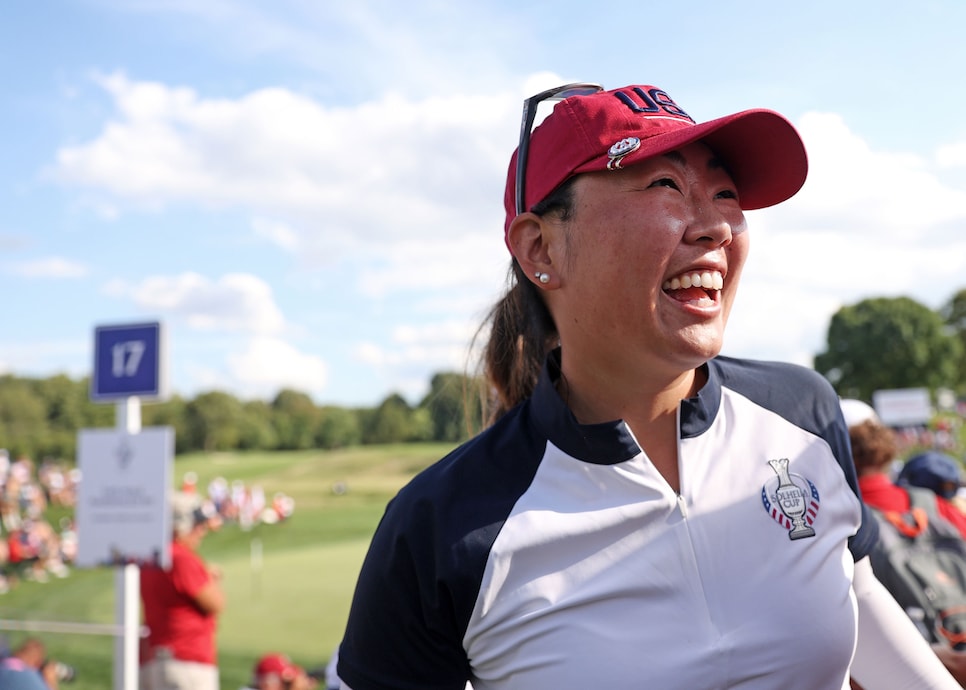 Boutier shone brightly in her first Solheim Cup in 2019, winning every match she played in. She's only played twice this year, winning half a point. Harigae is playing in her first Solheim Cup. She and her partner Yealimi Noh won their Sunday afternoon match, the only win for Team USA in that session.
12:55 p.m.: Nanna Koerstz Madsen (E) vs. Austin Ernst (USA)
Koerstz Madsen, a Solheim rookie, enters her singles match fresh off a four-ball win. Ernst has played in three matches, winning one and losing the other two.
1:05 p.m.: Matilda Castren (E) vs. Lizette Salas (USA)
Castren is the first woman from Finland to play in the Solheim Cup. She was paired with Nordqvist in a match against Salas and Kuchpo, where Team USA won the match, 3 and 1.
1:15 p.m.: Carlota Ciganda (E) vs. Brittany Altomare (USA)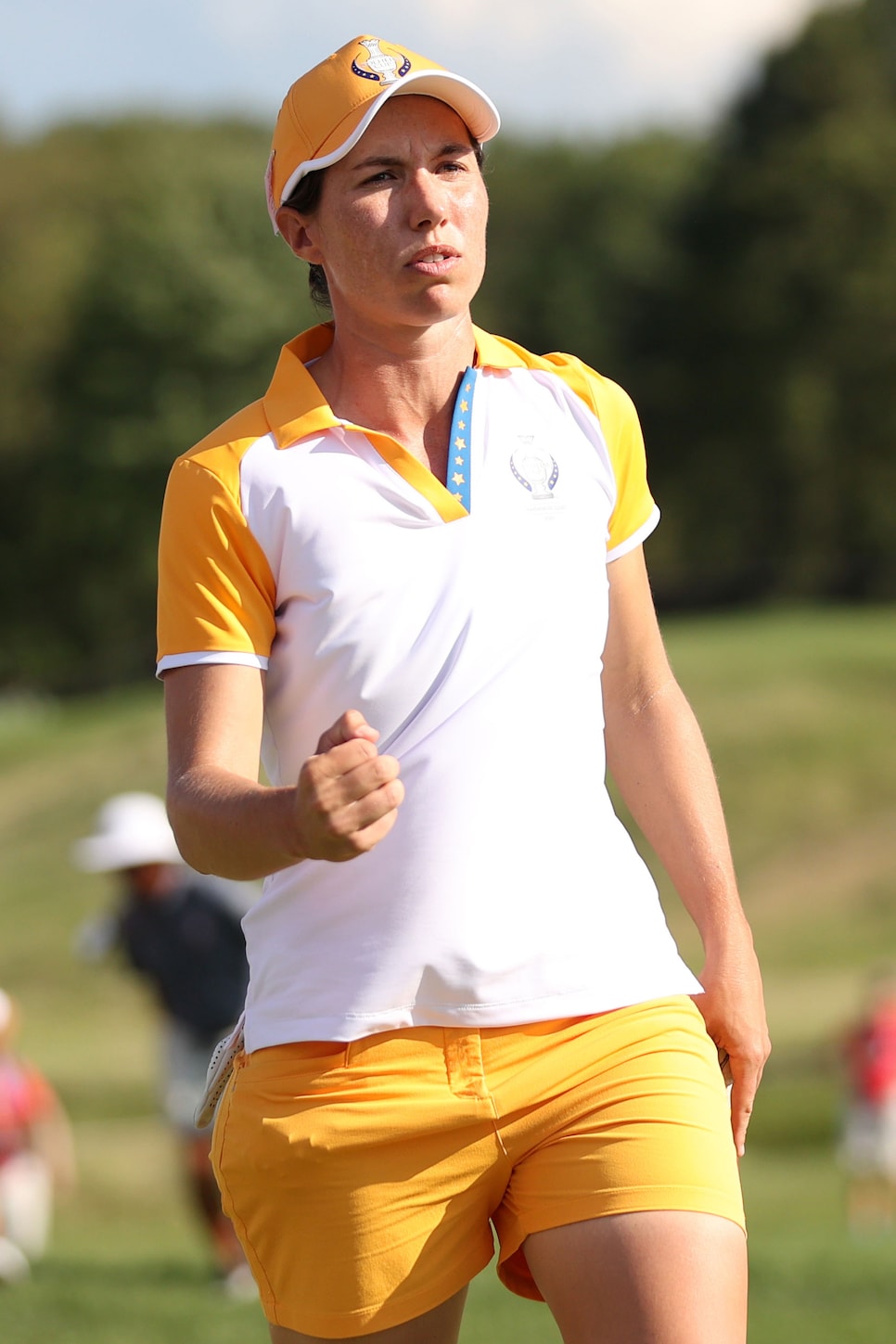 Ciganda has played twice, winning one match and losing the other. In her singles match in 2019, Altomare won, 5 and 4, over Jodi Ewart Shadoff. Team USA could certainly use a performance like that out of Altomare again.
1:25 p.m.: Sophia Popov (E) vs. Megan Khang (USA)
Both players are likely going into this match with something to prove: Khang has scored a half-point for Team USA and Popov has yet to score a point for Team Europe.
1:35 p.m.: Mel Reid (E) vs. Yealimi Noh (USA)
Reid has been strong in each of her matches this Solheim Cup, winning 2½ points for Team Europe. Noh is playing in her first Solheim Cup.
1:45 p.m.: Charley Hull (E) vs. Jessica Korda (USA)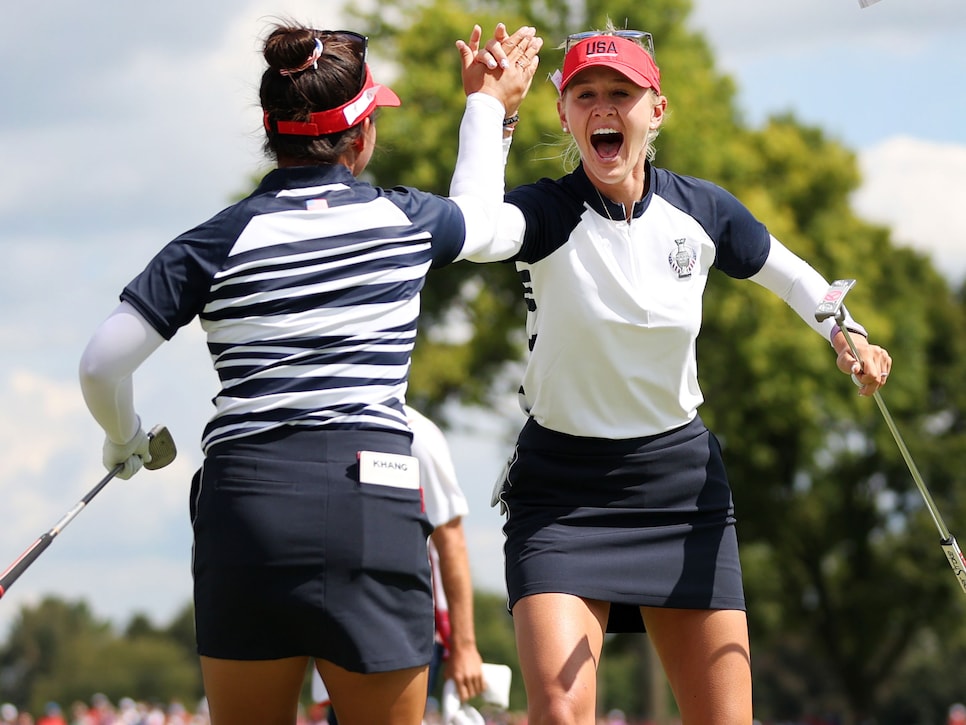 Korda has played two matches and lost both, while Hull has won two of her three matches. The two players both average more than 265 yards off the tee, which will make for a powerful combo to watch, particularly if the overall match is hanging in the balance.
1:55 p.m.: Emily Pedersen (E) vs. Danielle Kang (USA)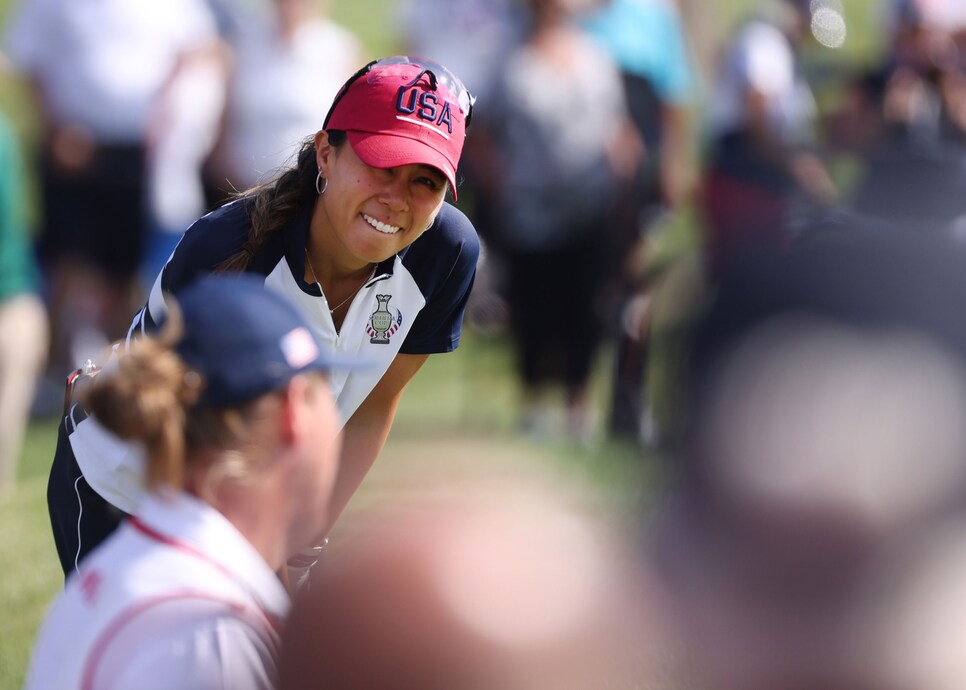 Pedersen and Kang met in Sunday's four-ball match, where Pedersen and her partner Charley Hull came away victorious. But Kang thrives off the energy of the large Solheim Cup crowds. Who better to bat cleanup for Team USA?
Coverage starts at 12 noon ET on Golf Channel, with streaming also available on Golfchannel.com and the NBC Sports app.