Solheim Cup
Solheim Cup 2021: How Matilda Castren went from being ineligible to sinking the clinching putt for Team Europe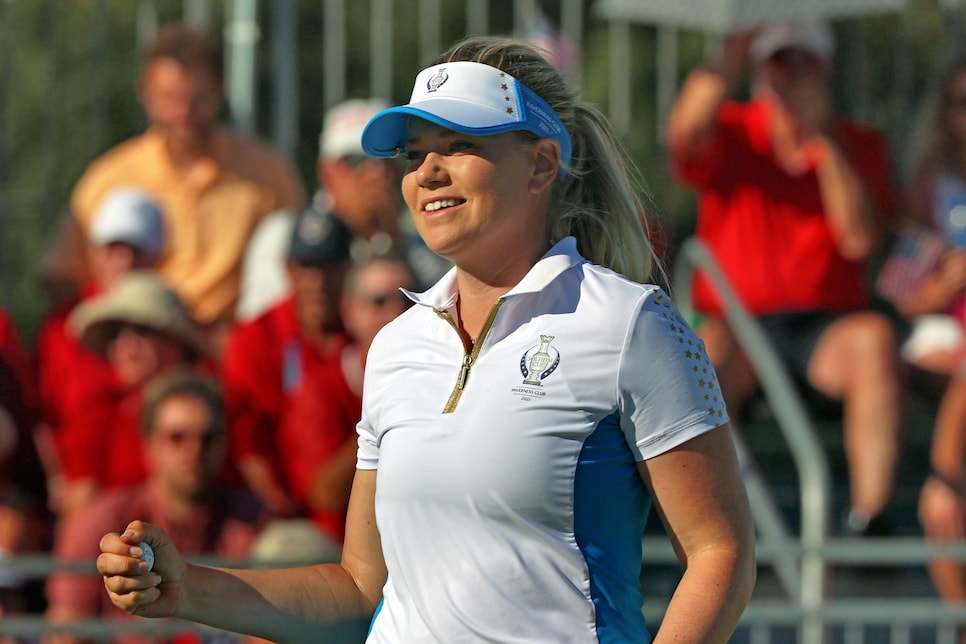 Matilda Castren celebrates after sinking her winning putt on the 18th green during the final round of the Solheim Cup.
NurPhoto
A European player could win on the LPGA Tour during a Solheim Cup year and still not make the Solheim Cup team. Sounds strange, right? But it almost happened, to the player who ultimately sunk the putt that retained the cup for Team Europe.
Matilda Castren captured the LPGA Mediheal Championship in June, becoming the first player from Finland to win in LPGA history, but 26-year-old wasn't a member of the Ladies European Tour. If you're not a member of the LET, you aren't eligible to play on Team Europe's Solheim Cup team. Castren was in a tight spot. The only way onto the team was to get LET status, and the only way to get LET status in the middle of the season is to win an LET event. So Castren returned to Europe in July, set to play in a handful of events and hope for the best, which ultimately came at the Gant Ladies Open in July.
Playing back in her home country of Finland, Castren won decisively by three strokes, securing LET membership and bolstering Team Europe's Solheim Cup roster. At that point, Castren was the only European player to win an LPGA Tour event in 2021. (Anna Nordqvist won the AIG Women's Open in August, the last event before the Solheim Cup.) By making the team she notched another first for Finland: She's the first Finnish woman to play a Solheim Cup.
Castren made her presence felt immediately at Inverness Club: She won her first match, foursomes with Anna Nordqvist over Danielle Kang and Austin Ernst. She played with Nordqvist again that afternoon in a four-ball match, beating Lexi Thompson and Mina Harigae. She and Nordqvist lost to Lizette Salas and Jennifer Kupcho in Sunday foursomes.
It was a lot of golf for the Florida State University graduate. Castren sat Sunday afternoon—well, technically she didn't "sit." With so many American fans out cheering, Castren went out and cheered.
"I think it's important this year especially because there's not that many European fans here," Castren said after her Sunday morning match. "You hear a lot of the USA chants and there's a lot of people cheering for the Americans, so I think it's important to have as many people out there cheering for Europeans as possible."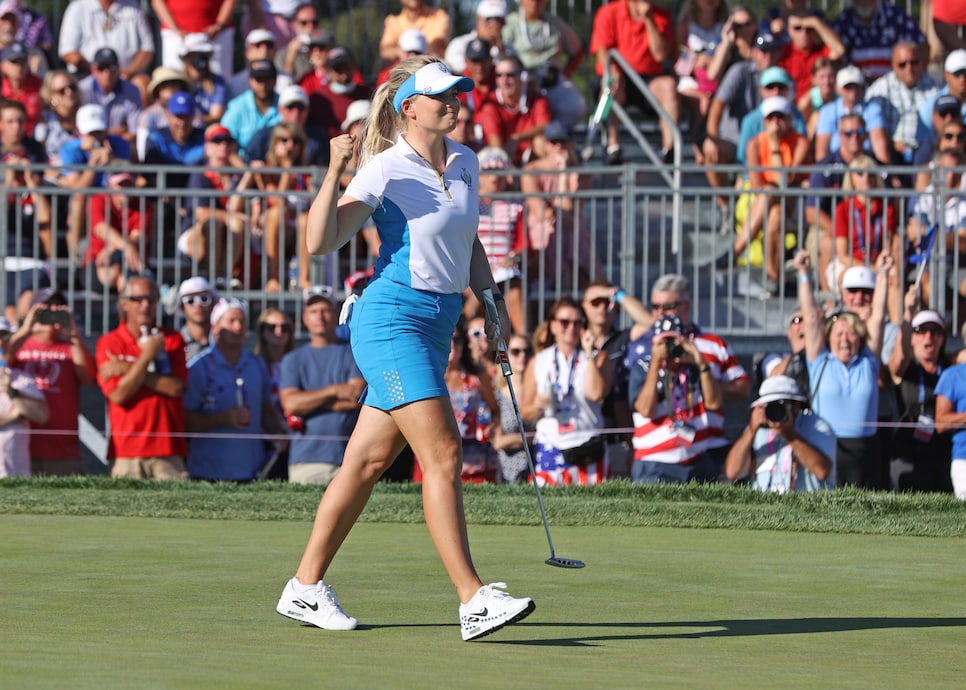 She came out ready for Sunday singles. She beat Lizette Salas, 1 up, with a par putt on their match's 18th hole. It was her putt that got Team Europe to 14 points, meaning they officially retained the Solheim Cup.
"It's hard to put it into words right now. I think I'm still shaking," Castren said. "I was looking at the board and I knew it was going to be an important putt, and I wanted to make it. Me and Mikey read it and we read it perfectly and it went in. I knew it was important. I knew we needed that. I didn't know exactly what it meant because I knew there were still matches on the course, but I knew we needed to make that putt."
European Captain Catriona Matthew was by the green, watching the rookie's clutch moment.
"[She's] just a superstar," Matthew said of Castren. "I mean, that putt she holed there on 18, I mean, she had a plugged lie in the bunker, and then to roll that putt just lipped in the middle, we all just kind of exploded at the side of the green there."
Though Castren wasn't eligible to make the team six weeks before it started, she made it clear she belonged.
"I'm definitely coming out a more confident player after this week," Castren said.