News
So many young golfers are succeeding on the PGA Tour. Why isn't Bobby Wyatt one of them?
He was an All-American at Alabama, talked about the same way as teammate Justin Thomas, coming out of college. But success has been elusive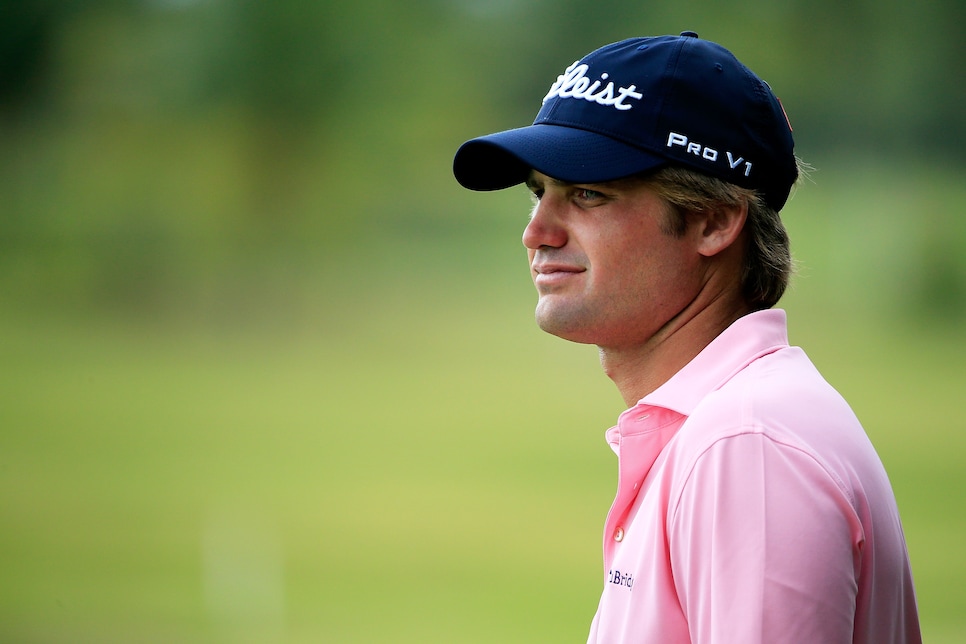 Michael Cohen/Getty Images
Two years ago, a 23-year-old making just his ninth start on the PGA Tour, playing on a sponsor's exemption, briefly took the lead in the final round of the Zurich Classic, making an eagle and six birdies over his first 13 holes. Ultimately, the promising young player couldn't keep it going, making a couple of nervous three-putt bogeys late in the day to finish fourth in the water-logged tournament that spilled over to Monday and was shortened to 54 holes. Still, it was a good start, the kind of moment that has often proved a launching point for many a career if not stardom. A final-round 64 at TPC Louisiana and high finish earned the kid who'd once shot 57 in the Alabama Boys State Junior Championship and helped lead the University of Alabama to two national championships more than $300,000 and enough non-member FedEx Cup points to qualify for the Web.com Tour Finals, where he would finish 22nd on the money list and earn his card for the big tour in 2016-'17. After the performance in New Orleans, his takeaway was that he could hang at the highest level of the sport.
It was all a seductive trap.
Bobby Wyatt had always pictured himself as a PGA Tour golfer and from an early age had the look of one. As soon as he could walk, he'd tag along with his older brother Ford and dad Cliff at Mobile Country Club. By the time he was 21, he was schmoozing with President George W. Bush during a practice round at the 2013 Walker Cup at National Golf Links (the Bushes are close with family friends of the Wyatts). Bobby had the game, too. In addition to the 57 and his college success at 'Bama, where he was a first-team All-American as a senior, Wyatt won the much-ballyhooed Sunnehanna Amateur, whose list of champions include everyone from Ben Crenshaw to Rickie Fowler; took medalist honors in the stroke-play portion of the 2012 U.S. Amateur; and went unbeaten in the Walker Cup, tallying a team-best 3½ points as the U.S. thumped Great Britain & Ireland, 17-9.
"It was pretty freakish how good he could hit the ball," said Justin Thomas, who was a teammate of Wyatt's in Tuscaloosa and has, among things, watched him twice make a hole-in-one. "When he would get going with his ball-striking, it was unbelievable. It made that perfect noise and he left those perfect dollar-bill divots. Sometimes I'd just sit on the range and watch him hit that perfect 5-yard draw over and over and over."
Instead of joining Thomas and fellow Crimson Tide teammates Trey Mullinax and Tom Lovelady at TPC Louisiana this week, however, Wyatt is 700 miles north, at Victoria National Golf Club in Newburgh, Ind., (population 3,325) where, without any status on any major tour and ranked outside the top 1,000 in the world, he had to Monday qualify just to get into the Web.com Tour's United Leasing & Finance Championship. It might as well be a million miles from New Orleans.
'There's a fine line trying to get better and sticking with what got you where you are. I did a bad job of fetchin' and trying to get better immediately rather than steady progress.' —Bobby Wyatt
PGA Tour life is rich with spoils—millions of dollars at stake each week, swanky locales, luxury courtesy cars, fame. In the case of a hotshot up-and-comer, everybody wants a piece, too—agents, equipment reps, swing gurus, trainers, sport psychologists.
"It's a little bit of a circus," Wyatt said. "I wasn't prepared. So many people are trying to help you, it's dizzying. I got caught up in that."
Admittedly, it was easy to do for the former amateur. After turning pro in 2014, he failed to take advantage of six PGA Tour starts and couldn't break through at Web.com Tour Q school, either. In turn, Wyatt played a haphazard mix of Monday qualifiers, mini-tours and a smattering of international events. He got that sponsor invite in 2016 to TPC Louisiana and flashed the promise that had given rise to such high hopes, but his play that week didn't carry over. Wyatt failed to make the weekend in 19 of his next 31 starts, including 13 of 19 in 2017.
"It totally shocked me because of how good a player he is," said Thomas, who turned pro a year earlier and not only made his way on the PGA Tour, but reached an elite level.

During Wyatt's struggles, Thomas had been reticent to offer advice unless called upon for fear that it would only apply more pressure. "He got in some bad habits with his swing, and that snowballed," Thomas said. "When stuff goes wrong in a big way it can snowball because you put so much pressure on yourself from that aspect."
Along the way, Wyatt changed coaches, going from Tony Ruggiero, who had worked with him since high school, to Scott Hamilton in 2016 after Hamilton had enjoyed success with a handful of pupils. Wyatt also relocated from Mobile to the tour-pro hotbed of Sea Island, Ga., and tinkered with his swing, inexplicably going away from that reliable baby draw Thomas was so in awe of, to trying to hit a power fade as well as making other changes. It all led to less confidence and more questions.
"There's a fine line trying to get better and sticking with what got you where you are," Wyatt said. "I did a bad job of fetchin' and trying to get better immediately rather than steady progress. That was my mistake."
Golf history is littered with the "can't miss" who did and players who had their 15 minutes of fame only to never be heard from again. They often end up playing in tournaments you've never heard of in nowhere towns, or moving on from the game altogether. The pressure and frustration for Wyatt reached its zenith toward the end of 2017, when he considered putting away his clubs for good.
"Missing a ton of cuts wears on you," he said, lamenting all those exasperating weeks on the road. "I had a lot of self doubt if I was good enough or even if I wanted to be out here. It was crazy. Here I thought my whole life that I would be a successful pro golfer."
'When he would get going with his ball-striking, it was unbelievable. It made that perfect noise and he left those perfect dollar-bill divots. Sometimes I'd just sit on the range and watch him hit that perfect 5-yard draw over and over and over.' —Justin Thomas on Wyatt
In Ruggiero's eyes, Wyatt had simply lost his way. There was the constant temptation that one more piece of information or one more tweak would lead to the eventual breakthrough and would return him to his destiny of being the next big thing, the next Justin Thomas. "In doing that, Bobby got far from who he is as a golfer and what he did as a golfer," Ruggiero said. "In trying to make the swing perfect, you think you're going to be the best player. It doesn't work that way.
"People react to right now. I think they just get off the path, they don't become less good."
It didn't help that many of his peers—some of whom he had regularly beaten in college—were having success. Smylie Kaufman, an unheralded player when he came out of LSU and turned pro the same year as Wyatt in 2014, won on the PGA Tour just a year in and the following season played his way into Sunday's final twosome at the Masters. Then there was Thomas' stratospheric rise, which has included eight PGA Tour wins, including a major championship, a FedEx Cup title and Player of the Year honors all by age 24.
"You have two emotions," Wyatt said. "You're excited for them, but at the same time think that could be you. I don't know if jealousy is the right word, but it stung. Bad."
Slowly, the one-time prodigy has started to find his way again. Wyatt took a month off after last season and decided that he wasn't done with the game. He went back to what worked in the past. He returned to Mobile, started working with Ruggeiro again, began honing his draw and, last December, got married to his high-school sweetheart, Jean Faircloth. All were decisions that have added a significant amount of stability, comfort and familiarity back into his life.
A trip to Bakers Bay in the Bahamas with Thomas and friends this past March paid dividends as well. Though it was a low-key affair, Wyatt gleaned what he believes are some important traits from his onetime college teammate.
"He has such a high level of confidence," Wyatt said of Thomas. "To be around that is contagious."
The results haven't come yet, but Wyatt did recently secure status on the Mackenzie Tour in Canada. Then came the Monday qualifier earlier this week in Indiana. "I'm a lot more comfortable with who I am and what I'm trying to do," Wyatt said. "I'm getting back to being me."
You are using an unsupported version of Internet Explorer. Please upgrade to Internet Explorer 11 or use a different web browser.