The Loop
Why so many top amateurs are turning pro this week -- and the unintended consequence
Where do you return the little (a) when you turn pro?
Officials at this week's Travelers Championship have a surplus of them as college standouts Patrick Rodgers (college player of the year), Cameron Wilson (NCAA individual champion), Oliver Goss (U.S. Amateur runner-up) and Bobby Wyatt (U.S. Walker Cup team member) arrive at TPC River Highlands in Cromwell, Conn., set to play for pay for the first time, each given a sponsor's exemption into the PGA Tour event.
A continent away at the Irish Open, Matthew Fitzpatrick, fresh from earning low amateur honors at the U.S. Open, makes his pro debut as well. All told the Nos. 1 (Rodgers), 2 (Fitzpatrick), 4 (Wilson) and 12 (Goss) players on the World Amateur Golf Ranking are crossing the Rubicon.
In case you think this is some sort of amazing coincidence, think again. It's all business, more specifically the consequence -- likely unintended but certainly not unforeseen -- of the PGA Tour's business decision in 2012 to do away with Q school and the accompanying ability to earn a PGA Tour card.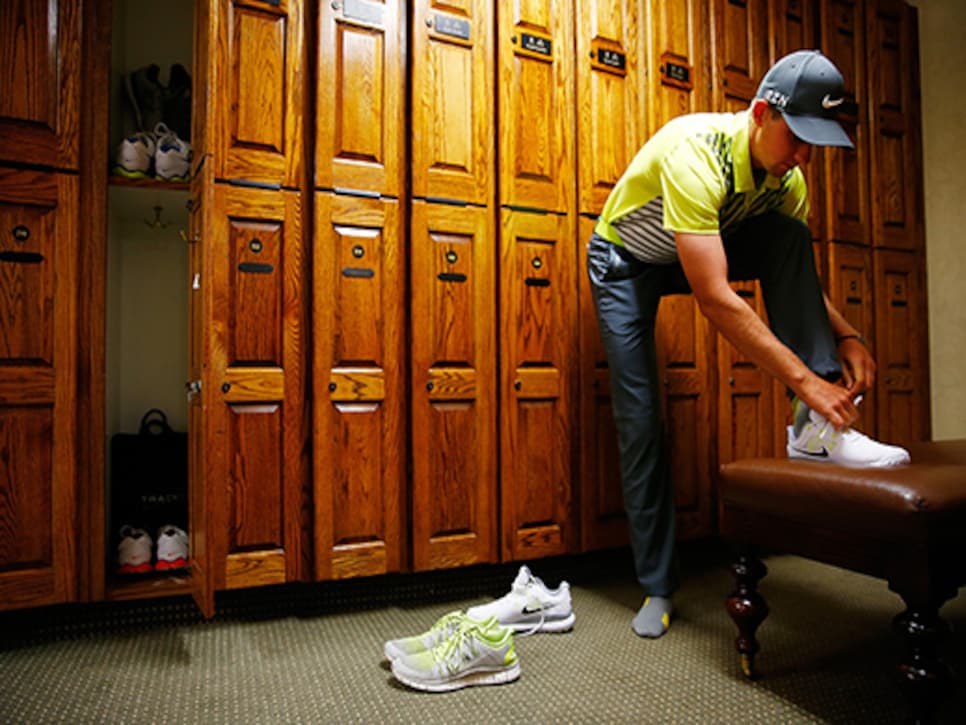 College player of the year Patrick Rodgers of Stanford, freshly signed by Nike, makes his pro debut this week at the Travelers Championship. (Getty Images)
With the elimination of Q school (and the creation of the Web.com Tour Finals in its place), top amateurs and college players have just one direct way to get on to the PGA Tour without having to apprentice on the developmental tour: gather invites to PGA Tour events and hope for a few very good finishes that will earn them enough money/FedEx Cup points to skip directly to the majors. (Non-members can get tour cards for the next season if they earn the equivalent of the 125th golfer on tour in either year-end list). It was the route Jordan Spieth made look all too easy in 2013; less than a dozen players, however, have actually been able to pull this off in the last two decades.
If you can't earn enough to get into the top 125 and get a PGA Tour card, you might still be able to bank enough to get into the top 200 and gain a spot into the Web.com Tour Finals, where you'll have another chance at getting a PGA Tour card with a strong enough showing in the four-tournament playoff.
Obviously, then, the more invites/starts you can get, the more chances to earn said money/points. Yet the 2013-14 PGA Tour regular season ends in August, with only 10 tournaments remaining. Add that to the fact there are only a handful of sponsor's exemptions available at any tour event and, well, time is of the essence.
That of course explains why Rodgers, Wilson, Goss and Wyatt are turning pro this week. As for Fitzpatrick, a similar chance at grabbing a card on the European Tour exists by performing well via sponsor's invites. It was too good an opportunity, apparently, for the 20-year-old Englishman to pass up. So good that he's forgoing his spot in the field at next month's British Open (he was exempt if he remained an amateur thanks to his U.S. Amateur victory last August; instead he will try to qualify as a pro).
Lets circle back to that unintended consequence and identify the biggest loser in this whole scenario:
The annual summer amateur schedule of national events began last week with the Sunnehanna Amateur in Pennsylvania and continues Wednesday with the Northeast Amateur at Wannamoisett Country Club in Rumford, R.I. New tournament director Ben Tuthill is rightfully excited about the event, even though it will be missing the foursome playing instead in the Travelers, as well as defending champion Cory Whitsett, a graduating college senior who helped Alabama win two straight NCAA titles and who qualified as an amateur to play in last week's U.S. Open.
In years past, Whitsett likely would have returned to Rhode Island to see if he could make it two in a row. But like his Crimson Tide teammate Wyatt, he can't afford to if he hopes to somehow earn a PGA Tour card or a chance to get into the Web.com Tour Finals via sponsor's exemptions this summer.
Under the old system, graduating seniors or underclassmen leaving college early tended to remain amateurs throughout the summer, usually using the U.S. Amateur in August as their farewell event. They then turned pro and rolled into the first stage of PGA Tour Q school. Now the possibility of bypassing the entire amateur summer is a very real and increasingly likely option, diluting the talent in the amateur ranks by skimming the cream that has risen to the top.
Mind you, in odd years the lure of a Walker Cup being played in late summer will cause some top amateurs to hold off on making the jump. That carrot, though, doesn't exist in 2014. As a result, better amateurs are taking their sticks elsewhere, and leaving the little (a) lonesomely behind.