News
Smylie Kaufman, his once-promising career on hold, speaks out about the dark side of social media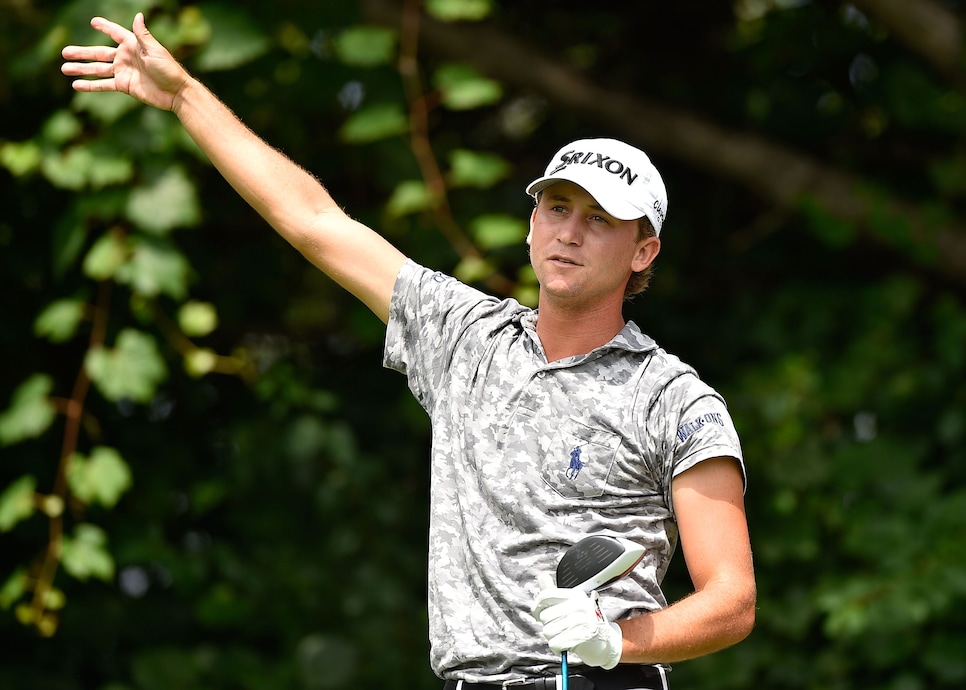 Photo By: Minas Panagiotakis/Getty Images
Smylie Kaufman's season is over. The 26-year-old former PGA Tour winner told GolfDigest.com that he has filed with the tour for a medical extension, citing an inflamed left elbow that has plagued him for months. He last played at The Greenbrier in early July, where he withdrew following a 79 in the opening round.
An MRI revealed no structural damage, but the pain, swelling and lack of range of motion was too much to bear. Kaufman, who has missed the cut in all but two of 16 starts this year, hasn't touched a club since pulling out of the event and isn't expected to be able to play for the next two to five months. When he does return, he'll have five starts to earn enough points to keep his tour card or secure secondary status.
"It has been the toughest year, year-and-a-half of my life, golf wise," said Kaufman, whose exempt status from his lone victory, the 2015 Shriners Hospitals for Children Open in Las Vegas, was set to run out at the end of this season. "It sucks being really good for so long and feeling like I forgot how to play."
At times it looked like he had.
Kaufman's rise was the definition of meteoric. In his fifth career start on the PGA Tour, he shot a sizzling final-round 61 that included seven birdies and an eagle over his final 11 holes at TPC Summerlin. He waited a couple of hours to see if it was good enough. It was; he won by a stroke.
The following spring, Kaufman, who had been something of a late-bloomer at LSU, entered the final round of the 2016 Masters a stroke back of leader Jordan Spieth after having recorded the day's best score, a three-under 69, the previous afternoon. The moment proved too big a challenge for the then-24-year-old, who tumbled out of contention with nine bogeys and a double en route to an 81 and a T-29 finish.
Still, Kaufman seemed on his way to becoming a star. In the span of 15 months, he had won on golf's biggest tour; was the darling underdog story at Augusta National; enjoyed the spoils of newfound fame and fortune with buddies Spieth, Justin Thomas and Rickie Fowler on a spring break trip to Baker's Bay in the Bahamas, the hijinks of which were splashed across social media; inked a lucrative deal with a beer company; and infamously (and mostly unsuccessfully) took on the waters of the Pacific in a kayak with Spieth as first mate off the coast of Oahu following a round at the Sony Open.
With all of it came 100,000 followers on Twitter and more than twice as many on Instagram, as Kaufman eagerly lived out his life on both for all to see.
Yet just as quickly as his star rose, it flamed out even faster and more spectacularly. Since that 2016 Masters, Kaufman has missed 38 cuts in 60 worldwide starts. The only cut he made this year was in January at the CareerBuilder Challenge in Palm Springs.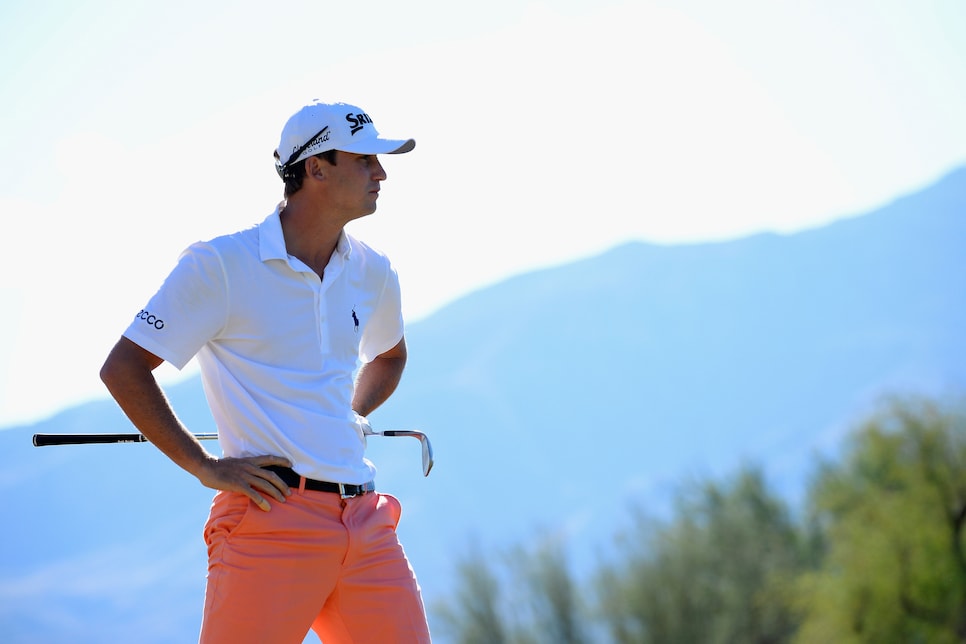 Robert Laberge/Getty Images
Eight times this year he has shot in the 80s. His 74.89 scoring average ranks 203rd on the tour, and he ranks outside the top 200 in every major statistical category in the game, except for one: he's 198th in strokes-gained/putting.
Along the way, Kaufman changed coaches, changed caddies and couldn't get out of his own way, unable to process the overload of well-meaning advice and information that was coming in from all directions. In short, he wasn't able to figure out which direction was up and knew his season (and exemption on tour) was quickly coming to an end.
"I never had to fight for my card before," he said. "I overdid it. I was trying too hard, which is easy to do. You always run into the same guys on Wednesday afternoon on the range, and you almost never see those guys play well."
That included Kaufman, whose forearm and wrist throbbed, like the headache that his year was fast becoming. The elbow soon followed. "I was icing them since February, twice a day, just to be able to play the next day," he said. "It finally gave out on me."
It didn't help any, either, that one of his favorite outlets, social media, had turned less, well, social amid his struggles.
"Social media doesn't help," Kaufman said. "That place sucks. It was so great for me for so long, but it was never anything good the last six months. When I go to Twitter, it's like reading the newspaper for me. Well, I don't wanna see Tom or Joe telling me how bad I suck when I read the newspaper."
"It was great to just be able to focus on what I'm trying to accomplish," said Kaufman, who admits that outside of watching Tiger Woods or keeping up with friends Spieth, Thomas, Fowler and others, he doesn't watch much golf. "A lot of things about social media are great. I love that I can interact with fans and other players. It's the way things are moving and a way that you can market yourself. But I need to focus on my golf."
It took a while to learn that and how to avoid a lot of the other pitfalls that go with success coming so quickly, he admitted.
"I didn't have one low point, I had a lot of low points," he said. "It was just a big washing machine cycle every week. Mentally, I lost a lot of confidence.
"If I could do it over again, I wouldn't have played as much when I was struggling. My bad golf is a lot worse than other guys' bad golf because I'm an aggressive player. But with the time off I've been able to remember all the good golf I have played, and I realized my best golf is in front of me."