An ace for all-time
College golfer scores first ace on one of the most iconic par 3s in the world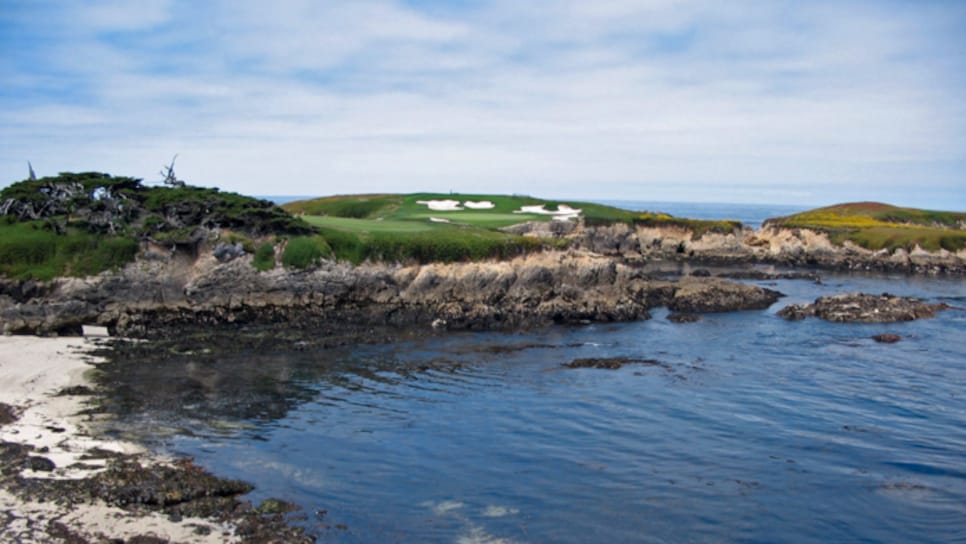 Pick any of the most famous par-3 holes in the world. Augusta National No. 12. Pebble Beach No. 7. TPC Sawgrass No. 17. The Postage Stamp eighth at Royal Troon. If you could make the first hole-in-one of your life at any of them, which would you choose?
We don't know what Christian Clark's answer to that would have been before Friday, but we sure know now. The 19-year-old freshman golfer at SMU will take Cypress Point Club's No. 16—one of the most challenging, photographed and gorgeous holes on the planet.
In an outing on the Monterey Peninsula with his SMU team, Clark pulled a fairway wood on the 247-yard 16th (playing 265 into the wind) with the monstrous and spectacular carry over the crashing ocean below. With a friend's cell phone video running, Clark took a smooth swipe, and he knew it was good from the moment the ball left the club, staring it down as it reached the green,. "Go in!" someone says and then we see players and caddies near the green raise their arms. That's when Clark knows he's made an ace and proceeds to go nuts. He's not sure what to do with himself, so he runs up the cart path and then back down to teammates Zach Kingsland and Will Sides for the requisite bouncing chest bumps. "Oh my god! Oh my god! First hole-in-one!"
It's a moment of pure elation and joy for something you never think will happen, and then it does. All the better to have it captured on video to show for a lifetime.
"It was a heck of an experience!" Clark said in a text exchange.
As aces go, nabbing one at Cypress Point's No. 16 has to rank among the most difficult, and therefore most satisfying, anywhere. Clark said he was told by Cypress Point staff that his was the 22nd ace at 16 over the last century. That's from all tees. From the back? He was told there have been "four or five."
In his 1968 book "The Bogey Man: A Month on the PGA Tour," George Plimpton wrote that the 16th is such a difficult par 3 that it was foolhardy to even try to reach the putting surface from the tee, with the smarter play being to lay up on the promontory short and left of the green. Plimpton noted that in the 1952 Bing Crosby touranment at Cypress, Lawson Little made a 14 at the 16th and Ben Hogan carded a 7. Wrote Plimpton, "Gardner Dickinson told me that he thought it was no sort of golf hole at all. His point was that risking a direct carry to the green, particularly if any sort of wind was blowing in the golfer's face, was ill-advised and "cotton-pickin' stupid."
A Dallas native, Clark played in three events in the fall college season—twice as an individual and not a starter—and showed the coach that maybe he should be starting by notching a sixth in the Trinity Forest Invitational and a T-16 in the Jim Rivers Intercollegiate. Those finishes put him into the World Amateur Golf Rankings at No. 4,540. As junior golfer, he won his first AJGA title in 2020.
He now has one of the biggest all-time brags in golf, and we couldn't be happier for and more envious of him.