News
Slow play, hot take: Players trying to explain tour's pace problem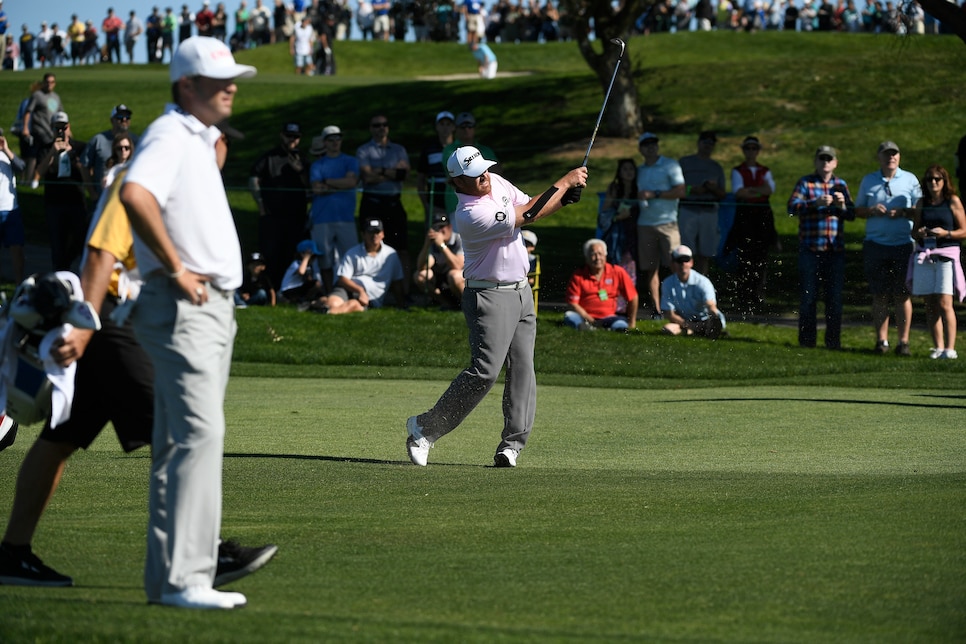 Roger Federer won the Australian Open over Marin Cilic on Sunday in an epic five-set marathon that lasted just past three hours. The last threesome in the final round of the Farmers Insurance Open? They took twice that long to play 18 holes.
Tennis isn't golf, but the comparison is no less startling. Just think of all the things that you can do in six hours—watch The Godfather I & II, fly from San Diego to New York with an hour to spare, spend nearly an entire day at the office (OK, even watching slow golf is better than that).
"I was shocked when someone said it was six hours long," said Ryan Palmer, one of the three players in that group, when reached Monday night. "I thought, 'No way.' We were never once warned or told to speed up. We never got behind."
That last part isn't entirely accurate.
"We waited on every hole until 14," noted Palmer.
That's when everyone in the group started to struggle. Palmer went way right, Alex Noren way left. J.B. Holmes went over the green. They all made bogey. Soon, they were more than a full hole behind.
Never mind that Holmes took four minutes and 16 seconds over his second shot on the par-5 18th to ultimately decide to lay-up in what was one of the more "I'm-oblivious-to-the-rest-of-the-competitors" moves in recent years.
Lots of factors contributed to the snail's pace: A long, difficult course; wind; thick rough; fast greens; questionable setups; a lack of any real (read: enforced) penalty for not just getting on with it. There are other elements, too, including field size and lack of awareness—slow players never think they're as slow as they are.
"I looked at my timings and I thought I was better than average," admitted Palmer. "I'm closer to average."
An average that, in recent years, has gone up.
"Four hours 30 or 40 years ago was a long time for a professional three-ball," said Geoff Ogilvy. "Now we're at 5½ hours."
"The generation before mine, the Davis Love's and Freddie Couples', they learned to play on the course, so they developed a natural pace," the 40-year-old Aussie said. "The younger guys learn on the range more often now. It's much more of full routine that way. It's changed the cadence. Players are better now, but if you play every day then you learn the little tricks without rushing. When you hit balls on the range all the time, there's a lot to think about, you're working on your swing, it's a different mindset."
Ogilvy noted this isn't true of the entire generation. "Zac Blair plays every day, and he's the fastest on tour by a mile," he said. There are plenty more examples of young players who play quickly, too. Nor is it the only reason. "There are 50 things that have contributed to it," said Ogilvy, adding that players also have more information at their fingertips to process than ever before.
It should be said, too, there are times that a player trying to make up his mind on a critical shot adds to the theater. Tiger Woods' chip-in on 16 at Augusta during the final round of the 2005 Masters comes to mind, among many others.
But what about the slog on what has been an increasing basis?
"Players don't care about getting fined," said Palmer.
"If you start docking guys shots that's a big deal," added Jimmy Walker. "That's how you fix it."
The PGA Tour has handed out just two penalties for slow play since 1995.
The European Tour, meanwhile, has experimented with the use of a shot clock in some of its events, and will do again this summer. Don't expect the same thing to happen on the PGA Tour, though.
What you can expect is the slow play topic being a hot one at next month's player meeting at the Honda Classic. Not that it will necessarily lead to an answer.
"It's gonna go away if players decide they've had enough and want to play [a tournament] faster," Ogilvy said. "It's really not that difficult to play faster. Peer pressure is how it's gonna work. They've talked policies forever, and it would be a shame if we ended up [with a shot clock]. You don't wanna end up there.
"The bottom line is does it affect the product and make the tournament better or worse? In some situations it makes it worse. If they played in five hours instead of six [on Sunday] they wouldn't have had to finish Monday. That's when it becomes a problem."
One that, unfortunately, doesn't appear any closer to being solved.