Slime Time
Four top tour pros are playing in a wild golf event where the reward for winning is rather … messy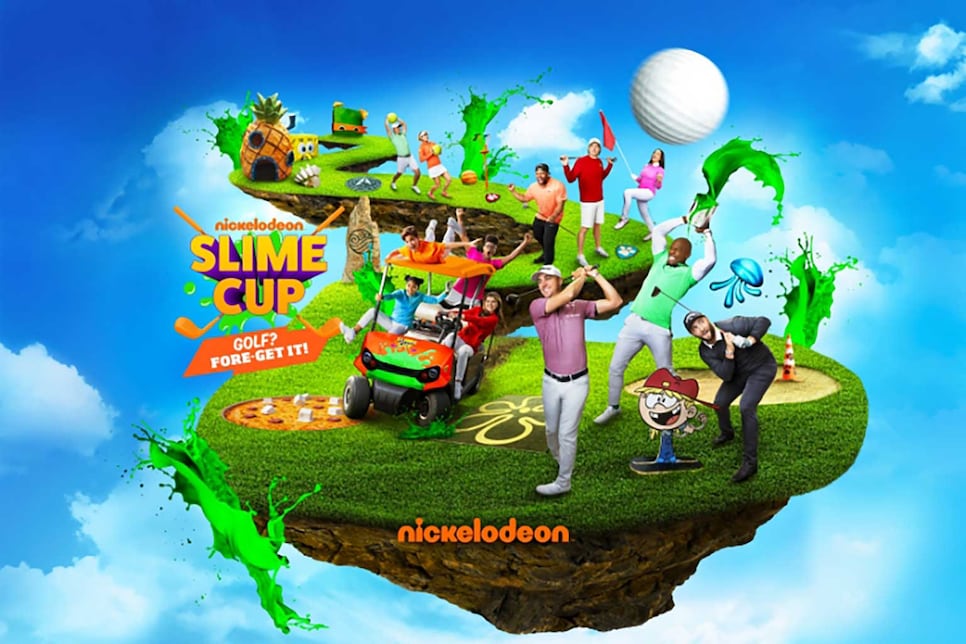 Golf can be a challenging sport for young children to connect to. Typical tournament rounds are usually quiet, long and boring. Enter Nickelodeon. The children's cable network has recruited four of golf's top pros to participate in an hour-long TV special to get kids excited about the game.
And it promises to be anything but quiet, long and boring.
The Nickelodeon "Slime Cup" airs on Saturday (June 25) at 8 p.m. ET. It features Collin Morikawa, Jon Rahm, Justin Thomas and Lexi Thompson as playing captains of four teams competing against each other on a "Nick-ified" golf course. In addition to a pro golfer, each team consists of a celebrity/athlete and a Nickelodeon actor.
Morikawa's Green Team includes actor and former football linebacker Terry Crews, as well as Nickelodeon star Jaidyn Triplett. Thomas is teamed up with WWE star Nikki Bella and Nickelodeon actor Isaiah Crews on the Pink Team. Rahm's Red Team features Los Angeles Chargers quarterback Justin Herbert and Kate Godfrey of Nickelodeon. Thompson, an 11-time LPGA tour winner, is banding together with New York Giants running back Saquon Barkley and Nickelodeon star Tyler Wladis on the Orange Team.
The "course" that the teams will be playing will be far from your typical layout. Producers of the Slime Cup promise one-of-a-kind tee boxes, far-out fairways and greens, and physical challenges that will make for interesting competition. Hint: Expect plenty of slime.
The event culminates on the final hole—"The Unfairway"—which will be played inside the Rose Bowl in Pasadena, Calif. There players will battle it out to win the Nickelodeon Slime Cup, a Nick orange blazer and the "honor" of getting slimed on TV.
The Slime Cup will feature its own unique broadcast team led by CBS Sports' Noah Eagle and a pair of Nick stars—Gabrielle Nevaeh and Young Dylan. iCarly's Jerry Trainor and Betch's Hunter March will be on the sidelines for play-by-play commentary.
The hour-long exhibition is being produced by the some of the same team that has worked on the popular golf franchise, The Match. Just as The Match series invites new fans to enjoy the game through well-known sports and television personalities, Nickelodeon's new special hopes to entice kids to pay a bit more attention to golf in the future as they cheer on their favorite TV show characters.