News
Six things to watch in golf's build up to the Masters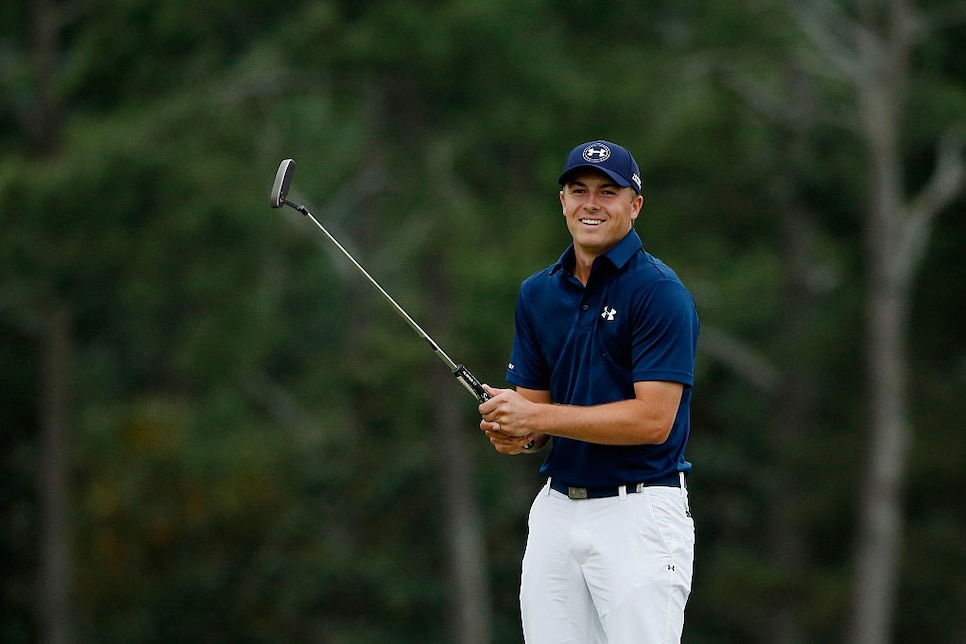 The West Coast Swing is now kaput, meaning the Masters is in our sights. And though the early season was full of narratives and "Did you see that?!" moments, the build up to Augusta National brings its own share of storylines and intrigue. With the Masters less than two months away, here are six things to watch:
Who can capture that all-important Masters momentum?
We often think golf events exist in a vacuum, that—thanks to variation in course layout and weather, constant travel or just the arbitrary nature of the game—week-to-week parallels don't exist in the sport. But make no mistake, momentum for the Masters does matter: the last four victors have won at least one tournament in the months leading up to the tournament. Good news if you're Dustin Johnson, Jon Rahm or Jason Day; a bit of an incentive for Jordan Spieth, Justin Thomas, Rory McIlroy and Rickie Fowler to get things going. (Perhaps it's no surprise McIlroy has ramped up his pre-Masters schedule, hoping extended play will correspond to his long-awaited Augusta triumph.)
Though failing to find the winner's circle is far from a death sentence, a player rarely enjoys a green jacket run without showing moments of formidability in the tournament's lead-up. If one of the sport's marquee names doesn't deliver in March, feel free to pass them up in your office Masters pool.
Can Jordan Spieth get right with the putter?
In one vein, take Spieth's 161st ranking in strokes gained/putting with a grain of salt, as the 24-year-old has played just five times. In that same breath, his short-game woes are not confined to this winter, as he battled the flat stick for much of the first half of 2017, ultimately finishing 42nd in SGP for the season (a far cry from his ranks of second and ninth in the previous two campaigns).
There were signs of life at Riviera, finishing 17th in the field in SGP, and as colleague Luke Kerr-Dineen pointed out, Spieth has seen his share of troubles with the putter before. Nevertheless, his recent performances don't exude the profile of one who's played in the final two groups in the last four Masters. Spieth will again be a Masters favorite, but he desperately needs to find some consistency, and conviction, on the dance floor.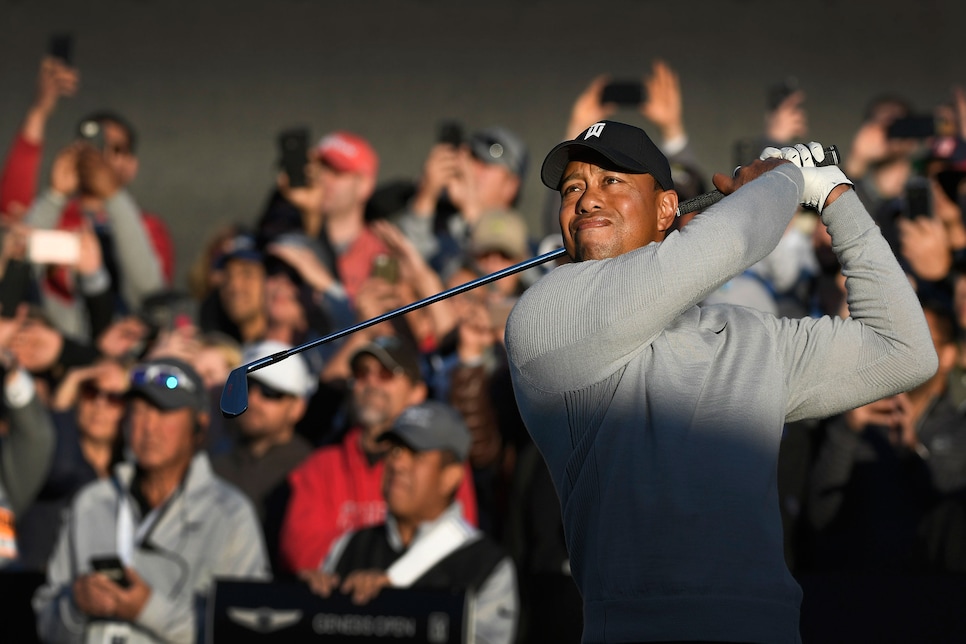 Can Tiger Woods stay healthy?
In terms of performance, the early returns from Tiger Woods have been mixed. The popular item to criticize is Woods' driving, and it certainly has been erratic (35.71 driving accuracy percentage, -.301 strokes gained/off-the-tee). The irons haven't been particularly sharp, either, hitting just 53.7 percent of greens in regulation, and a shaky putter at Riviera on Friday was the culprit for missing the cut.
However, the sample remains small, and in the embryonic stages of his latest comeback, progress is not marked by results but flashes of promise and continued good health. The latter is of chief concern, especially with Woods' Honda Classic endeavor marking back-to-back weeks of action.
True, lumbering displays at the Honda and (theoretically) Bay Hill would deflate the hype surrounding his Augusta return. But given Woods has played in the Masters just once since 2013, remaining upright for the first week of April is Tiger's biggest objective and obstacle.
What's the status of Hideki Matsuyama and Brooks Koepka?
Mastuyama was in the running for Player of the Year honors last summer, and had played relatively well this season before injuring his wrist in Phoenix. The Japanese star is expected to return at the WGC-Mexico Championship; alas, injuries of this nature tend to be fickle, and persisting, matters. His ball-striking prowess will always circle Matsuyama as a major contender, and he's placed inside the top 11 in his last three Masters starts. Nevertheless, if only for his own sanity and cognition, it's imperative Matsuyama gets a few reps in, and pain-free ones at that, before making the drive down Magnolia Lane.
It's unlikely Koepka, who's dealing with a torn tendon in his wrist, will receive the same benefit. The reigning U.S. Open champ struggled mightily before going on the sidelines, finishing last at the Hero World Challenge and Tournament of Champions. Koepka announced a two-to-three month break at the end of January, meaning he could tee it up at the WGC-Match Play or Houston Open, but odds are the Masters would be his first tournament in return. Augusta National is no place to feel your game out; conversely, Koepka's as talented as they come, and he's finished inside the top 15 in eight of his last nine major outings. If anyone could shake off rust without rehearsal, it's him.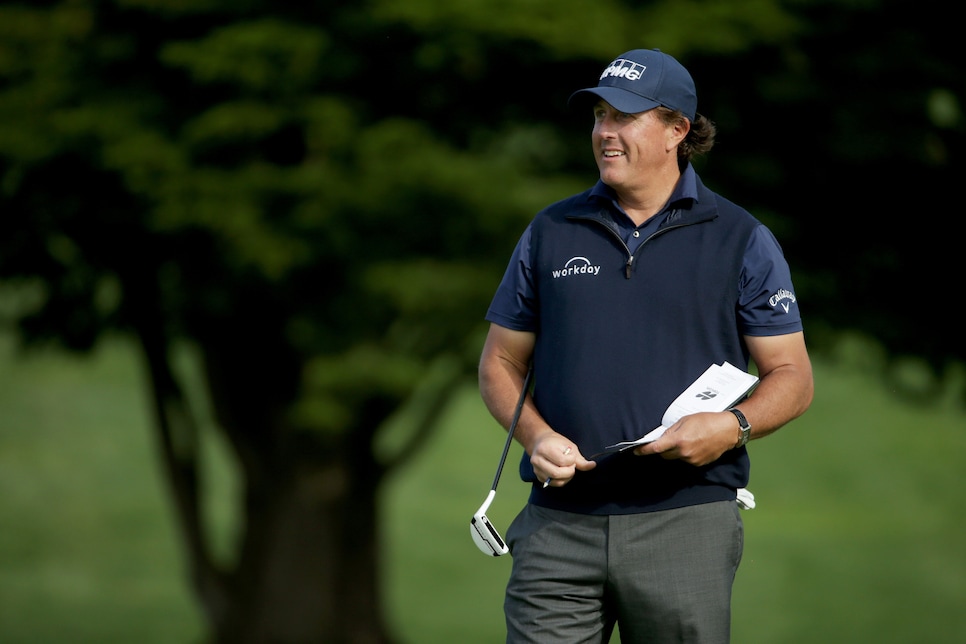 Can Phil Mickelson sustain his success?
There was a veritable tenor at Liberty National that the 2017 Presidents Cup could be Phil Mickelson's last appearance for the U.S. team. So much for that.
Turning 48 in June, Mickelson's play has been unwaveringly solid, posting five top 15s (including three top fives) in seven outings this season. Mickelson is enjoying such success in spite of wildness off the tee (48.81 driving accuracy percentage, 206th on tour) thanks to a lights-out iron game (fourth in sg: approach) and sound putting stroke (first in overall putting).
The West Coast Swing allows for such reckless abandon with the driver; the upcoming slate, not so much. (ANGC, obviously, is a different animal.) But Mickelson has historically played well during the Masters run-up, and with the impetus of the Ryder Cup, don't be surprised if Mickelson continues his spirited fight against Father Time.
Is Jon Rahm's Sunday scoring a concern?
Let's preface this as a nitpick; after all, Rahm is No. 2 in the world with a win and runner-up in 2018. However, one of these numbers is not like the others:

In the fledgling stages of the season, one round can wreak havoc on averages, but that's not the case with Rahm, posting four over-par scores in six Sunday tries. Worse, three of those rounds—Torrey Pines, TPC Scottsdale and Pebble Beach—have come while Rahm was in contention. That he struggled in the fourth round during the 2017 majors (73.33 average) doesn't alleviate these worries.
To be fair, even for one of Rahm's aptitude, these toils are expected from a 23-year-old. Likewise, correlating these Sunday problems to Rahm's temperament, or lack thereof, can be a slippery slope. And it's worth noting that Rahm ranked 10th in final round scoring during last year's breakout season.
At the moment, this oddity does not cast a cloud over Rahm's bright horizon. But if it rears its head in March, proceed with caution once April arrives.