News
Can the PGA Tour's West Coast swing help us predict this year's major champions?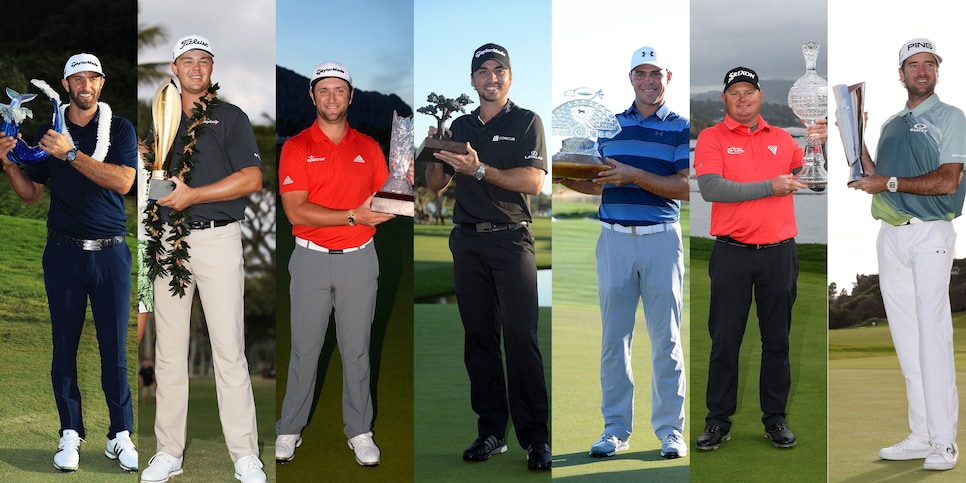 Photo By: Getty Images (7)
The Hawaii-Arizona-California stretch of the PGA Tour season has come to an end, and the winners of the seven events that began with the Sentry Tournament of Champions in Kapalua and ended with the Genesis Open at Riviera make an interesting mix.
On one hand, you've got Bubba Watson (Riviera), Jason Day (Torrey Pines), and Dustin Johnson (ToC), three giants of the sport who have won majors and could easily do so again. A very small step beneath them is Jon Rahm (Palm Springs), the exciting young Spaniard who has risen to No. 2 in the world and seems on the verge of adding a major to his resume. Then there's Patton Kizzire (Sony) and Gary Woodland (Waste Management), both in their early 30s, both with just a handful of PGA Tour wins and just barely on the successful side of "journeyman." Finally, there's Ted Potter Jr. (AT&T Pebble Beach), your classic once-a-year fluke winner who will almost certainly not be heard from again this season.
When Bubba won his third career title at Riviera on Sunday, the first thought that came to many minds, mine included, was that he instantly became a favorite at the Masters. I followed him closely when he pulled off the Riviera-Augusta double in 2014, and if you believe in the "horses for courses" theory, an in-form Bubba is your Exhibit A: He does extremely well in places that make him comfortable. If I were a gambling man, I'd have thrown a few dollars on him to take home his third green jacket.
But then I asked myself the bigger question, which first came to mind a few weeks earlier when Day won at Torrey: What do these January/February West Coast events really mean? Can they tell us anything interesting about what might happen over the rest of the season, particularly in the majors? Could we use the results to predict the winners, and would winter form translate into summer greatness?
At least in theory, these events should be the ideal testing ground—the best players tend not to show up very often in the fall, and by March and April, the "regular" PGA Tour events suffer from players who schedule around the majors. But many of the West Coast events feature the strongest non-major, non-WGC fields of the year.
To answer that question, I started out by making a spreadsheet of every winner of every West Coast event since 2010, along with the winners of the major championships, the Players Championship and the PGA Tour player-of-the-year award. You can view that here, and note that the tournaments are listed by course rather than event, since the names have changed over the years. (Also note that the WGC-Match Play only took place during the winter swing up to 2014, when it moved from Tucson and pushed to later in the season.)
From that initial experiment, here's what I found:
• In six of the last eight years, at least one winner on the West Coast has also won a major, the Players or the player-of-the-year award. It would have been seven of eight if Spieth hadn't thrown away the 2016 Masters.
• However, of the 48 players (with repeats) who won a major, a Players or the player of the year, only eight had also won a West Coast event that year.
Those are two very different ways of looking at the same stats, but I tend to think the latter result is more compelling, and probably more honest, too. So, sure, we can say with some confidence that at least one of the players who won over the past two months should win a big event, but that's not saying much, is it? The more accurate conclusion is that there's only a one-in-six chance that even one of the winners will strike again with a big result in 2018.
At the same time, it's pretty limiting to look only at the winners of the West Coast swing events. Wouldn't a top-five finish across every tournament be pretty instructive? With a sinking feeling, I realized I'd have to go deeper. Much deeper.
And so I made a second spreadsheet, this time with a very different goal. Working backward, I wanted to see how each of the major/Players/PotY winners since 2010 fared in the January-February swing. Average finishing position over that stretch seemed like the best measuring tool, with a couple caveats. First, I didn't want to look at European Tour results, however instructive they may be. Second, in order to count for a group average, a player must have played at least three West Coast swing events. Otherwise, I'd have a table full of outliers. Third, I'd assign a position of 100 for any missed cut, and fourth, I wouldn't count Tournament of Champions finishes since there was no cut and the field was too small.
You can see those results here. The takeaways:
• Of the players who won a major/Players/PotY since 2010, 19 have played two or fewer West Coast PGA Tour events the same year that they won. That's almost exactly half the field who failed to "qualify" by my metric.
• Of the 20 players who played three or more, nine averaged a top-25 finish or above, and 10 fell below the mark.
• Si Woo Kim, who won the 2017 Players Championship, had the worst winter, with a WD-MC-MC-MC finish in four events. Brooks Koepka, who won the U.S. Open last year, wasn't much better, with an average finish of 80th place in three events.
• Jason Day had the best average finish (7.3) in his 2015 campaign, before he won the PGA Championship. Jordan Spieth in 2017 and Bubba Watson in 2014 weren't far behind at 8.75.
• Palm Springs has the longest drought of any January/February event without its winner going on to take home a major championship. The last time it happened was 2004, when Mickelson won the then Bob Hope Chrysler Classic (now CareerBuilder) and the Masters. It'll be up to Rahm to break the spell this year.
The biggest takeaway, though, and the what I feel is the answer to my original question, is that winter results don't have much bearing on the rest of the season—particularly on the majors. Yes, there have been years where a tournament winner in California or Hawaii has gone on to have a great season, but just as often the best player in any given year was entirely absent from the January/February swing, or was present but played average-to-lousy golf. Even conclusions that seem like very safe bets—Bubba Watson will play well at the Masters because he won at Riviera—are no more than educated guesses.
The randomness of the comparisons between major winners and their early-year results is the ultimate trump card here, and it proves what most of us probably knew intuitively: To win a major, you need to catch fire at the right time and have the mental strength necessary to win under intense pressure. When the heat is on at Augusta National in April, players will want their win at Pebble, or Palm Springs, or Torrey Pines to mean something. In reality, though, it's just old news.