News
6 takeaways from this year's West Coast swing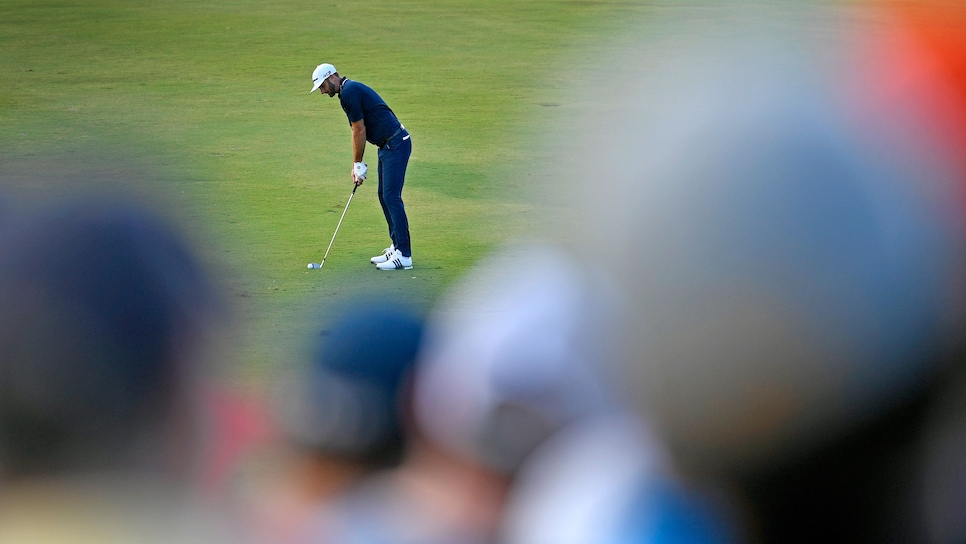 Photo By: Stan Badz/PGA Tour
If I'm reading my handy-dandy wrap-around calendar right, courtesy of the folks in Ponte Vedra Beach, the PGA Tour's "regular season" is now more than one-third over, 15 of the 44 tournaments that lead to "The Playoffs" having already been contested. Never mind that my actual calendar says it's only February.
It makes as much sense to me as the fact that winning a major championship is worth 600 FedEx Cup points but winning the first playoff event, the Northern Trust Open, is worth 2,000 points. Of course it is.
What I'm more willing to accept is the tour's West Coast swing finished on Sunday with Bubba Watson proving yet again that he is the ultimate horses-for-courses player, winning at Riviera Country Club for the third time in five years in what used to be the Northern Trust Open but is now the Genesis Open. Don't try to figure that one out.
Watson now has 10 PGA Tour wins and seven of them have come on three courses: he's won twice at Riviera; twice at the TPC River Highlands outside Hartford and twice at Augusta National—which, let's face it, is a pretty good place to play some of your best golf.
Watson's return to the land of the golf living makes him one of 43 players now favored to win the Masters. If you don't believe me, just watch TV for a while. Every time a player makes back-to-back birdies, someone with a microphone says he's ready to win the Masters. Unless the player is Tiger Woods. In that case, it only takes one birdie.
So, what did we learn from the seven-event West Coast odyssey that began with Dustin Johnson destroying the Plantation Course on Maui and ended with Watson's Hollywood finish?
• It isn't that mere mortals can't win on the PGA Tour anymore, but being able to hit the ball into outer space is becoming more and more of an advantage. The West Coast winners included Dustin Johnson, Watson, Jon Rahm, Jason Day and Gary Woodland—all bombers. Ted Potter Jr. and Patton Kizzire (who looks like he can hit the ball miles) were the only guys who came out on top who don't hit the ball from one county to another on a regular basis.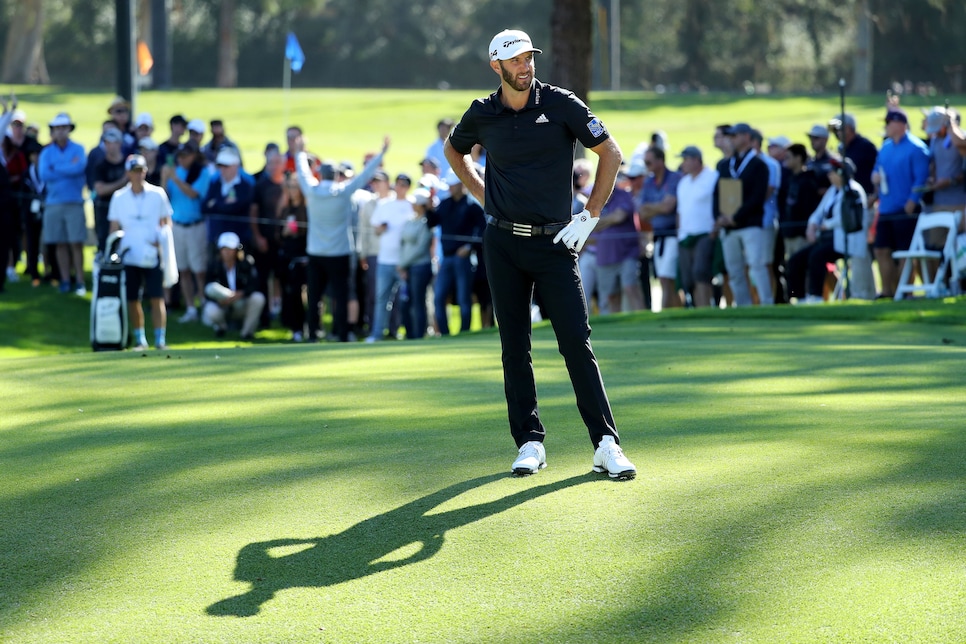 Warren Little/Getty Images
• Slow play remains a huge issue, and the tour needs to stop trying to deny it. This has become an emperor's new clothes type of deal: Commissioner Jay Monahan insists slow play isn't an issue, so it's not an issue. Even if you claim that J.B. Holmes appearing hypnotized for more than four minutes in the 18th fairway at Torrey Pines is an outlier, watching players prepare to play has become torture. Heck, even baseball has recognized the need to speed up play; does golf have to be even slower to get its act together? There's only one way to do it: Penalize players strokes when they dilly-dally and give rules officials the authority to say, "You're too slow, add one to your score." NO APPEALS unless you can prove that an act of God was the reason why your threesome was playing at a six-hour pace.
• Tiger Woods, the official touring pro of the Golf Channel, has come a long way back after essentially not playing for more than two years. But he also still has a long way to go. Remember he made the cut on the number in San Diego and putted like a madman to finish T-23. Last week at Riviera, he putted well enough Thursday (25 putts) to give himself a chance to make the weekend, then fell apart Friday and missed the cut comfortably. The good news? He feels healthy enough to try to play in back-to-back events, teeing it up this week at the Honda Classic. But it's a long way from here to the back nine on Sunday at Augusta.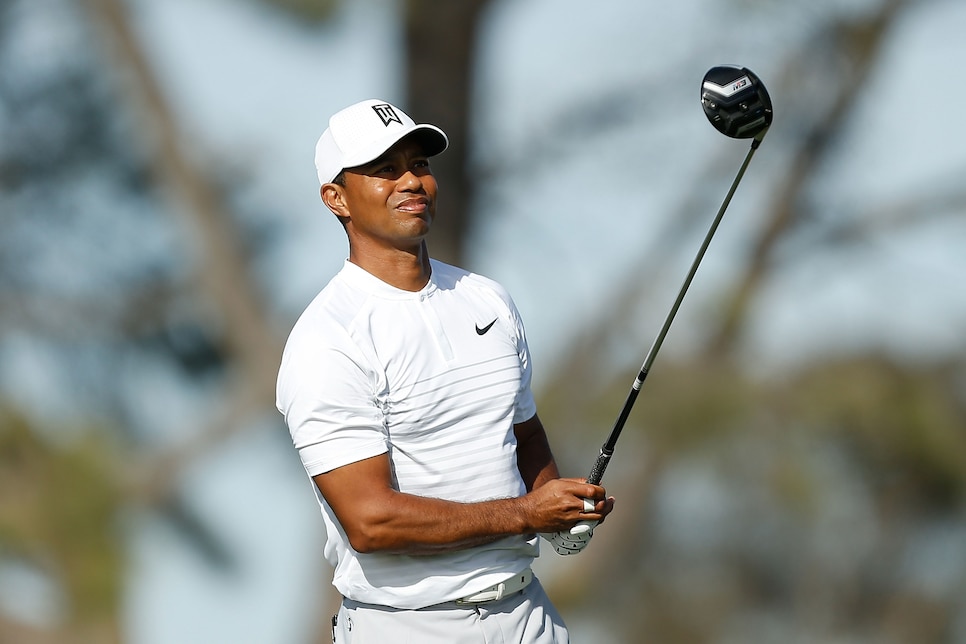 Michael Reaves/Getty Images
• Phil Mickelson can still play. He still hasn't won since the 2013 Open Championship, but there's clearly some magic in those lefty clubs even as he closes in on birthday number 48. (I can already hear the crowds at Shinnecock Hills singing Happy Birthday to him off-key on every tee during the third round of the U.S. Open). Mickelson had three straight top-six finishes out west where he always seems to play well: T-5 in Phoenix; T-2 at Pebble Beach and T-6 in L.A. He never seriously challenged to win, but played well enough each Sunday to give his fans legitimate hope that there's one last moment of glory left in Lefty.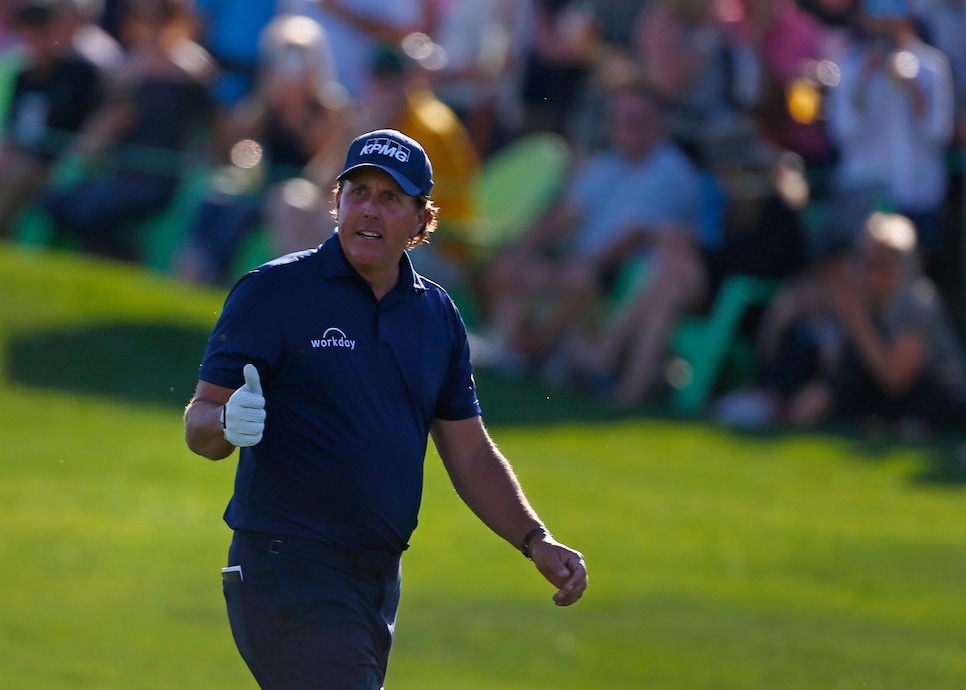 Matt Sullivan/Getty Images
• The two best stories out west had nothing to do with all the glamour boys who came out to play. Ted Potter Jr., who looks like he'd fit right in with most Saturday foursomes, held off the likes of Johnson, Jason Day and Mickelson to win at Pebble Beach, reminded us that you don't have to look like you're heading for a GQ shoot once you hole out on 18 to win on the tour. His win at Pebble wasn't quite as unlikely as Vaughn Taylor coming out of golf purgatory there to hold off Mickelson two years ago, but it was pretty remarkable. And Woodland's win at TPC Scottsdale had to tug at your heartstrings: He and his wife, Gabby, lost one of the twins she was carrying last March and their son, Jaxson, was born 10 weeks prematurely in June—but is doing fine now. When Woodland holed his final putt to beat Chez Reavie in a playoff he signaled to the sky to let his unborn daughter know he still loved her. That was the sweetest moment of the year to date.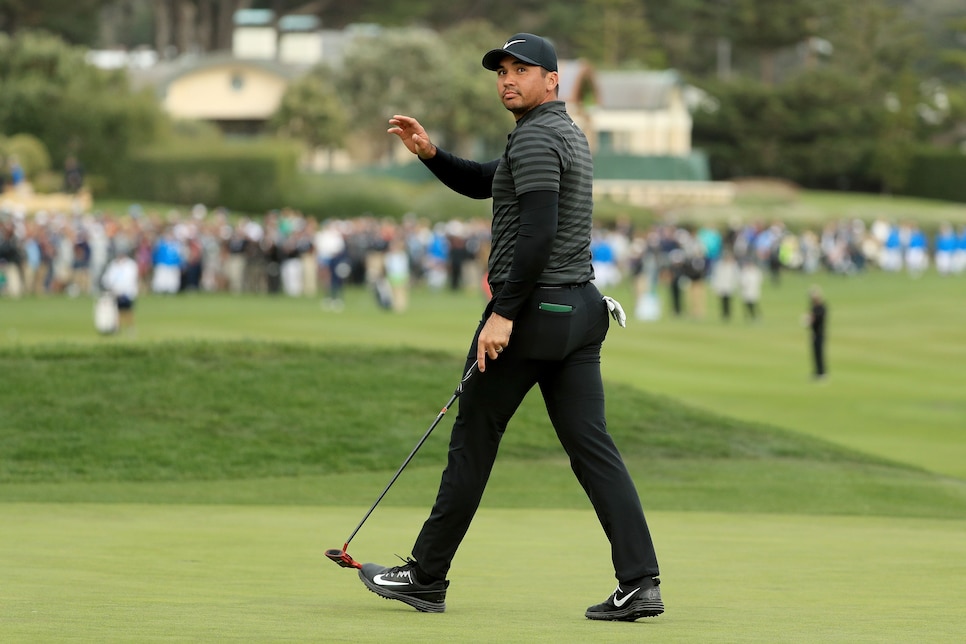 Mike Ehrmann/Getty Images
• And the best news for golf? No, it wasn't the non-stop analysis of all things Woods or even Rory McIlroy coming back to play well twice in the desert (Dubai, Abu Dhabi) and reasonably well (T-20) in Los Angeles. It was the return of Day (above), who was the best player in the world not named Jordan Spieth in 2015, but also went through a rough 2017 that included dealing with his mother's cancer, his wife Ellie suffering a miscarriage and more injury woes. Day won in San Diego, beating Alex Noren in a two-day, six-hole playoff, and then finished T-2 at Pebble Beach. Add him to the list of favorites at Augusta. That makes 44.
Now comes the Florida-Mexico-Texas-Dominican Republic swing. You have to love golf's traditions.