News
Pressure? Of Course There's Pressure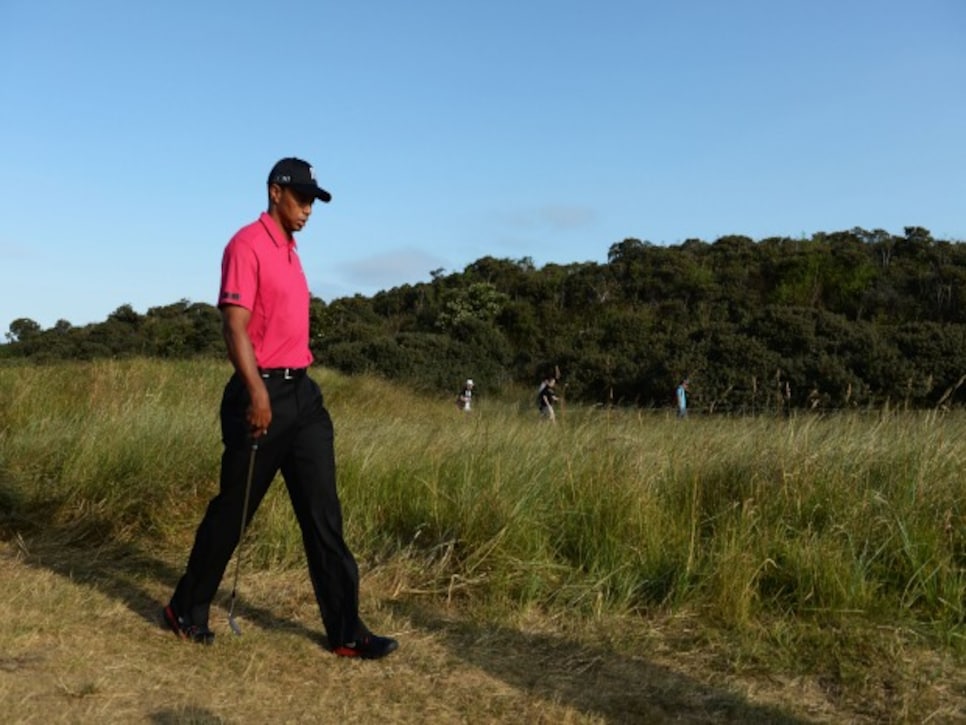 When Tiger Woods visited Muirfield in 2002 he had a chance at the Grand Slam. 11 years later, he's on a four year major drought.
GULLANE, Scotland -- Let's get the housekeeping out of the way first: It has now been more than five years -- and 16 tries -- since Tiger Woods won the last of his 14 professional major championships.
Curiously during that stretch, Woods has either contended (eight finishes in the top six) or been a non-factor (seven times outside the top 20, including two missed cuts).
And most strangely for perhaps the greatest closer the game has ever known is that Tiger has given himself multiple opportunities to creep one closer to the record 18 professional majors by Jack Nicklaus but has had problems handling the weekend.
"I feel very good about my game," Woods said Tuesday at Muirfield, where his attempt to play shortly after the sun crept over the horizon at the unthinkable hour of 4 a.m. was nixed by tournament officials who deemed the course closed for play until 7 a.m.
"I've had a pretty good year this year so far; won four times," he reminded those who brought up his winless streak in the majors.
"Even though I haven't won a major championship in five years, I've been in there in a bunch of them where I've had chances," he said. "I need to just keep putting myself in there and eventually I'll get some."
Asked why he has been able to bounce back from the winless years of 2010 and 2011 -- seasons lost in the abyss of the post-fire hydrant reconstruction of his image and swing -- in regular tour events but not in the majors, Woods uttered words few thought would ever pass his lips.
"I think it's very simple," he said, "there's a lot of pressure in the major championships and you're playing under the most difficult conditions."
Wait, did I hear that correctly? Did Woods say he has not won a major in five years because they are more difficult to win than regular tour events?
"You combine the strength of the field with the most difficult conditions and with the most heightened pressure, you're going to get guys making mistakes," said Woods, who has not played a competitive round since finishing 76-74 at Merion in the U.S. Open.
That is all very true, it's just that for a decade and a half we had all gotten used to it being the other guys who made the mistake in the majors.
Perhaps Tiger is just trying to lull us to sleep and lower expectations by backing off his usual pre-tournament "I expect to win or I wouldn't be here" bravado.
Those brash words were more than backed up by his actions until Y.E Yang made him seem human at the 2009 PGA Championship and Tiger reinforced his fallibility on Thanksgiving night a few months later.
That bit of background taken care of, let's now move on to his chances this week and the 142nd Open Championship at Muirfield, a gem of a links on the east coast of Scotland whose winner's list includes the greats of the game.
First off, on the question of Tiger's health -- which tends to be a secret not even Wikileaks has been able to penetrate -- Woods confirmed the specific part of his left appendage bothering him was indeed his elbow.
The injury apparently occurred at the Players in May but was not disclosed until it flared up again at the U.S. Open in June. Tiger skipped the AT&T National -- which benefits his foundation -- to get the arm healthy for the firm fairways of Muirfield. He says that effort has been a success.
"The elbow feels good," Woods said, which in the medically secretive world in which he operates is like handing over his full medical history complete with X-rays, an MRI and his human genome.
"It's one of the good things of taking the time off to let it heal and get treatment and therapy on it,' Tiger said. "The main reason [for skipping the AT&T] was that coming over here the ground is going to be hard and I'm going to need that elbow to be good."
Which brings us to this course, where Harry Vardon, Walter Hagen, Gary Player, Nicklaus, Lee Trevino, Tom Watson, Nick Faldo, and Ernie Els are among those who have added their name to the silver claret jug.
Can Tiger win here? First off, there really isn't a golf course Woods can't handle, although he fares best on those where he has ample room to bailout with his driver, or can leave the driver in his bag.  Muirfield is the latter.
"It's playing really fast out there," Woods said, likening it to Royal Liverpool, where he won his last Open Championship in 2006. "I only hit one driver that week. This golf course is playing similar to that. It's quick. I've played a couple days now, three days, and I've only hit a couple of drivers here."
So will that be the game plan this week? Probably. Can Tiger add his name to the Who's Who list of Open Championship winners at Muirfield? Certainly.
Will he? The bookmakers here say yes, but that's why bookmakers rarely go broke. The cynics joke that if Woods does fall from contention here, he will start shaking that arm, rubbing the elbow and grimacing. That stage is set.
But this is also true: While every opportunity lost makes it less likely that Woods will break the Nicklaus record, it is almost unthinkable that he will go the rest of his career without winning another major championship.
Does the winless streak end here? Muirfield is as good a place as any. It fits the way Woods plays. Still, the question lingers: Why has it been more than five years?
It is a question Tiger has clearly grown weary of answering. But there is only one way to stop it from being asked. Let's see if he can elbow his way to the top come Sunday afternoon.