The Loop
Singh, 49, is no longer stopping the clock
Age will always prevail eventually, but Vijay Singh built a Hall of Fame career on defying it. His attempts to hit every range ball in a bottomless bucket of them was legend and the payoff extraordinary.
Singh won 22 times, including a major championship, after his 40th birthday, when the gravitational pull of time ordinarily begins to ground most careers.
But now 50 is in sight for Singh, four years have expired since his last win, and the suspicion is that age discovered a backdoor way of imposing reality on him.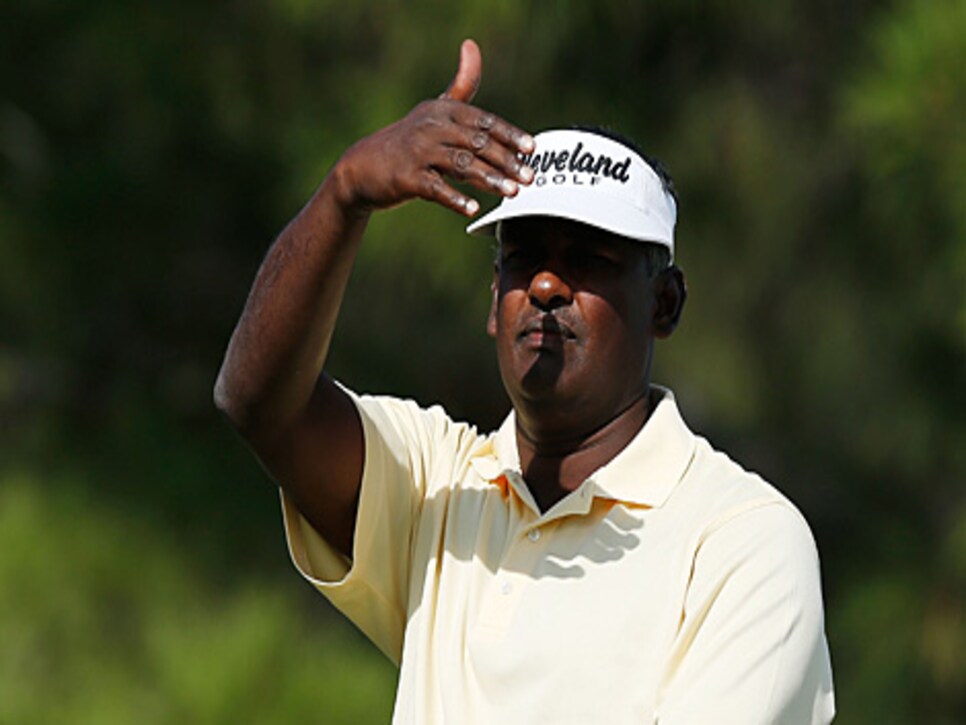 Singh had a chance to win the Frys.com Open on Sunday, when he moved to within a stroke of the lead through eight holes at CordeValle in San Martin, Calif. Back-to-back bogeys early on the back nine derailed his bid and he tied for fourth, two strokes behind winner Jonas Blixt of Sweden.
He clearly still has game; he has finished in the top 10 in four of his last eight starts, including a tie for ninth in the British Open. But his perennial nemesis is suspect putting that he once overcame with his precision with woods and irons. And now even they aren't hiding his deficiency any longer.
"Just watch his knees," Golf Channel's Brandel Chamblee said on Sunday, describing Singh's putting stroke from the fringe at the 16th hole. "You see this as players get older. You see the left hand sort of collapse some times, but you'll see the knees just buckle right when they stroke it. That's a sign of a lot of tension, a lot of demons there."
Poor putting is capable of eroding the better parts of a player's arsenal by adding urgency to accuracy. Is that the case here? In 2008, Singh won three times, when his ball-striking rescued his putting (12th in greens in regulation, 174th in total putting). Since then, his putting has remained consistently anemic (172nd this year), while his greens-in-regulation stat hasn't threatened the top 25 since and is 73rd on tour this year.
First Tiger and now Rory have declared golf a younger man's game, and Blixt is only 28. But the game still has room for its elder statesmen, and Singh, four months shy of 50, is determined to be heard from again before the Champions Tour or retirement beckon.
"I'm playing as good as anybody out here," he said two months ago, while contending at the BMW Championship. "So if I can keep doing this and if the desire is still there and fire is still there, I'm going to keep playing here. I think if I lose the edge over here, I don't know if I'm going to even go and play the Champions Tour. But I feel good about myself, my health, my strength and my golf game. As long as all of them act normally, I think I'll be okay."
The top 10s will buoy him for the moment, but for a Hall of Fame player who built his reputation on winning, they likely won't sustain him over the long haul. Time will tell, as they say, but it has joined the putter on his enemies list.