Shippen invitational
Tour events are the reward for kids and veterans in the Shippen Invitational for Black golfers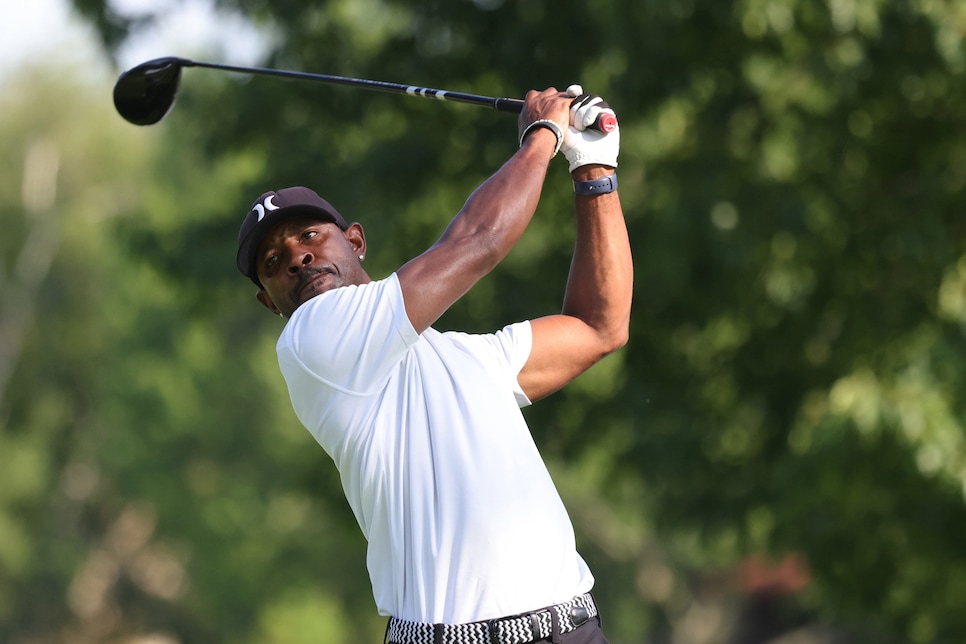 Tim O'Neal hits his tee shot on the 17th hole during day three of The John Shippen National Invitational.
Leon Halip
Tim O'Neal is about to be 49 years old. At 17, Amari Avery could be his daughter. His granddaughter even. And there they both were at Detroit Golf Club on Monday, the very symbols of why the John Shippen National Invitational was molded into reality this year.
Named after the first American-born golf professional and also the country's first Black pro, the Shippen's organizers are looking to provide top-level pro golf experiences for Black golfers. Their first effort came over the last two days, with divisions of men and women competing for spots in tournaments on the PGA Tour and LPGA Tour.
In a men's field of 21 invitees, O'Neal—a journeyman from Savannah, Ga., who has been playing on various pro tours for two decades—emerged as the winner, backing up his opening-round 71 with a 67 on Monday to beat Kevin Hall by two shots. O'Neal's prize is to play in this week's PGA Tour Rocket Mortgage Classic.
The women played in two-person teams, and the winners were Shasta Averyhardt and Anita Uwadia, who scored 73-68 to finish at three under. The duo earned an exemption into the LPGA's Dow Great Lakes Bay Invitational (July 14–17 in Midland, Mich.), which is also a team event.
Following the end of the women's tournament, the John Shippen Shoot-Out was held as a three-hole individual competition among the six women who finished directly behind the winners. Avery, from Riverside, Calif., shot one under (birdie-par-par) to win, earning a spot in the LPGA's Cognizant Founders Cup (Oct. 4-10 in West Caldwell, N.J.).
For O'Neal, it didn't matter that he was the oldest player in the Shippen field by more than a decade. "Age is nothing but a number, right?" he said.
O'Neal, whose four pro wins include three on the Latinoamerica Tour (the last coming in 2016), has been knocking around golf's minor leagues since he turned pro in 1997 after playing collegiately at Jackson State.
His clear goal this week: play on the weekend. In seven previous appearances on the PGA Tour dating back to 2002, O'Neal has yet to make the cut. O'Neal's last start on the PGA Tour was in the 2019 Genesis Invitational at Riviera, and his biggest foray into top-level competition was qualifying for the 2015 U.S. Open.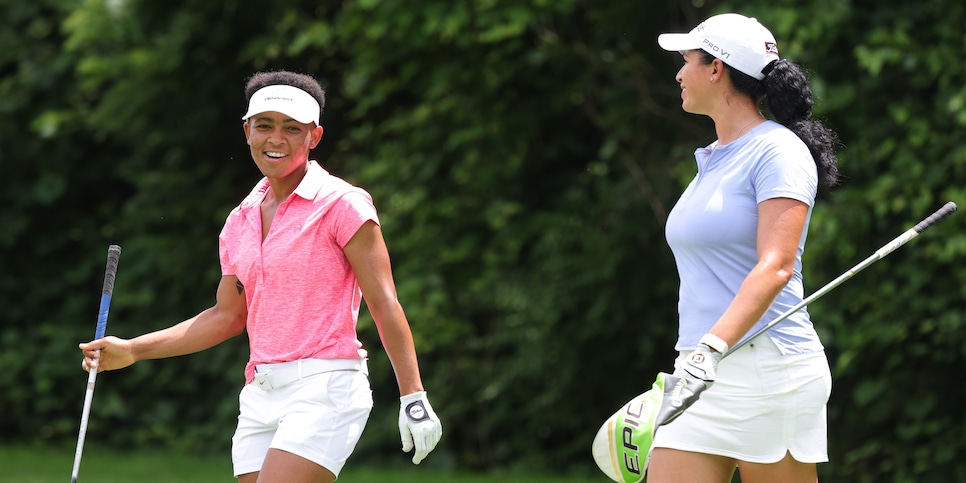 Shasta Averyhardt (right) and Anita Uwadia share a laugh on the 17th tee box during the their round Monday in the The John Shippen National Invitational.
Leon Halip
"I've been doing this for a long time. For me at 48, still to be able to compete and be able to play means a lot to me," O'Neal said. "Hopefully it's going to inspire guys not to quit and keep grinding."
Averyhardt and Uwadia came into the Shippen with very different experiences. Averythardt, a Jackson State alum, got her conditional LPGA Tour card in 2010 Q-School, but, while battling injuries, she wasn't able to keep her status, and she last played on the LPGA in 2013. Uwadia, born in Nigeria, attended the University of South Carolina and has not played on the LPGA Tour, though she has six starts on the second-level Symetra Tour.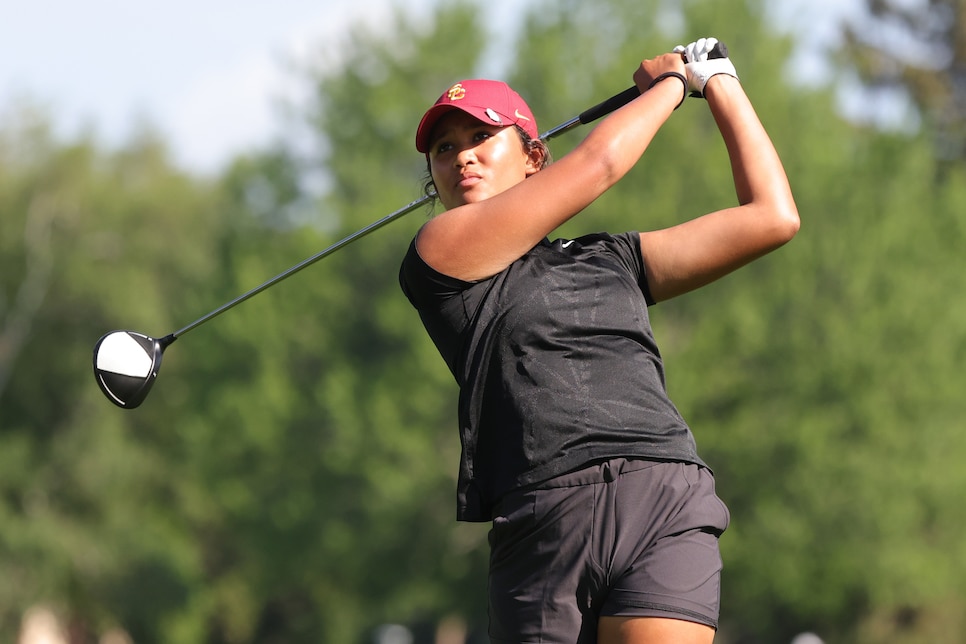 Amari Avery hits her tee shot on the second hole during the final round of the John Shippen Invitational.
Leon Halip
"Obviously, we're going to embrace it, and we're very thankful for the opportunity," Averyhardt said. "This is a great way to honor Mr. Shippen. So we're going to stay in the present and just stay in the moment and really just one shot at a time. That's like a cliche, right, but we don't want to put too much pressure on ourselves. We still want to enjoy it and have fun."
Still in high school, Avery potentially has the ability to climb the farthest. She is set to play college golf at USC, though she has signed up for LPGA Q-School and would likely turn pro if she earns her card. She qualified for this year's Augusta National Women's Amateur and won the 2019 California State Women's Amateur. Last month, Avery played in her first LPGA event at the U.S. Women's Open and missed the cut, shooting 76-77.