News
What made Shane Lowry decide at the last minute to play the BMW PGA and why it's paying off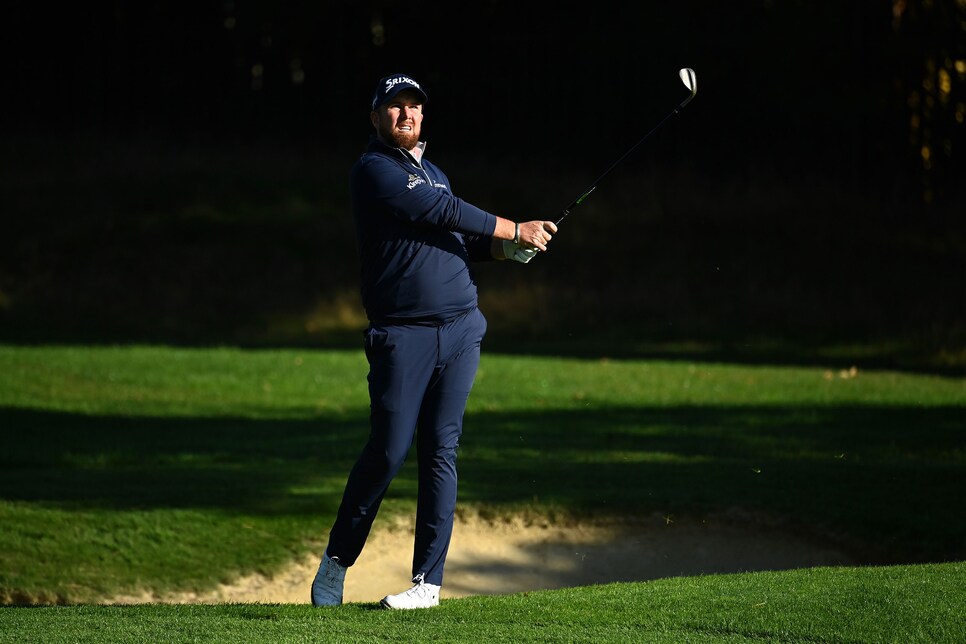 Shane Lowry's success at Wentworth's West course continued on Friday with his bogey-free seven-under 65.
Ross Kinnaird
It's quite a combination, quite the relationship. There is something about Wentworth and Shane Lowry that just fits. Since his first appearance in the BMW PGA Championship in 2010, the Open champion has played 40 competitive rounds over the Burma Road course. In 29 of those, Lowry has shot a score of par or better, a record of success that has seen him accumulate seven top-15 finishes in the event, four in the top six. Only once has he missed the cut, and on only three occasions has he shot more than 74.
Just about the only thing Lowry has yet to do, of course, is win the European Tour's flagship event. But the sight of the Irishman's name atop the leader board halfway through his 11th appearance in this $7 million Rolex Series tournament is hardly surprising given his past feats on the 7,267-yard lay-out. After a bogey-free 65 on Friday, the 33-year-old is 12-under-par 132, tied with Englishman Matt Fitzpatrick. Another Englishman, first-day leader Tyrrell Hatton, is one shot back of the leaders.
Ironically, Lowry opted only at the last minute to play in an event where he has enjoyed so much positivity. It wasn't until Sunday evening, after playing nine holes with his coach, Scotsman Neil Manchip, at the K Club, site of the 2006 Ryder Cup, near Lowry's Dublin home, that he full committed to competing. As has happened to so many players in the past, a chance meeting with an old putter provided the final encouragement Lowry needed to make the short trip across the Irish Sea.
"I saw this putter sitting there and when I put it down it had a nice look to it," he said. "I was, like, I'll bring it for the spin. It needed a new grip. But I putted nicely with it at the K Club. I was pretty happy, so I brought it, got a new grip on it and decided to use it. It's definitely worked so far."
All of which is in sharp contrast to the fortunes "enjoyed" by Lowry on the PGA Tour over the last few months. After starting 2020 as ranked 19th in the world, the "champion golfer" of 2019 is currently ranked 31st. A tie for sixth at the WGC-FedEx St. Jude Invitational represents his lone top-20 finish on the PGA Tour during 2020. Indeed, his visit to Memphis in early August is his only top 10 since his famous and emotional victory in the Open Championship at Royal Portrush in July 2019.
Given all of that it is perhaps as well for Lowry that last month's Ryder Cup was postponed for a year. His fellow Irishman, European skipper Padraig Harrington, would surely have had a tough time justifying picking his close friend.
"I've been struggling on the greens," Lowry said. "And I've been dropping a lot of silly shots. That takes its toll. Playing golf on the cut mark is just stressful and it's just hard. But when you put up a good score in the first round and you get off to a good start in the second round like I have here, it frees you up and allows you to play some good golf. That's what I've done, and hopefully I'll keep it going."
There's no reason why not, if history is our guide. As Lowry was quick to announce at the end of two days during which he has made as many as 14 birdies, "I love this place."