NCAA Men's Championships
Turk Pettit gives retiring Clemson coach Larry Penley an NCAA individual champion as a sendoff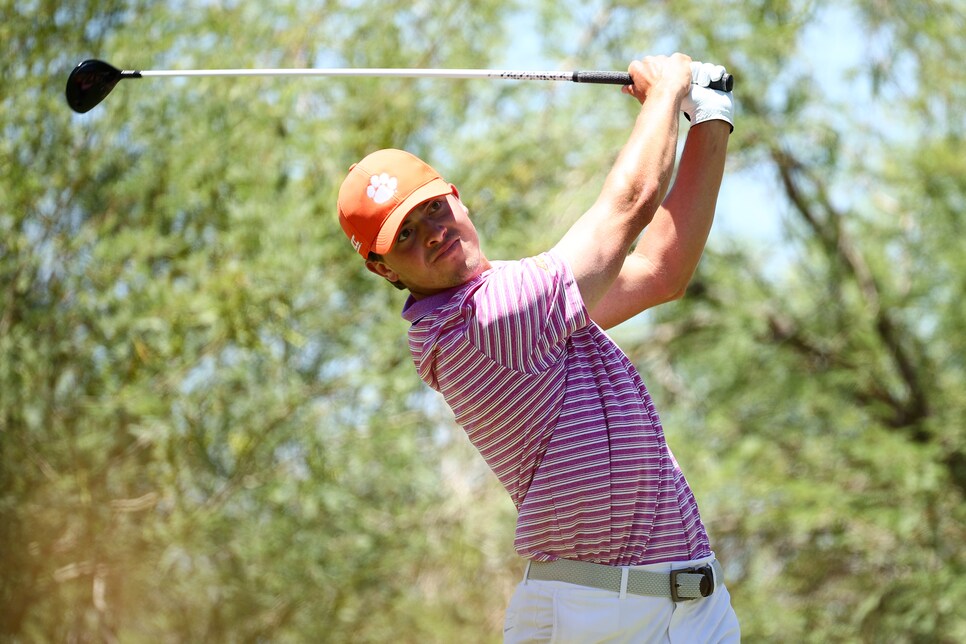 This was how to punctuate a closing chapter, Clemson's Turk Pettit affixing an exclamation point to his college career on behalf of his retiring coach, the legendary Larry Penley, on Monday.
Pettit won the NCAA Division I individual championship by one stroke over Oklahoma State freshman Bo Jin at Grayhawk Golf Club in Scottsdale, Ariz., his first college victory of his senior season coming on its biggest stage.
"A lot of hard work goes into this," Pettit said. "To finally get a win and win this one is special."
In more ways than one, he might have added. Clemson was not among the eight teams to advance to the match play that begins on Tuesday, so this was Penley's last official day on the job, in this his 38th year as the Tigers' coach. Pettit was Penley's second NCAA individual champion (Charles Warren was his first, in 1997).
"I haven't given myself the luxury of thinking about it, really," Penley said, his emotions suggesting otherwise. "We had a job to do this week. I'm looking forward to reminiscing about the good times.
"I'm proud of all of our players. They've been fantastic all throughout the years. Blessed with great parents. Our parents travel, which is so awesome. It makes my job so easy. It's a blessing, and today is a great memory I can take with me, so it's very special."
On a typical Arizona desert day in the run-up to summer, sunny and the temperature reaching 100, Pettit overcame a two-stroke deficit to start the final round, shot an even-par 70 and completed 72 holes in seven-under-par 273.
It was basically a two-man affair throughout the final round. Jin, the 54-hole leader, began the round with a two-stroke lead only to shoot a three-over 73 that included an 18th-hole bogey that kept him from a playoff. Jin had driven into deep rough on the par-4 closing hole, then muscled his second to a slope on the side of the green adjacent to water. A poor pitch left him with a 10-foot par putt to tie, but the ball slid by the hole, giving Pettit the victory.
"The whole way, I'm still feeling excited," Jin, a native of Bejing, China, said. "It was a really great experience for me. Didn't do what I wanted to do, but still a great experience for a young gun."
Jin will join his Oklahoma State teammates in the team match play part of the NCAA Championship on Tuesday. The Cowboys finished second to top-seed Arizona State. The other teams to advance were Pepperdine, Oklahoma, Illinois, Florida State, Vanderbilt and North Carolina.
Pettit, 33rd in the World Amateur Golf Ranking, played the back nine first and went out in two-under-par 33, a strong performance on a nine considered by virtually everyone else the far more difficult nine.
"I got off to a good start and after that kind of put in cruise control," Pettit said. "I thought the golf course got a lot harder as the day went on. The front nine, to me, I thought played a lot tougher. I didn't know I was in the lead at all. I didn't find out until the last green. I was just going to play my best and see what happens. I felt like I needed one more a birdie coming down the stretch because I heard the coach say, 'let's get a birdie,' but I didn't need that birdie."
No, he didn't, thus allowing the tears shed by Penley's wife Heidi to be happy ones. Let the reminiscing begin. Penley coached the Tigers to a national championship in 2003 and took 30 teams to the NCAA Championships. Among his players were two Ben Hogan Award winners (D.J. Trahan and Kyle Stanley) and two US Amateur champions (Chris Patton in 1989 and Doc Redman in 2017).