POLITICIANS GET IN MIX
Senators urge regulators to dig into PGA Tour-Saudi agreement details, bill introduced to strip tour's tax status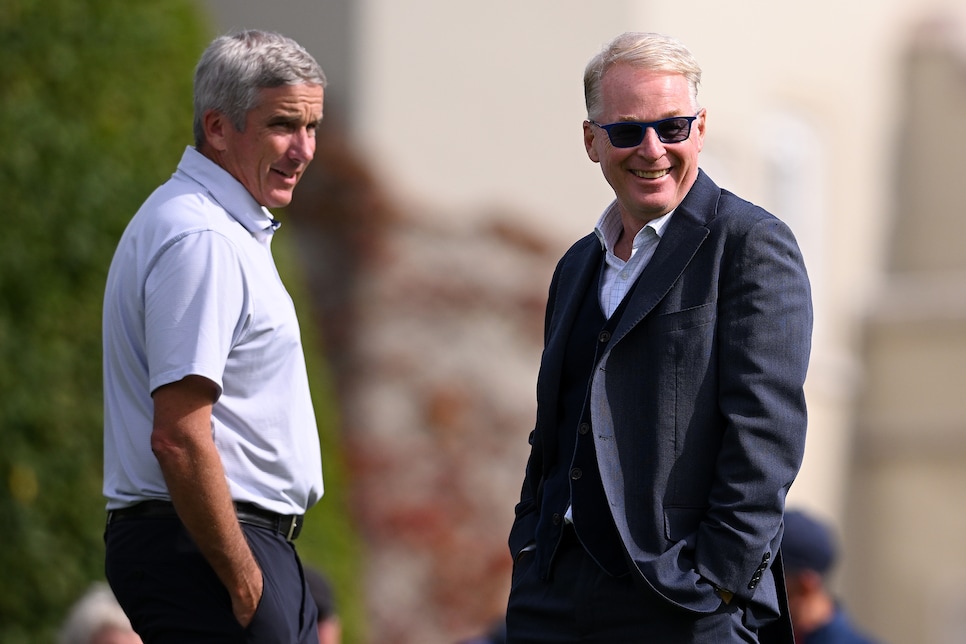 PGA Tour commissioner Jay Monahan and DP World Tour CEO Keith Pelley.
Ross Kinnaird
Congressman John Garamendi, a Democrat from California, introduced a bill Wednesday, called the "No Corporate Tax Exemption for Professional Sports Act," designed to do as it suggests, prevent major American sports leagues from being able to continue with their favorable tax status.
"Saudi Arabia cannot be allowed to sportswash its government's horrific human rights abuses and the 2018 murder of American-based journalist Jamal Khashoggi by taking over the PGA," Garamendi wrote in a release. "PGA Tour Commissioner Jay Monahan should be ashamed of the blatant hypocrisy and about-face he and the rest of PGA's leadership demonstrated by allowing the sovereign wealth fund of a foreign government with an unconscionable human rights record to take over an iconic American sports league and avoid paying a penny in federal corporate income tax. This merger flies in the face of the PGA players who turned down hundred-million-dollar paydays from the Saudi-backed LIV to align themselves with the right side of history and human decency.
"The notion that the Saudi Sovereign Wealth Fund would pay zero dollars in taxes on their blood money and potentially billions of dollars in profits while countless American families pay their fair share while struggling to make ends meet is ludicrous. My commonsense legislation would right this wrong and bring some much-needed accountability to this matter."
On Tuesday, a few hours after the release of the PGA Tour-Saudi agreement, Senate Democrats called on U.S. regulators to look into the deal. Connecticut Senators Richard Blumenthal and Chris Murphy, joined Senator Dick Durbin, from Illinois, were among the skeptics, saying that they'd keep an eye on how the deal progresses and even urged the deal to be scrutinized.
"So weird," Murphy wrote in a tweet. "PGA officials were in my office just months ago talking about how the Saudis' human rights crimes should disqualify them from having a stake in a major American sport. I guess maybe their concerns weren't really about human rights?"
Blumenthal released a statement which read: "The PGA Tour has placed a price on human rights and betrayed the long history of sports and athletes that advocate for social change and progress. I will keep a close eye on the structure of this deal and its implications."
Speaking Tuesday on Capitol Hill, Durbin said, "the question obviously is whether or not there is any current laws involving foreign relations or foreign business dealings that haven't been complied with."
Former President Donald Trump called the partnership agreement "great news" on his Truth Social account, saying, "a big, beautiful, and glamorous deal for the wonderful world of golf. Congrats to all!!!"
Trump's golf course in Washington hosted a LIV Golf event last month and his courses in New Jersey and Miami are scheduled to host LIV events in August and October, respectively.