The Loop
Senators defenseman miraculously stops potential Auston Matthews hat trick, gets face full of skate as reward
The NHL returned on Wednesday night with four games that featured some of the sport's biggest stars, all of whom performed at a high level. Alex Ovechkin scored a goal in the Washington Capitals' win over the defending champion St. Louis Blues. Connor McDavid scored the game-winner in Edmonton's win over the Vancouver Canucks. Conn Smythe-winner Ryan O'Reilly assisted on both Blues goals, though they came in a loss.
But opening night belonged to Toronto's Auston Matthews, which should come as no surprise, as the 22-year-old center has owned opening night since his career began in 2016. In his very first game as a pro Matthews famously scored four goals, and the following season he kicked off the year with a goal and two assists. Last year? Two goals against the rival Montreal Canadiens.
On Wednesday night, Matthews was back at it, scoring two goals back-to-back in the second period to give the Leafs a 4-2 lead over the Ottawa Senators. The second, which was assisted by linemate Mitch Marner, was the snipe show to end all snipe shows:
Mmmm. Tasty. That gave Matthews a chance to go for a hat trick in the third period, and with a 5-3 lead he had his best chance late in the game, as Ottawa pulled their goaltender. As fate would have it, the puck perfectly bounced off the boards and toward the crease with Matthews driving toward the net. It was a lay up, a gift from the hockey gods. I could have scored it. But Senators defenseman Erik Brannstrom was not having it, and he made a miraculous play to deny Matthews the hatty and Leafs fans a chance to toss their caps on the ice. His reward? A face full of Matthews' skate:
Ouch. Incredible effort play from Brannstrom, but with your team already down two goals and not much time on the clock in Game 1 of 82, was it really worth it? I'm guessing once that skate blade hit him in the mouth, he felt like Ron Burgundy in the bear pit: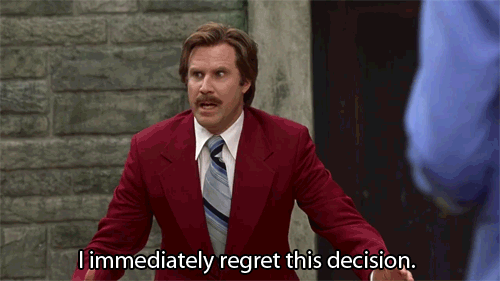 Luckily, Brannstrom is going to be just fine. The 20-year-old got a few stitches after the game and is expected to play on Saturday against the New York Rangers. Only in hockey.