News
Selfishness is a key to success for a tour pro … until it goes too far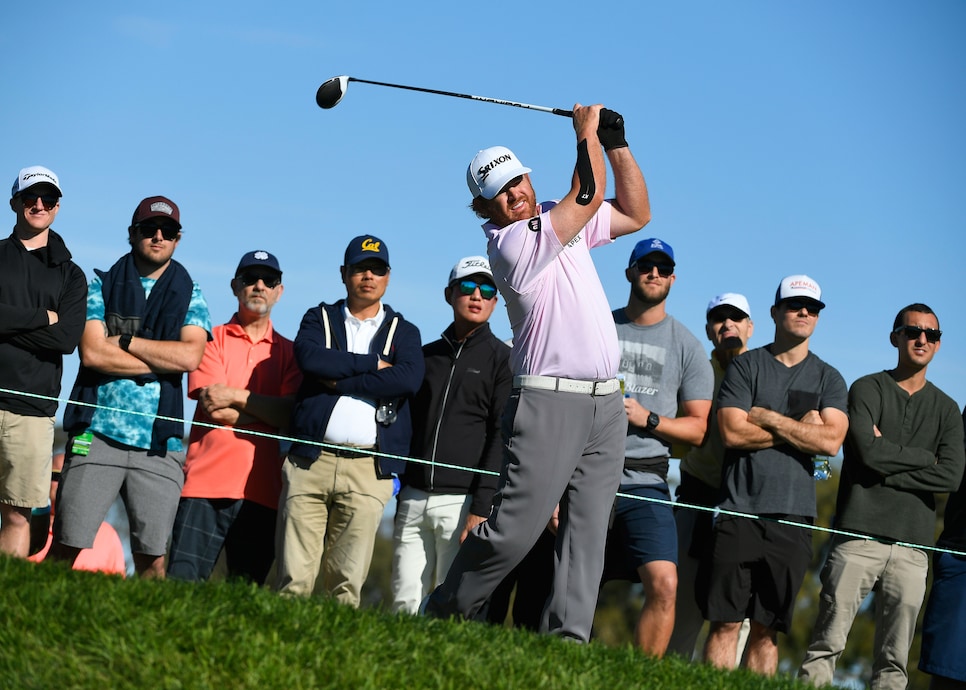 Photo By: Stan Badz/PGA Tour
By now you've probably absorbed the backlash to tour pro J.B. Holmes' four-minute, 10-second delay last Sunday on the 18th hole at the Farmers Insurance Open. The stoppage may or may not have iced Holmes' playing partner Alexander Noren, who failed to make birdie and thus went to a playoff with Jason Day that he would lose six holes and one day later.
Personally, I felt more sympathy than the CBS announcers, the writers, the fans and even Holmes' fellow players. The timing was bad, yes, but Noren could just as easily been delayed for 10 minutes by a group on the green (it happens all the time, especially in the winter). Also, isn't it the nature of professional golf that players must summon intense concentration after long periods of inactivity, over and over and over? This is, after all, a sport where a theoretical highlight reel of each moment in a round when a golfer is actually striking the ball would last about 90 seconds. If I were being glib, I could describe a round of golf as two minutes of exertion sprinkled among five hours of waiting. Is four more minutes really that big a deal? And hey, why didn't everyone get this mad at Jordan Spieth when he took a half hour to hit a shot at the British Open last year? Is it because it's easier to pick on a low-profile athlete?
Part of my sympathy, too, stemmed from Holmes himself. I interviewed him in 2014, not long after he won the Wells Fargo Championship, the third of his four career PGA Tour titles. He struck me as an atypical American pro. For one thing, he's dealt with a rare amount of adversity. He grew up fighting a form of dyslexia that made it hard for him to read small but critical words like "it," "and," "but" and "the." It made school an agonizing process, and he had to work hard just to make average grades—one of the hardest fights of his life was finishing with a 3.25 GPA at the University of Kentucky.
The brain problems didn't stop once he got on the PGA Tour, either. In 2011, he started to notice his balance failing, and after almost falling in the water at the Players Championship, he learned he had a Chiari brain malformation, which meant his cerebellum was being pushed into an opening at the top of the spinal canal. It required two surgeries—doctors removed part of his skull—and a complicated recovery. (As of 2014, Holmes was keeping the partial skull in a jar.)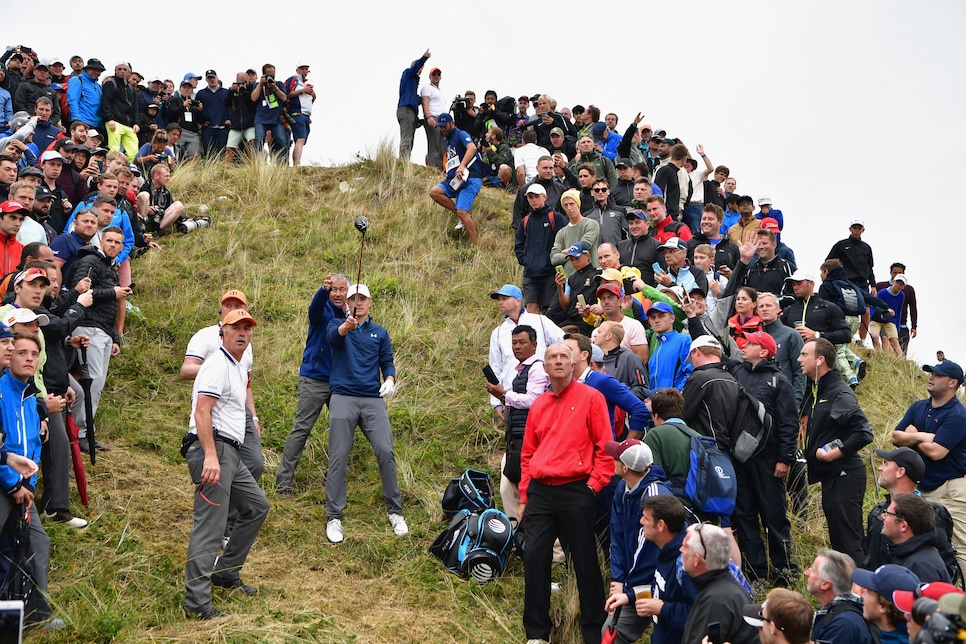 Stuart Franklin/Getty Images
So, Holmes' is not your average American country-club prodigy—his dad was an insurance salesman, his mom was a nurse, and any privileges he had growing up were offset by his learning disability. None of which means he did the right thing at Torrey Pines, of course. The criticism was harsh, but valid, and slow golf is a plague that needs to be cured. It's just that I felt a wince of sympathy at seeing Holmes portrayed as selfish, when he had seemed so grounded to me, at least by PGA Tour standards.
But, bias aside, reality is reality—Holmes pulled a selfish move on the 18th hole. He may not have realized he was doing it, but selfishness doesn't require self-awareness. In fact, the two are often mutually exclusive. In golf, over and over, selfishness wins out over self-awareness, but the truth goes beyond that simple observation. It's worth exploring not just why professional golfers tend to be self-centered, but why they have to be, and why the sport self-selects individuals who meet that criteria and weeds out those who can't pass the test. Let's start with a few quotes I've collected over the years:
"This is going to sound selfish, but being a pitcher in little league, I'd get out there and pitch four, five scoreless innings, and they'd score a run and we'd lose 1-0 or something, and I hated that. … In golf, the better you play the higher you finish. You don't really have to depend on anybody else, you just gotta do your own thing, and I thought, yeah, sounds very attractive to me." —Brian Harman
"I loved team sports, and team golf is my favorite kind of golf, but at the same time the reason I fell in love with golf is I could control my own outcome, I never had to rely on someone else. … It was something I was able to do myself, and really got a lot of satisfaction from that." —Jordan Spieth
"I pretty much started just playing golf probably when I was in seventh grade. I just liked golf just because it's … you know, it's a sport you can play by yourself, it's just you and the golf course, so you can't blame anyone else. You don't have to depend on anyone else, either." —Dustin Johnson
"Let's just talk about how golf is the best sport. My dad wanted me to play baseball, but you can play baseball—whatever position you are—you can play with no errors, bat 1.000 and go 5-for-5 that game and lose the game. Why? Or you can throw perfect pitches but you have a human being calling the strikes or balls. You see on TV when they have that little box, it doesn't match up sometimes. You can play a perfect game and lose it. But when it came to golf, it was straight me and only me. I win or lose." —Bubba Watson, told to Scott Michaux
I'll stop there, because you get the point, but I could pull the same quote, with only superficial variations, from a dozen other players—and those are just the ones I've asked. To succeed at a sport like golf, which requires thousands of hours of solitary practice, you have to enjoy being alone. You must be an individualist, in other words—someone who doesn't need, or even want, the support of a team.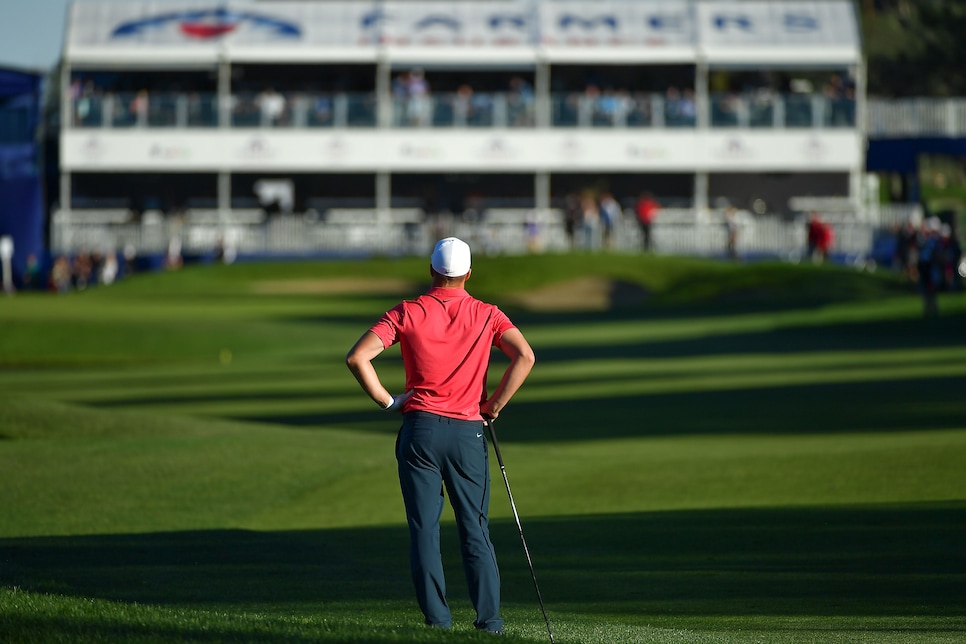 Donald Miralle/Getty Images
A person who can't tolerate solitude for very long, who gets uncomfortable without regular human interaction, will never put in the lonely hours needed to become a pro. And that's what I mean about self-selection—unlike team sports, golf puts up an initial obstacle that only a certain type of introvert can surmount. In the same way that most basketball players are tall, or most great actors love attention, golf rejects the social animals and embraces the loners. And when those loners succeed, it can harden a budding solipsistic mindset—they've learned what works.
Selfishness becomes even more important at the professional level. Every golfer is a kind of CEO (an annoying cliché, I know), but the success of the "company" depends primarily on one person. The successful players build teams around them (an ironic but necessary evil) to shelter them from "distractions" and allow them to maintain the self-centered drive that vaulted them to the professional level in the first place. This is a heightened, big-picture kind of selfishness, and preserving a solid career demands it. Lose that me-first edge, and your status will disappear along with it. Forging an insular existence in a very public field may seem impossible, but the best ones manage.
Of course, this mindset can seep into other walks of life where the results, to some, appear less attractive—social behavior, political leanings or even situational awareness on the course. So while you or I may have spared a thought for Noren on the 18th hole at Torrey Pines, Holmes thought nothing of waiting four minutes for the wind to die down, and he didn't think it necessary to apologize after. He may have more humility than most of his peers, and he may have endured more hardship, but at heart he's still a golfer, and the first and last thought in that moment was for himself.