News
Self-Portrait: The Legendary Photographer Walter Iooss Jr.
Legendary photographer Walter Iooss Jr. on almost being killed by Jordan Spieth, running security for Michael Jordan, breaking down Tiger, and going face to face with Jimi Hendrix & supermodels. *With Guy Yocom*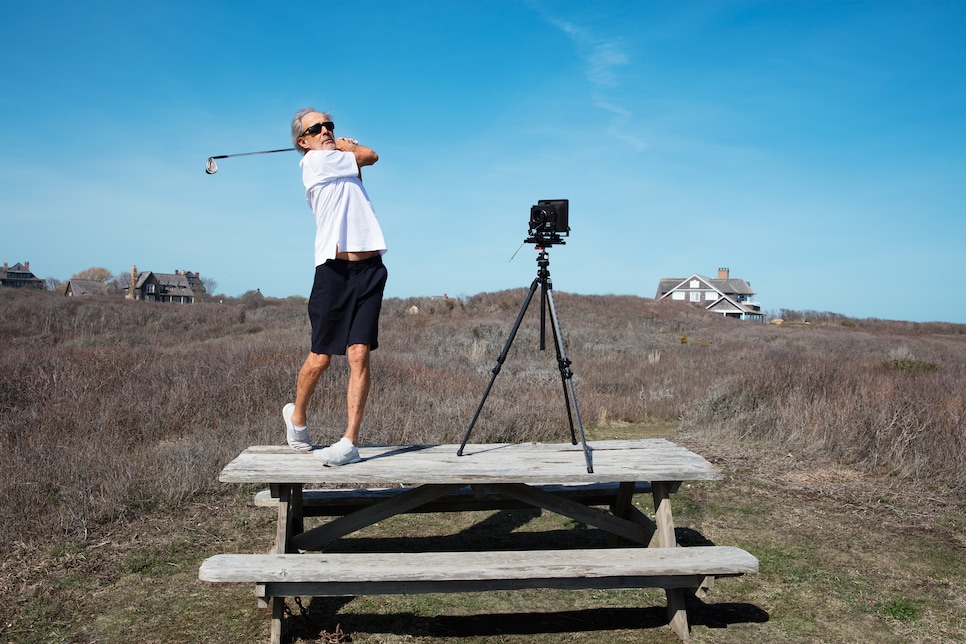 I'M PHOTOGRAPHING JORDAN SPIETH IN DALLAS. We're in a hitting bay at Trinity Forest, and I need him to aim a 6-iron shot at a camera stationed directly up the line of play. For the moment, the camera is right by my head. I'm controlling it remotely, and I plan to move, because I value my life. I toss Jordan a synthetic ball that is soft, but not that soft, and tell him what to do. Within three seconds, before I can move away, he lets it rip. The ball misses my head by an inch and slams into a wall behind me. It plugs for a second, then falls to the ground. I gave him a look that said, You just came this close to killing me. Jordan had a look of his own that said, Hey, I did what you told me to do. All he saw was the target. I've never seen a golfer with that kind of confidence.
THE THING I'M EXPERT AT—the thing I really take pride in—is breaking people down to who they really are. Athletes sometimes project something superficial or not really genuine, something other than who they really are, and I want to get past that. Johnny Manziel, when he came to Cleveland, showed up for a Golf Digest shoot completely disinterested. I overheard him say to someone in his posse, "We might be out of here in a minute." I'd planned for that. I'd brought a group of pictures I'd taken. "Johnny, do you know who this guy is?" I said, and showed him a portrait I'd taken of Johnny Unitas. He shrugged, but after I showed him more of Joe Montana, Joe Namath, LeBron James and a few other greats, his demeanor changed. In 30 seconds, he went from wanting to get out of there to taking it seriously. We did a great shoot.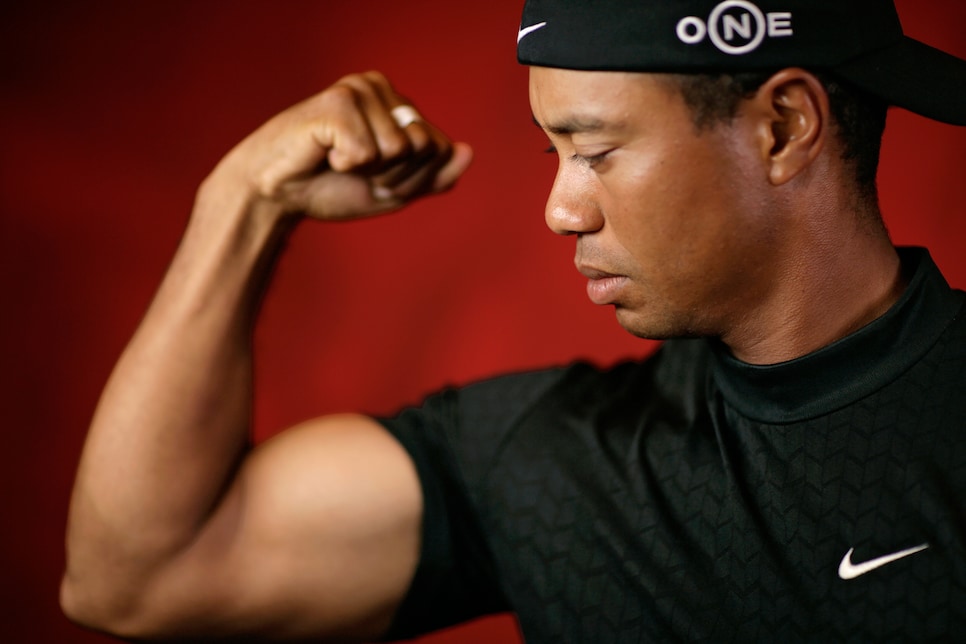 Photo by Walter Iooss Jr.
THERE WAS A DAY IN 2008 WHEN WE HAD 15 MINUTES TO PHOTOGRAPH TIGER WOODS. I was one of two photographers, and we decided we'd get exactly 7½ minutes apiece. The last thing I want is pictures that suggest Tiger was rushed, which can happen because the camera doesn't lie. So when Tiger came in and we said hello, I spoke very slowly, like there was all the time in the world. I said, "Tiger, here are a couple of examples of what we're going to do." In the group of pictures were a few shots of swimsuit models. "Oh, man, that's Marisa Miller!" Tiger said. It totally took his mind off the clock. That's what I mean by breaking someone down. The photos turned out great.
I DIDN'T NEED THE FULL 7½ MINUTES, by the way. I have two rules of the road for photo shoots that happen to apply to everyday life. One, always finish in less time than you agreed on. If you finish early, it will increase exponentially the chances of the subject working with you again. Two, leave the location better than you found it. No empty water bottles, no chairs out of place. People remember these things.
THE SHOT OF MARISA MILLER that wound up on the cover of the 2008 Sports Illustrated Swimsuit Issue happened late on the afternoon of the fourth and final day of shooting. The good stuff usually happens at the end. So if you're deciding which of the 100 photos you just shot at the beach should go on Facebook, start at the last one and go backward.
IN 1984, WE WERE IN JAMAICA, driving to the location on the coast, me in the front seat and Paulina Porizkova, who is as gorgeous a model who ever lived, sitting behind me. Another swimsuit-issue shoot is minutes away, and I wanted to study her face. Tough job, I know. But when I turned to look at her, I had a hard time because she was reading a book pressed close, almost to her nose. I said, "Paulina, have you thought of getting glasses?" She lowered the book and said, "I don't want to see everything." I thought that was telling.
IN 2015, I SHOT LEXI THOMPSON FOR A GOLF DIGEST COVER. We draped a towel over her shoulders, to suggest she'd just come from a workout. It was only mildly provocative, but still, I admired her tremendously for kind of creeping up to the edge. Golf is the most conservative of all major sports, and pushing the limits takes courage. Lexi is not a professional model, but she sure posed like one, expressing herself with an ease far greater than I anticipated.
MICHAEL JORDAN TAUGHT ME HOW FAME CAN CLOSE IN ON A PERSON. We did two books and a lot of other photography together, so I was around him a lot. When he was with the Bulls, he needed his own dressing room. Every famous person that came through Chicago wanted to meet him. When he went out, he always built in 40 extra minutes to handle the autographs and requests to have pictures taken with him. People shouting his name, crowding in on him and wanting to touch him ... terrible. You could see why Michael Jackson, Elvis Presley and so many others wound up with problems.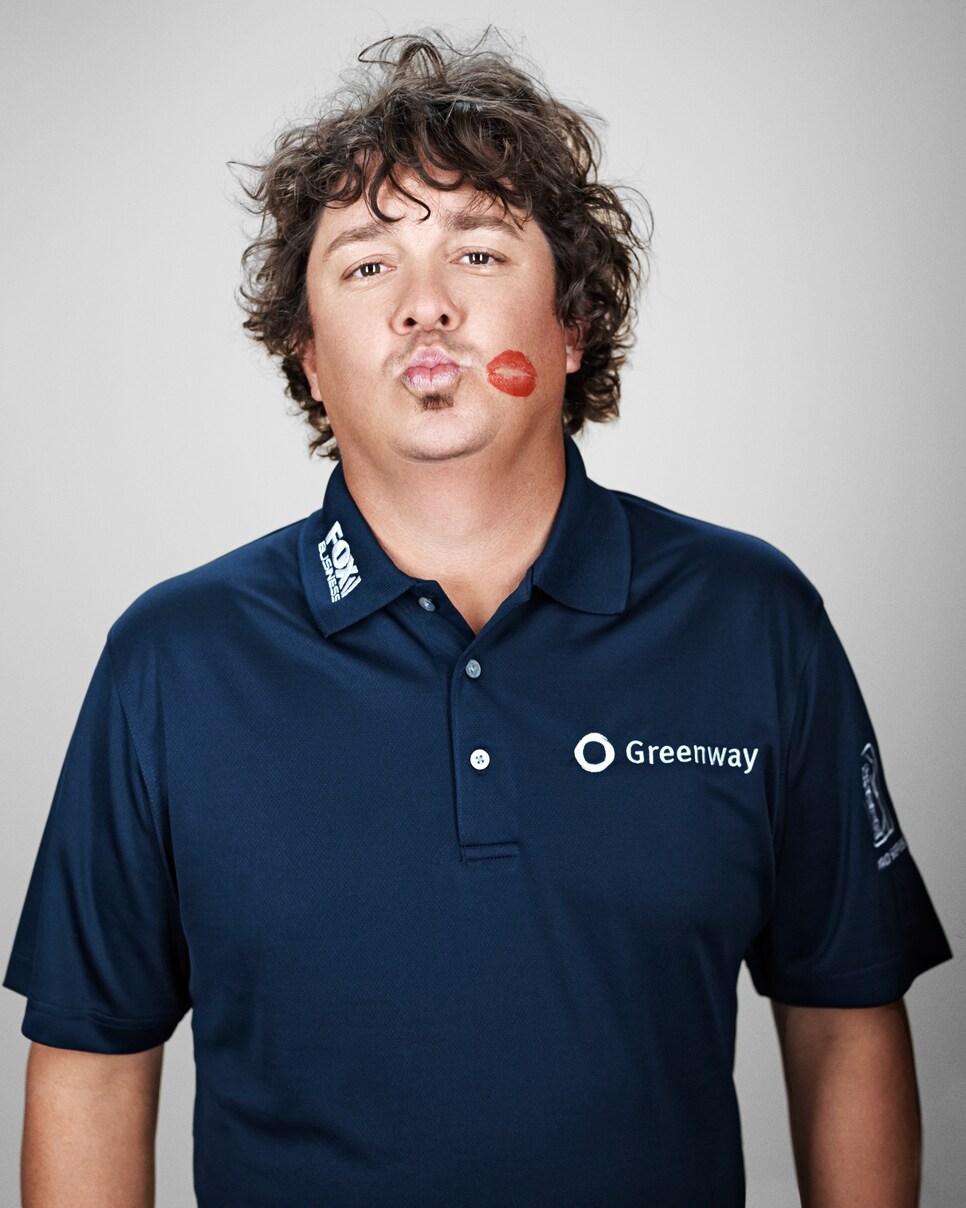 Photo by Walter Iooss Jr.
MICHAEL BECAME ACUTELY AWARE OF HIS ENVIRONMENT AT ALL TIMES, like his whole head was a set of eyeballs. When we did the book Rare Air in 1993, there was a night in Miami we were supposed to go out to dinner. Michael was exhausted, lying in the hotel room in his sweats, leaning toward calling it off. Then he said, "OK, we're going, but here's the deal: no cameras, and you're running point." He meant he wanted me to run interference, keep the people off. It was no easy job. I spent the night with Michael, Scottie Pippen and Horace Grant, shouting at people, "Not tonight!" It was exhausting. I was in awe of how Michael controlled his day-to-day life, the unspoken rules he put in place to survive. One of them was, you never lied to him. Anyone in his circle who b.s.'d him was cut out immediately and was gone forever, because he didn't have time for it.
STILL, I'D RATHER BE MICHAEL THAN TIGER WOODS. The level of fame is similar, but the difference is, the adoration for Michael made the loss of privacy more tolerable to him. He found a way to embrace the attention, while Tiger hates it, which only makes it worse. But I sympathize with Tiger because his personality is different. Not everyone is wired like Michael, or Arnold Palmer. Do you think Bubba Watson or Dustin Johnson could handle being closed in on like they were? No way—they aren't cut out for it.
IN 2000, TIGER WAS AT HIS ZENITH, PLAYING-WISE. I had the idea I'd follow him at the WGC-Match Play at La Costa and try to re-create the famous Hy Peskin shot of Ben Hogan hitting a 1-iron to the 72nd green at Merion at the 1950 U.S. Open. I had to close to within several feet of Tiger, which did not go over very well with his caddie, Steve Williams. They didn't know me at that point. Williams is glaring at me and pointing, uttering some very choice swear words as kind of a warning not to get too close or to snap my shutter at the wrong time. Finally he walks up to me.
"Hey, mate, you ever shot a golf tournament before?" he asks.
With that, he strides away, the warning very much in place. A month later, I went to Isleworth in Florida to shoot an SI cover of Tiger. I introduce myself to Tiger and say, "If I look familiar, it's because I shot you at La Costa a while back. Did you notice me?"
"Every hole," he says. He said nothing more about it, which meant, he more or less trusted me. We've gotten along ever since.
MY FATHER WAS A JAZZ MUSICIAN WHO PLAYED FOR A TIME WITH BENNY GOODMAN. He associated everything to sound. We'd be walking down the street, and he'd stop and say, "Listen to that," and sure enough, there would be an unusual sound coming from somewhere. One time we passed a shoeshine stand, and we paused for a couple of minutes, listening to the rhythmic snap the attendant made with the towel. He passed that gift of observation to me, except it was with images rather than sound. He gave it to me by accident. In 1959, he took me to a New York Giants football game at Yankee Stadium. He'd given me a Pentax camera with a telephoto lens. The images I saw through the viewfinder were different from what I could see through my eyes. I could control that world. Everything I've seen since, I automatically put a photographic composition to it.
MY PARENTS DIVORCED WHEN I WAS 4, and it was hard because I idolized my father. Last year my wife and I were out to dinner in Montauk. The restaurant was playing old and obscure music. This song comes on, which I recognize immediately as "Rose Room." I recognize the recording, too—it was from a Benny Goodman concert at Madison Square Garden in 1941. I also recognized my dad's stand-up bass playing on that song. I jump to my feet and exclaim, "My father!" My wife, Eva, gave me a look of understanding. She knows how much I loved him.
THE OTHER THING MY FATHER DID WAS INSIST, WHEN I WAS 16, to go to a public high school in East Orange, N.J. My grandparents pushed to send me to St. Thomas Choir School in Manhattan, to get me out of what they called "the jungle." My dad, who was a very street smart and wise man, put his foot down. "Private schools in Manhattan aren't the real world," he said. He wanted me to grow up in an integrated, more raw environment. It probably was his greatest gift, because from an early age I could go anywhere and relate to almost everyone.
FELT FORUM, NEW YORK, 1968. I was doing freelance work for Atlantic Records at the time, photographing musicians in concert: Janis Joplin, the Rolling Stones, Aretha Franklin, James Brown and so on. That night I was shooting Jimi Hendrix, who clearly was wasted but was playing like you wouldn't believe. Suddenly he stopped in mid-song. Looking right at me, he slurred, "Everyone needs to turn off their flashbulbs, or else I can't continue to sing." At that moment, I can't say the fans were very enamored with my art.
EVEN WITH FAMOUS PEOPLE, THERE'S ALMOST ALWAYS AN IN. There was a time when Kareem Abdul-Jabbar was getting a lot of hate mail and death threats after a home he'd owned in Washington, D.C., was the site of murders committed by a Muslim group. I was assigned to go down and photograph Kareem for SI but knew he wasn't looking for publicity and wasn't going to let me in. Les McCann, a well-known jazz-musician friend of mine, knew that Kareem loved jazz and suggested I buy a few rare records and offer them to Kareem. Les also told me to tell Kareem that he'd sent me. I did that, and sure enough, Kareem let me in. Music is a great connection to athletes.
IN 1965, I was 22 years old and knew hardly anything about shooting golf. But I get a call anyway to go to Laurel Valley Country Club in Ligonier, Pa. My assignment there is to shoot Arnold Palmer with President Dwight Eisenhower. I'm standing around with Arnold waiting for Ike, and there's a delay. Arnold says, "Come with me." I follow him into a room off the locker room where Arnold, needing to kill some time, casually sits at a table with Jack Nicklaus. The two of them begin talking. Arnold kind of forgets I'm there. Almost as an afterthought, I start shooting. The light is bad and nothing is set up, but I snap a couple of rolls of film anyway. Today, one of those pictures is by far the most well-known of the tens of thousands of golf photographs I've shot over the past 60 years. I wouldn't call that photograph an accident, but certainly it came out of nowhere. Sometimes it happens like that.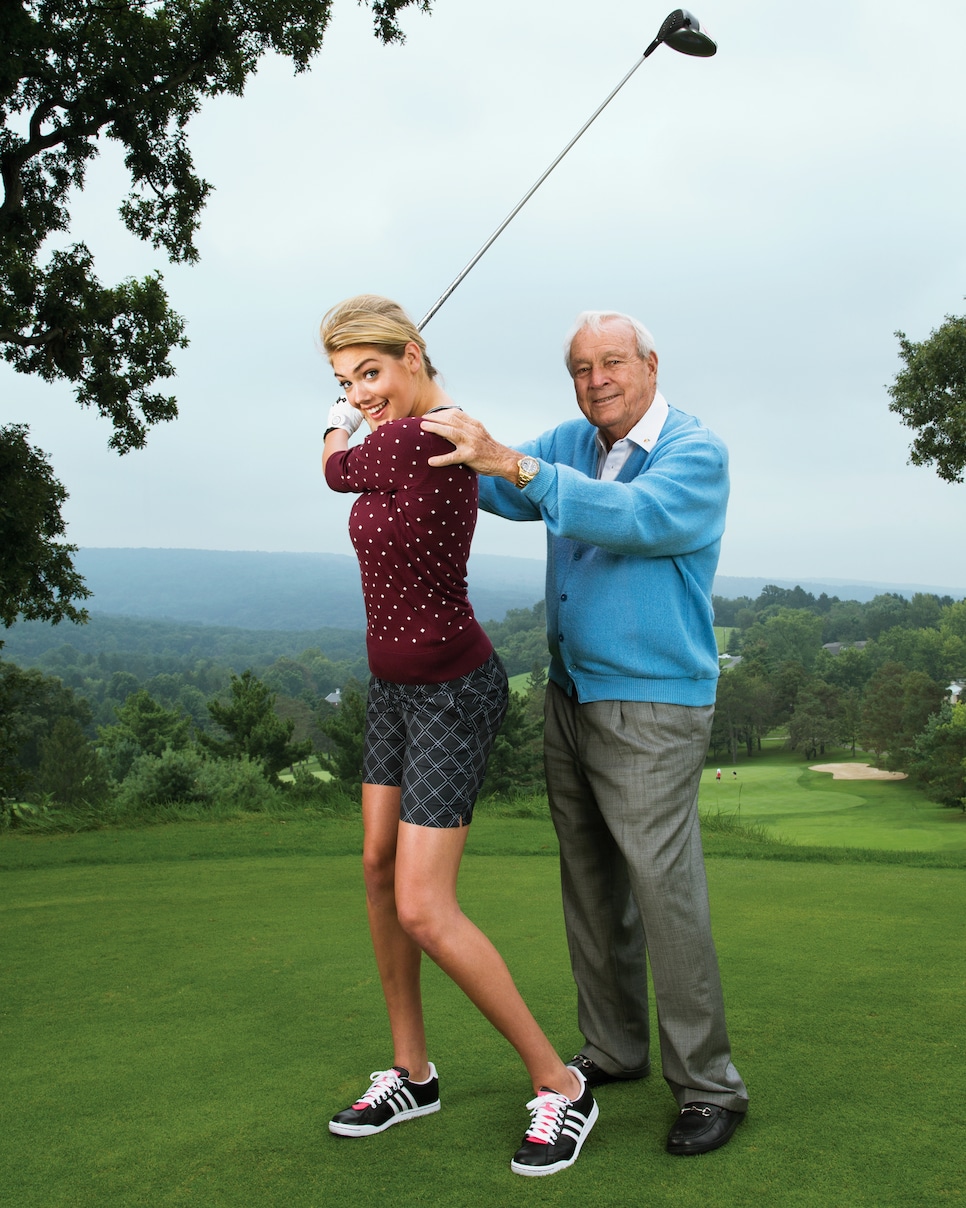 ARNOLD WAS THE PERFECT EMBODIMENT OF WHAT A HUMAN BEING SHOULD BE. He treated every person exactly the same: with dignity. Every person wants to feel like they matter, that they have worth. Arnold sensed how important it was, and he gave you that. He also wanted it for himself. When you saw Arnold in photographs and on TV, you saw a man fighting not just to win, but to earn his dignity, like we all do. That was his charisma.
JACK NICKLAUS WAS A KILLER. Covering so many sports for so long, I recognized a few athletes who truly understood the importance of winning. Michael Jordan, Bill Russell, Wayne Gretzky—winning was much more than a punch line. Their skills were awesome, but they supplemented them with their reputations for being merciless. They wanted to intimidate and use fear to their advantage. Jack was expert at that. His competitiveness was masked by the niceties of golf—the handshakes, waves to the gallery and so on. He played within those parameters, but at heart he was a killer. You ever see video of Jack screwing around, hitting trick shots and goofing off? No, because it doesn't exist. He played to win—period.
CHANCE FAVORS THE PREPARED MAN. Take The Catch, the shot I got of Dwight Clark catching the winning touchdown pass from Joe Montana at the NFC Championship game in 1982. I liked shooting receivers, and I preferred doing it with a normal 500-millimeter lens, pre-focused to 10 feet. That way you can get something close to you. Don't ask me why I was in that corner of the end zone. That part was luck. But the rest of it—the ball nestled perfectly in Clark's outstretched hands at the apex of his jump, the picture being in focus and nicely in frame—I was prepared for. I'd also practiced that shot and had gotten one similar with a receiver for the Browns named Dave Logan. It's what I was trained to do.
JOE MONTANA WILL BEAT YOU, or learn to beat you, no matter the game. Very few athletes are like that. In 1999, we were on Necker Island [Virgin Islands], waiting to shoot Joe and his wife, Jennifer, for a couples edition of the SI swimsuit issue. My assistant, Welch Golightly, and I are shooting baskets on a court there. Joe arrives, and before we say anything, Welch flips him the ball as sort of a challenge. Joe gave us a look like, Oh, really? and from 20 feet, hit nothing but net. His form and the release were perfect—he'd been an all-state basketball player—and the look in his eye was a little defiant. Welch and I looked at each other and said the same word at the same time: "Player." You could just tell he's a guy who will end up beating you at anything.
I SAW THINGS IN NFL TRAINING ROOMS DURING THE 1970S that were tough to take. Guys routinely would get their knees drained with these long, thick needles that made you sick just to watch. Or they'd get injections of local painkillers I could tell were agony. The harrowing part was how routine it was. Sonny Jurgensen told me his knee was killing him during a game once, and that the doctor didn't bother to take his pants off, just sunk in the needle straight through his uniform. I liked the training rooms because all the players came through there, the conversation was good and they were the site of some gritty, real images. But damn, there was a lot of suffering in there.
PHOTOGRAPHY IS INCREDIBLY COMPETITIVE. Take someone like Neil Leifer, one of the great sports photographers who ever lived and for a long time one of my colleagues at Sports Illustrated. I always felt like I was competing with Neil, because we wanted the same things: covers, important assignments, opening spreads. We had different working styles, Neil always highly prepared, me much looser. He'd arrive for a football game several hours before kickoff, while I might arrive only an hour early. But the quality of Neil's work—his photograph of Muhammad Ali standing over Sonny Liston after knocking him out is the greatest sports photograph of all time—made me work harder and pushed me to improve. Just as the Rolling Stones drove the Beatles to be better and vice versa, Neil brought out the best in me. It wasn't bad for Sports Illustrated, either.
IN 1980, I WAS ASSIGNED TO WORK AT A PARTY AT LAKE PLACID on the eve of the Winter Olympics. I noticed Bill Eppridge, who is best known for taking the incredible photograph of the Robert Kennedy assassination in 1968, was also there. He was dressed in Army camouflage, which made no sense to me. When I asked him why, he said, "Because no one will look at me." Since then, when shooting publicly I've made a point of trying to be the most nondescript person in the room.
ON SATURDAY AT THE 1968 U.S. OPEN AT OAK HILL, I made the mistake of stepping into a bunker to get a photograph. To Joe Dey, the USGA's executive director and my nemesis already for sins such as venturing too far inside the ropes, this was the last straw. He took away my credential and had me thrown off the grounds. It was traumatic for me, like a soldier having the epaulets torn from his uniform. It was a huge problem because I needed to be there on Sunday, and now I can't work. My bosses intervened, and the next morning I was ordered to Joe Dey's office in the clubhouse to issue an apology. He was a scary guy, the ultimate authority figure known for wearing a dark wool blazer in even the hottest weather. He'd had a health episode that caused one of his eyes to droop, which gave him a demonic look as he lectured me in the strongest possible terms. I apologized, but it wasn't the last time I pushed the boundaries. My feeling was, to get the best photograph, you sometimes have to risk getting thrown out.
FROM 1986 TO 1990, I did a lot of work for Camel cigarettes, through McCann Erickson, the famous ad agency you saw on "Mad Men." I made a lot of money there. One of the projects could only be shot in the remote jungles of the Philippines, for the broadleaf banana and cocoa palms they wanted to show. I thought it was going to be a tropical paradise, but it turned out to be hell. Six weeks of heat, rain, snakes, boredom and biting insects. When I got home, I felt like I'd been repatriated.
LEE TREVINO, YOU COULDN'T TAKE A BAD PICTURE OF HIM. The photograph of him wearing a pith helmet, holding a snake in one hand and a hatchet in the other shortly before he won the 1971 U.S. Open at Merion, I shot that. More than 40 years later, I shot him posing with a snake for Golf Digest. Over the years, Lee always recognized me in the gallery, used me as his straight man as he wisecracked with the galleries. "Look at the long-haired photographer," he'd say. "I'll bet he smoked a pound of marijuana last night." The gallery would roar, then Lee would look at me and wink. We both understood it was all about entertainment.
LEE WAS A HARD WORKER. It seemed like he never took a week off. At the end of that big 1971 season, SI named him Sportsman of the Year and sent me to Dallas to shoot him for the cover. Lee invited me over to Thanksgiving dinner at his house. We ate a huge dinner, then went to his screened-in porch to shoot the portrait. Shortly after we started, I looked through the viewfinder and saw that Lee was nodding off. He was that exhausted. He's one of two guys who fell asleep on me.
The other was Cal Ripken Jr. Toward the end of his streak of playing in 2,632 consecutive games, we were working on the photography portion of his book, Cal on Cal. The timing was such that it had to be done at the end of a twilight doubleheader in August. It was nasty hot and humid, and by the end of the second game, he was whipped. But he'd given his word he'd do the shoot, and to this guy, a deal was a deal. Shortly after I sat him down, I watched him begin to nod off. I actually felt guilty about waking him up.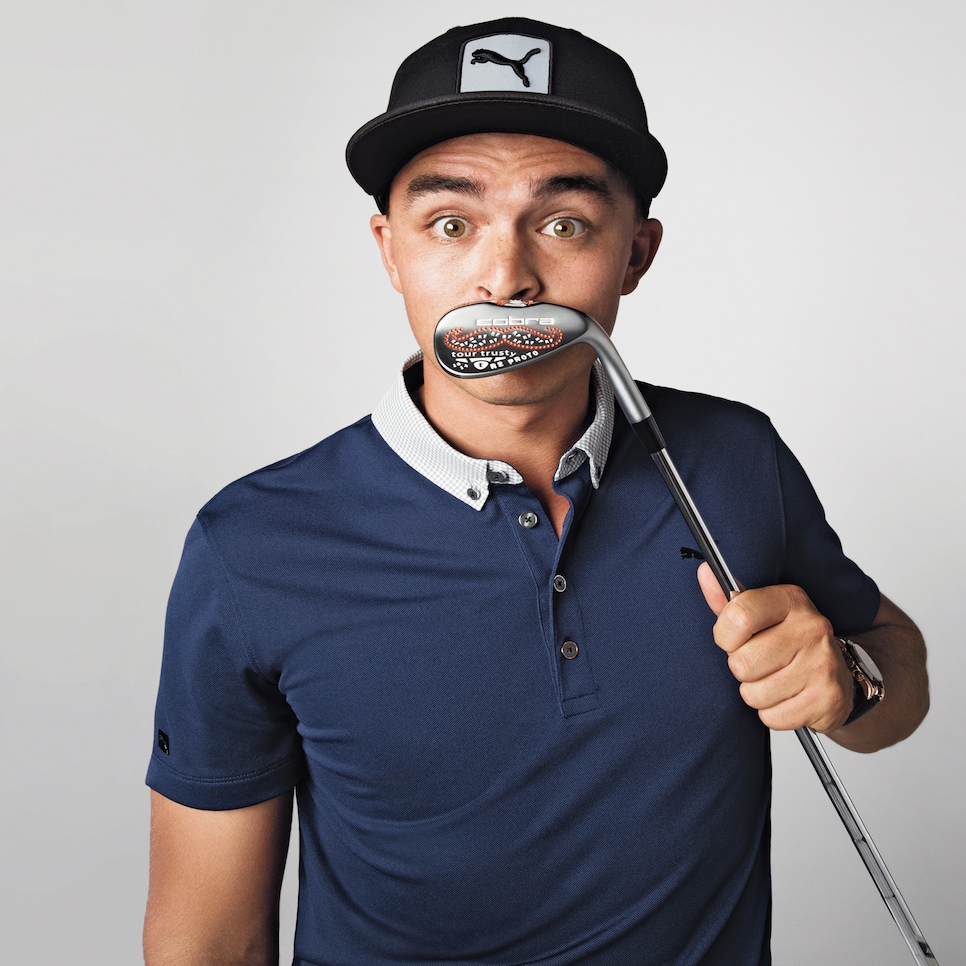 WHEN I LOOK AT THE PACE KEPT BY JORDAN SPIETH, Rickie Fowler and the rest, I don't see how they can last 10 years. The pressures are so much more intense than in the old days. Sponsors and media never let up. The practice and training are so grueling. The recovery periods, the time needed to rest the brain, are too short. I'm not an expert at golf, but I've witnessed the lives of athletes up close for six decades now. One thing I can say for sure is, Jack Nicklaus' record of 18 professional majors will never be broken and probably won't even be approached.
SO WHO'S STILL OUT THERE? Tiger Woods, obviously. As many times as I've photographed him, something has always gone missing. The walls he created out of necessity, the complexity of being him, have always come across in the photographs. One day I hope to look through my viewfinder and see in Tiger's eyes a man who finally is at ease about trying to connect with us. There's so much more beauty in there. But it's a tough get.