News
Sean Knapp finally wins a USGA championship, on his 43rd attempt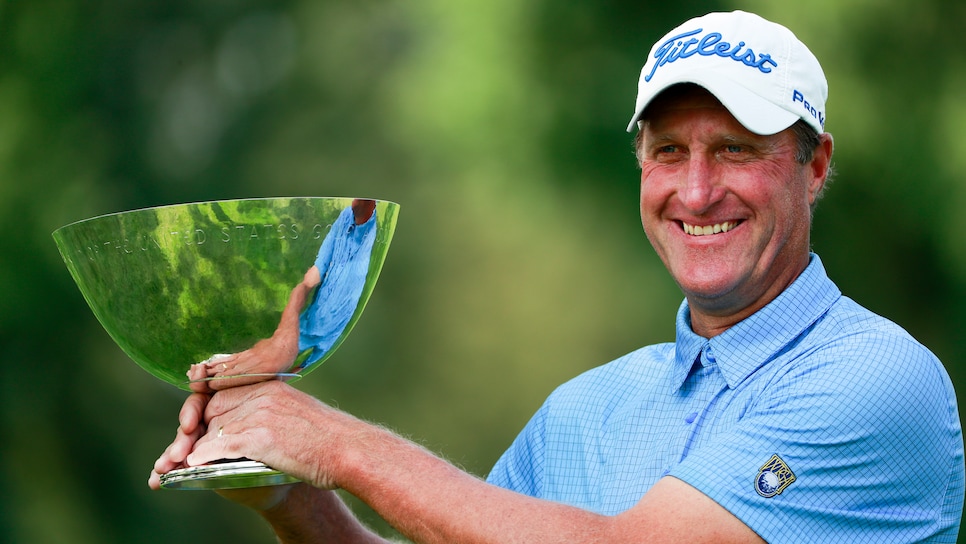 MINNEAPOLIS – Just moments before his victory in the 63rd U.S. Senior Amateur Thursday morning at the Minikahda Club, Sean Knapp was in tears. Having reached his first final in a USGA championship in 43 tries, Knapp didn't need any distractions, and he usually refrains from checking his phone as he warms up. This time he couldn't help himself, and he noticed a text from a family friend back home in Oakmont, Pa., who wrote that Sean's late father "had such pride with you playing golf. And I can tell right now that he's smiling."
"I'm sitting there like, 'I've got to play here soon,' " Knapp said. "But, you know, that just made this whole week all the more meaningful."
Knapp managed to steady himself, and although he didn't convert a birdie in the final, his scrambling and putting were more than enough to upend former two-time winner Paul Simson, 2 and 1.
If at first you don't succeed, try 42 more times.
"Boy, what's the right adjective to describe it? Certainly, you would classify something in terms of the unexpected," said Knapp, 55, who is believed to be the sixth youngest to win the championship for amateurs 55 and older and is the first newcomer to capture the Frederick L. Dold Trophy since Louis Lee in 2011. "At the end of the day, just before I got here, weird things started happening. I wasn't playing as well. I cracked my driver in the first round. I played with three different drivers in three different days. … To emerge victorious is such a blessing, and I'm not sure what to say. I'm very humbled."
An accomplished player in Western Pennsylvania, Knapp has been a fixture in USGA championships, twice advancing as far as the semifinals of the U.S. Mid-Amateur. In the 1995 U.S. Amateur at Newport Country Club, he defeated Notah Begay in a second-round match only to be stopped in the Round of 16 by eventual winner Tiger Woods. In 1998, he got to the quarterfinals at Oak Hill C.C.
But it had been more than three years since he had qualified for a USGA championship, and that one, the U.S. Amateur at Atlanta Athletic Club, ended before it began when Knapp received a call from his sister. Their father, Roger, stricken with cancer, had taken a turn for the worse. Knapp marched to his car and drove 11 hours straight home to Oakmont. On the way he phoned his dad. Said Knapp, "He could barely speak, but I told him this selfishly, 'Dad, stay alive. We're coming home for you.' "
When he arrived, Sean put his hand on his father's chest and told his father, "I'm so proud of you." His dad replied, "Sean, just in time."
Not the easiest memory to carry around Minikahda Club, especially when you're already burdened with doubt about whether or not your time will ever come. "Oh, I always think it [winning] is not going to happen," Knapp conceded.
But Knapp arrived with a different mindset, one that his friend Nathan Smith, a four-time U.S. Mid-Amateur champion from Pittsburgh, helped instill in him. No more would he settle. No more would he tell himself that a result other than victory was OK.
"That's not good enough," he said of the rationalizations he made when he fell short in the past. "You really have to grind it out, and I give a lot of credit to Nathan. I've had a lot of discussions about what it's been like. The last two times I got to the semis in the Mid-Am in 2008 and 2010 you're like 'We're going to do this every year.' Then '12, I lost to Nathan in the final 16. He went on to win, and I lost in extra holes, and I really felt like it was so tough to accept that. I knew what to do to beat him, I just did everything but beat him. I just said, 'If I get in this situation again, I'm going to put the throttle down the best way we can,' so that's what I tried to do."
His aggressiveness didn't pay off in low scoring, but it did in making Simson, the 2010 and 2012 champion, work hard on every hole. The result was that Simson suffered six bogeys and a double bogey to offset four birdies.
Simson, 66, of Raleigh, N.C., home of recently crowned U.S. Amateur champion Doc Redman, said the match turned when he missed short par putts on 10 and 11 after making the turn 1 up. Knapp got up and down for par at both to forge his first lead. In all, Knapp saved par from off the green five times on the inward holes.
"I didn't have my A-game today," Simson said. "I made a lot of mistakes, and hey, he played a good match and a solid match, and he's a deserving winner."
Simson managed to square the match with a birdie at the par-5 13th, but he lost the 14th and 16th to Knapp's scrambling pars. On the final hole, the short par-4 17th, Knapp found the front bunker and blasted out to 20 feet.
Watching the live stream of the match on the USGA's Twitter account, Smith chimed in with a comment, writing, "Pour it in Knapper. Been waiting your whole life for this putt."
And Knapp did, after consulting with his caddie, Dave Brown, on the read. Brown, of Ligonier, Pa., was the stroke-play medalist, but lost in the second round. Rooming with Knapp this week, he offered to caddie for his friend.
"I simply would not have won it without Dave Brown," Knapp said.
"I don't know about that," Brown, 56, said sheepishly. "Sean hit some incredible recovery shots around the greens, and that was the difference. It's hard to play against a guy like that, who has what I think is a world-class short game. He [Simson] was under pressure. But Sean did that all week. When I caddied for him Tuesday and watched his short game, I thought he could win this thing. So I wasn't about to leave him."
A collegiate basketball player who didn't pick up golf until he began caddieing at famed Oakmont Country Club at age 19, Knapp again was thinking of his father well after the final putt dropped. As a youngster Roger Knapp was recruited to play college baseball despite no high school experience, and he went on to pitch briefly in the Chicago White Sox organization. That was the last thing they talked about.
Good athletic genes. But Knapp has augmented natural talent with hard work. He never has wanted to make the excuse that he wasn't prepared. Somewhere in that final conversation, his father was making that very point. As Knapp said, "Dad had a message."
Sean, whose first name is actually Roger, too, got it. "I've got to do the little things more than everybody else," he said. "I don't have as much talent as a lot of these guys. To see it come to fruition, it's a blessing."