News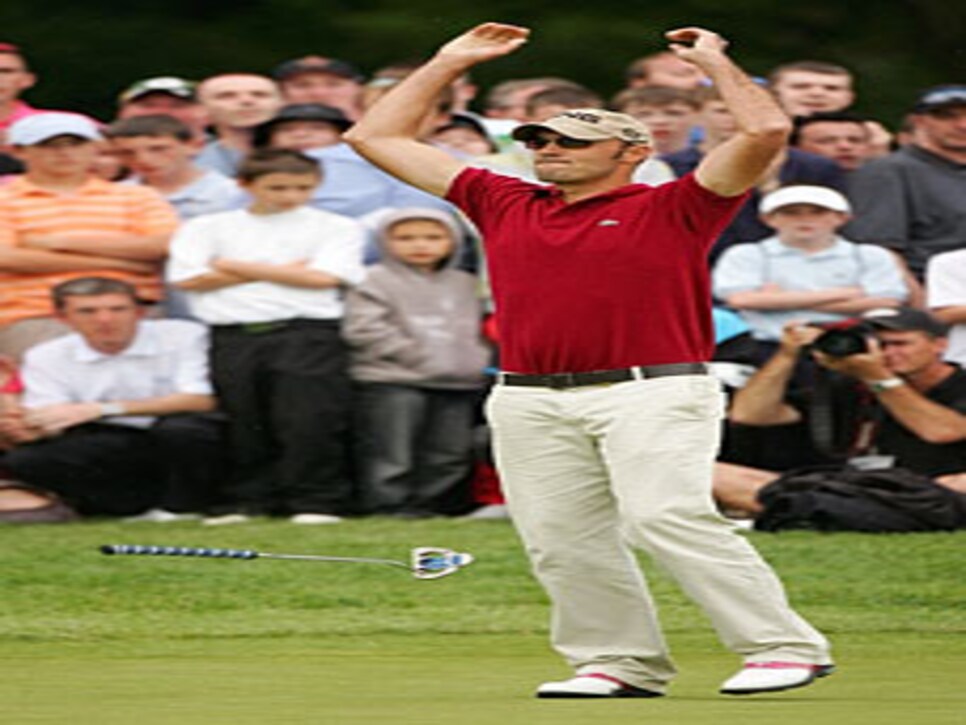 Gregory Havret has finished third, and now first, in the last two European Tour events.
LUSS, Scotland (AP) - This time, Phil Mickelson got a do-over after hitting a wayward tee shot at the 72nd hole.
The next one was even worse.
A faulty driver cost Lefty his first European Tour win, as France's Gregory Havret rallied to win the Scottish Open on the first playoff hole Sunday.
Not exactly the sort of finish Mickelson wanted heading to the British Open, which begins Thursday at Carnoustie, about a two-hour drive away.
He's still trying to erase the memory of that U.S. Open meltdown at Winged Foot 13 months ago, where a terrible drive on the 72nd hole led to a double-bogey -- and left him one stroke behind winner Geoff Ogilvie.
"I really struggled off the tee and the back nine was a fight for me," said Mickelson, who bogeyed three of his last five holes at Loch Lomond, including the 18th twice.
Havret qualified for his first major, clinching the win with an up-and-down from a greenside bunker. He sank a 6-footer for par in the playoff, then was doused with champagne by countryman Thomas Levet.
Now it's on to Carnoustie, where another Frenchman, Jean van de Velde, improbably squandered a three-stroke lead on the final hole of regulation at the 1999 British Open. He went on to lose to Paul Lawrie in a playoff.
Havret almost won his place in the Open last Sunday at The K Club, but he finished third in the European Open.
"I was disappointed but I knew I had another chance, especially on a course like this that I love so much," he said.
With a one-stroke lead going to the final hole of regulation, Mickelson drove into thick rough along the right side of the fairway. He needed a chip shot and two putts for bogey, while Havret got down in two from 15 feet to force the playoff, both players at 14-under 270 as they headed back to the tee box at 18.
Mickelson's redo drive plopped into the shin-high reeds along the water on the left side of the fairway, forcing him to hit an awkward shot that skidded sideways back into the fairway. His third shot wound up on the fringe at the back of the green, leading to another bogey.
"I just tried to make a good swing and blocked it left," Mickelson said. "I hit a good shot out of the swamp, but I hit the third shot way too hard."
Mickelson, who shot a 2-under 69 in the final round, also bogeyed the 14th and 16th holes in regulation. He bounced back with birdies at the 15th and 17th.
"Greg played very solid golf and I played very erratic golf," Mickelson said. "I made birdies and bogeys and he just played steady with solid pars and ultimately that won out in the playoff because he was just much more consistent."
Ernie Els (65) finished one shot back at 271, taking third with a 40-foot birdie on the final hole. It was his fourth straight birdie on the 18th.
Luke Donald (64), Richard Sterne (64), Pelle Edberg (66) and Louis Oosthuizen (68) tied for fourth at 273.
Mickelson, whose only victory abroad was in the 1993 Perrier Open in Paris, a second-tier event, began the day with a one-stroke lead. He stayed in front until the 14th hole, when his bogey combined with Havret's birdie left them tied for the lead.
"When Greg plays solid like that," Mickelson said, "not only does he deserve to win, but he makes himself very tough to beat."