Scottish Open
Rory McIlroy faces a final round with gale-force winds in bid to notch first Scotland win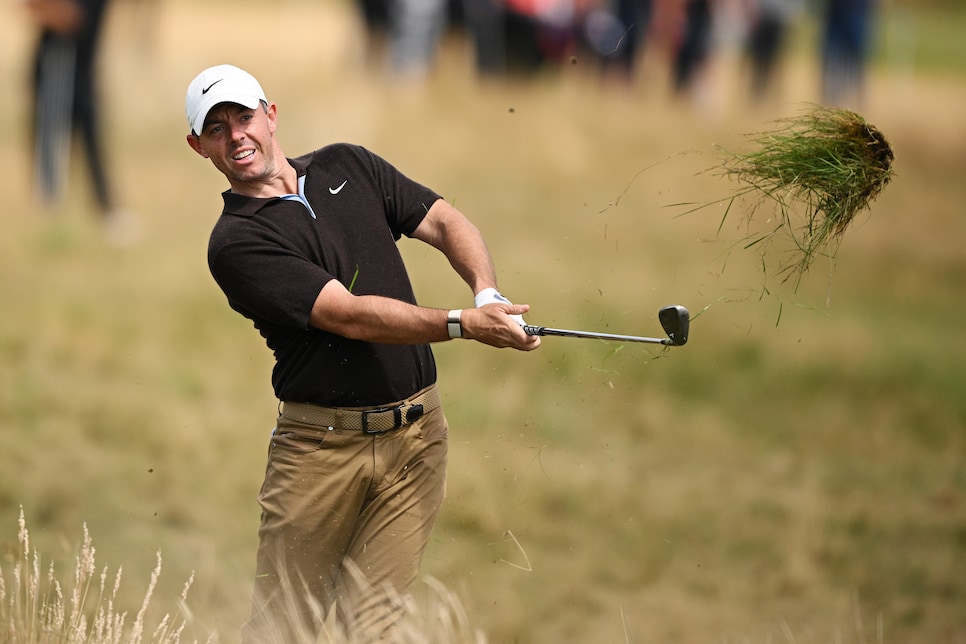 Rory McIlroy plays his second shot on the 16th hole during the third round of the Genesis Scottish Open.
Octavio Passos
GULLANE, Scotland — We've been here a few times lately. And here we go again. With 18 holes to play in the Genesis Scottish Open at the Renaissance Club, Rory McIlroy leads. The Northern Irishman is 13 under par after a 67 on Saturday and holds a one-shot advantage over Tom Kim (67).
Tommy Fleetwood and Brian Harman are two back, with World No. 1 Scottie Scheffler and former Open champion Shane Lowry part of a five-strong group three shots to the bad.
In other words, this thing is far from over. The high quality within the chasing pack looming in McIlroy's rearview mirror is clear. Then there is the promise of rough winds even for a part of the world renowned for bluster. The forecast is calling for gusts up to 50 mph, a prospect that will see the leaders tee off at 8:57 a.m. local time (3:57 ET) Sunday morning.
Finally, the recent fragility of McIlroy when in contention has to be taken into account, even if the law of averages in such circumstances must surely favour the four-time major champion.
Still, although clearly aware of all of the above, McIlroy was making positive noises in the wake of a day that perhaps could and should have been better. Four under par and bogey-free through two holes, the leader was "scrappy" en route back to the clubhouse. Only one birdie came along amidst two dropped shots, a conclusion that undoubtedly brought hope to those in pursuit of a man who— amazingly—has yet to win in Scotland as a professional.
By way of contrast, Scheffler played the last seven holes in three under, picking up four shots on the leader and going from also-ran to define contender.
"Patience is a really good word for today," said McIlroy. "Overall, it was another solid day. I've got myself in a great position going into the final day, even if there are a lot of great players right behind me. It's going to be difficult for everyone. When the wind gets up to where they say it might tomorrow, there is obviously a lot of skill involved. But it's also about attitude and staying upbeat whenever a bad break comes along. The ball isn't always going to do what you want it to do. So, the guy with the best attitude is going to have the best chance.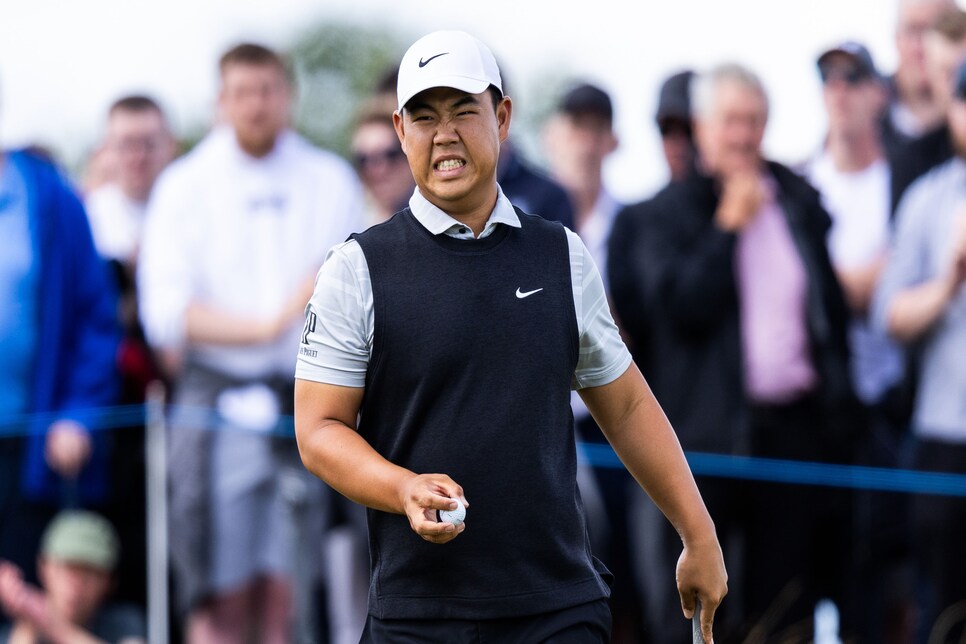 Tom Kim on the 16th green during the third round of the Genesis Scottish Open.
Ross Parker - SNS Group
"I felt like I've hit my irons well for the last three days," he continued. "I've struggled to read these greens a bit. I'm sort of confusing myself. There's a lot of subtle undulations, so it's more about trusting the line you pick and trying to put a good stroke on it. I've played really good golf, solid golf, and got myself into the final group going into tomorrow. If someone had told me that on Thursday morning, I'd have taken it."
One thing McIlroy can be sure of on Day 4 is the overwhelming support of the crowd. They know a thing or two about golf in this part of the world, a fact the 32-year-old World No. 3 clearly appreciates.
"They're very knowledgeable here," confirmed McIlroy. "Take my shot into 18. It was only a 165-yard shot, but the pin was on the left up on a little plateau. I hit it 40 feet right, but they knew that was a pretty good golf shot. Maybe in other parts of the world they'd see me hit a shot from that far away to that distance and not clap. They just wouldn't appreciate the difficulty of the shot. So, this is such a knowledgeable crowd, really supportive. It's nice to play in front of them."
Still, even with the vast majority of the crowd in his corner, McIlroy would be less than human if he did not harbor doubts as to his ability to maintain the edge he currently holds for 18 more holes. Not renowned for his ability to play well in wind, he claimed to be much improved in that department.
"I've become a better wind player over the years," he suggested. "There was a time when I would've said I wasn't but I'm definitely better than I was."
One last inquiry did provoke a response that subtly identified perhaps the biggest hurdle McIlroy must overcome before he heads south to Hoylake and the Open.
Asked if he could identify the worst conditions in which he has ever won a tournament. McIlroy was stumped for an answer. Which spoke volumes.
Then again, should he win for the first time in Scotland amidst near gale-force winds, the answer to that particular question is going to be easy. But any other outcome is going to be hard to take. For McIlroy, much is at stake.