European Tour
Chaotic finish to the Scottish Open ends in a playoff, and with a surprise winner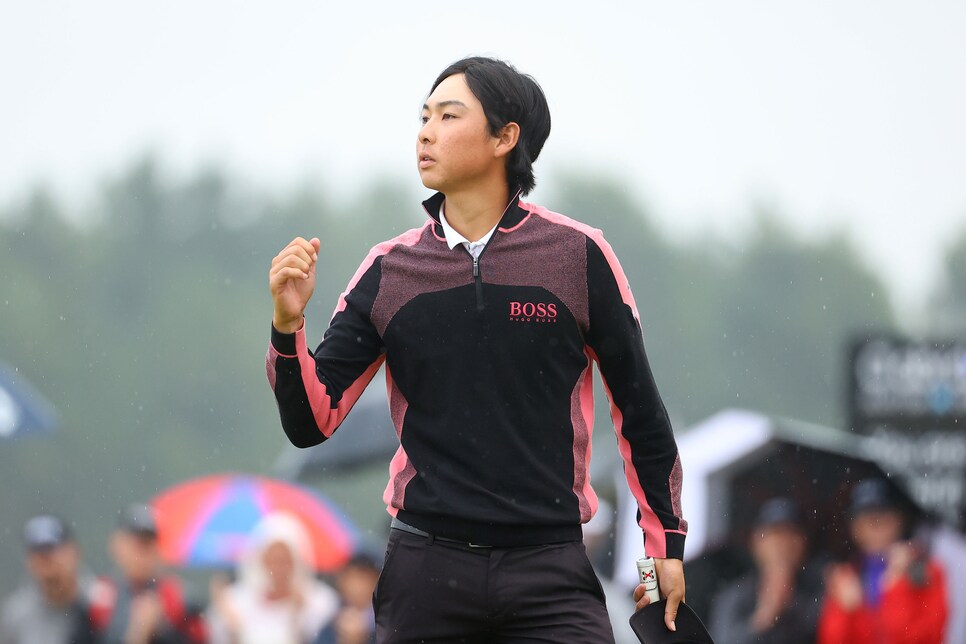 Min Woo Lee celebrates victory on the 18th green after his birdie in the first playoff hole won him the Scottish Open title.
Andrew Redington
Just a typical day out on the links really. At various times during Sunday's final round of the Scottish Open at The Renaissance Club, the sun shone and heavy rain fell. A haar (sea mist) hung around for a bit over the adjacent Firth of Forth, the body of water that separates East Lothian and Fife. There was a 90-minute delay for lightning, too. But here's the thing: The wind didn't blow. Not even a little bit. And, as ever when it comes to golf in the game's birthplace, that calmness was the most important and influential meteorological factor.
Just about everyone took advantage. Let loose by the benign conditions and a softer than expected course, 67 of the 77 golfers shot par or better on Sunday over the 7,293-yard, par-71 Tom Doak-designed lay-out. All in all, then, the day as a whole represented a more than benevolent welcome to summer in bonnie Caledonia for just about all concerned. Not everyone though. Those, like eventual runner-up Matt Fitzpatrick, who had ambitions of rushing down to London for the England-Italy soccer match were ultimately snookered by the electricity in the air.
Speaking of which, back on the ground the climax to the $8 million Rolex Series event also produced its fair share of tension and sparks. Birdies were plentiful down the interrupted stretch. And at close of play, the blokes with the best score (18 under par) over 72 holes turned out to be Min Woo Lee (with a closing 64), Thomas Detry (67) and the aforementioned Fitzpatrick (67). Another trio—Ian Poulter (whose 63 was the best score of the day), Ryan Palmer (64) and, last week's Irish Open winner Lucas Herbert (66)—finished one shot back. U.S. Open champion Jon Rahm (68) was alone in seventh place on 16 under, and lose his grip on World No. 1 by one place on the leader board.
To the playoff. At the end of a long day, it turned out to be a short-lived affair. Lee's birdie from 10 feet on the 483-yard 18th settling things, most specifically the destination of the $1.3 million winner's check, on the first extra hole.
"This has been an awesome day," said Lee, 22, a now two-time European Tour champion whose sister Minjee plays on the LPGA Tour is ranked 14th in the Rolex Women's World Ranking (226 places higher than her brother when he arrived in Scotland). "Making six birdies in a row on the front-nine got me going. So everything happened really quickly. I could have holed a few more putts in regulation. The putt on 18 came up short by just a roll. That was painful. But I re-grouped. It's just crazy to have won. I dreamt it last night and go so many messages from people back home who stayed up late to watch me. This one is for them.
"I'm not sure the shot I hit to the green in the playoff isn't one of the best of my career," he continued. "I hit a lot of good shots today. That was just one of them. But in that situation it was pretty good. Right off the bat I knew it was going to be pretty good. And yes, winning here is crazy. I've played well for the last few weeks though. My game was trending."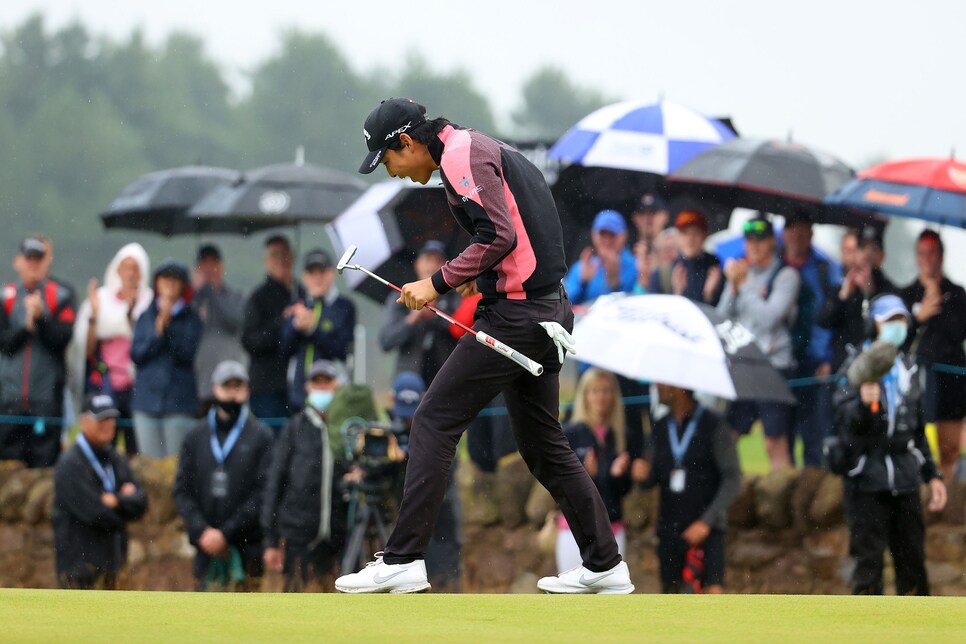 Min Woo Lee reacts in triumph after rolling in the winning birdie putt on the first playoff hole.
Andrew Redington
As ever one week before the Open Championship, there were a few other agendas in play. Lee, Detry and Englishman Jack Senior claimed the three places on offer at The Renaissance Club to the highest-placed finishers not already exempt into the year's final major.
Poulter surely had the second-biggest smile though. The 45-year-old Englishman left more than pleased with the boost to his bank balance, his World ranking and, inevitably, his chances of making a certain continental team.
"It's always nice playing well," said the already six-time Ryder Cup player, whose playing partner, Justin Thomas, nipped round in 65 to lose their "match" by two. "It's always nice to be on home soil playing well. It's always nice to pick up more valuable Ryder Cup points. And it's always nice being here playing good golf."
Indeed. And it's especially nice to be nice in nice weather.