Letter from Europe
What's next when you've made only three cuts in your last 27 starts? Andrea Pavan is trying to figure that out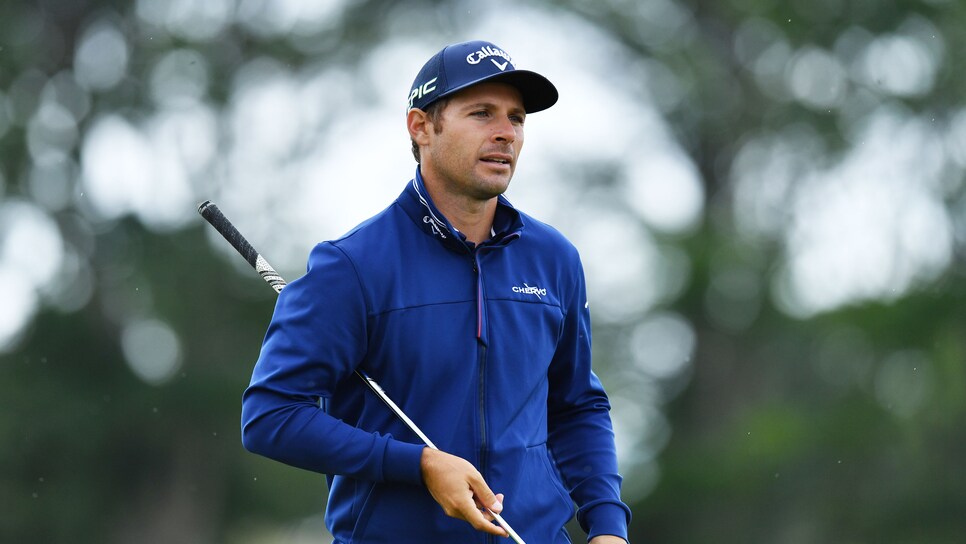 NORTH BERWICK, Scotland — Many things have two sides. Coins come to mind. Then there are arguments, although they often enough involve multiple points of view. And in professional golf there are always winners and losers, the latter routinely and overwhelmingly outnumbering the former on a weekly basis.
Twice Andrea Pavan has known the pleasure of victory on the European Tour. But if this week at the Scottish Open follows the doleful pattern of the last two years, the 32-year-old Italian will be a "loser" for the 175th time. Nothing new there. And, to be fair, two wins and almost €3 million in prize money over the course of a so far 11-year career is, on the face of it, a solid enough return.
Ah, but a closer inspection of Pavan's play reveals a (recently) hellish scenario. Since tasting victory at the 2019 BMW International Open in Germany, his performance level has descended rapidly. Once scintillating, a somber air now surrounds Pavan, a member of the winning Texas A&M side at the 2009 NCAA Championship. Ranked 74th in the world at the end of 2019, he came to The Renaissance Club as the 505th best golfer on the planet.
The latest videos from Golf Digest
Other numbers are not good. They're not even bad. They're worse than that. Take last year. Over 17 starts Pavan made only three cuts and shot 10 rounds in the 80s. He ranked 175th in driving accuracy, 175th in greens in regulation, 166th in putts per GIR and 139th in average putts per round. His average score of 75.37 was more than four shots worse than the overall average on tour.
This year, although numbers are unavailable on the tour website, it is safe to assume that little if anything has improved. Indeed, quite the opposite. In 10 starts before this week, Pavan has retired twice, been disqualified once and has missed seven cuts. Do the math. His high score of 87 came at the Made in Himmerland in Denmark. And he has broken par in only four of the 15 rounds he has completed.
"It all started at the end of 2019, when I began to hit a few foul balls off the tee," Pavan said on Thursday. "It was always not the best part of my game, and I was losing it way to the right. It felt like something not good was coming, and it snowballed. Then I had a wrist problem. That didn't help because it made me more afraid of releasing the club."
Sadly, his play during the opening round in Scotland brought little or no relief to the suffering. Four bogeys in Pavan's opening five holes were but a prelude to a six-over-par 77 that leaves him with little or no chance of making his first cut of 2021. There were two birdies in the mix, but they were canceled out by a lone double bogey on the par-4 13th.
Not surprisingly, there weren't many smiles to be found post-round. It didn't take long to confirm that the root of Pavan's problems are off the tee. One tour observer watched him in South Africa earlier this year and saw drives finishing as much as two fairways away from their original target. Both left and right. Inevitably, the word "yips" was mentioned.
"Today was just like it's been the last year or so," confirmed Pavan, clearly a likeable soul. "I'm struggling off the tee and the long game is not there. My problem is off the tee and it's leaking into my long game. It's tough because the tee shot is the first shot and if you hit it right or left, you feel you are scrambling all day. It is tiring. I've had a few good rounds where I've battled through. At The Belfry [British Masters], for example, I was three under par, but it was one of those days when I couldn't have shot anything lower. It's tough when you have doubts, but this game can sometimes be like this. You just have to try and stop yourself digging an even bigger hole. But, when you play bad for so long, your confidence is hurt."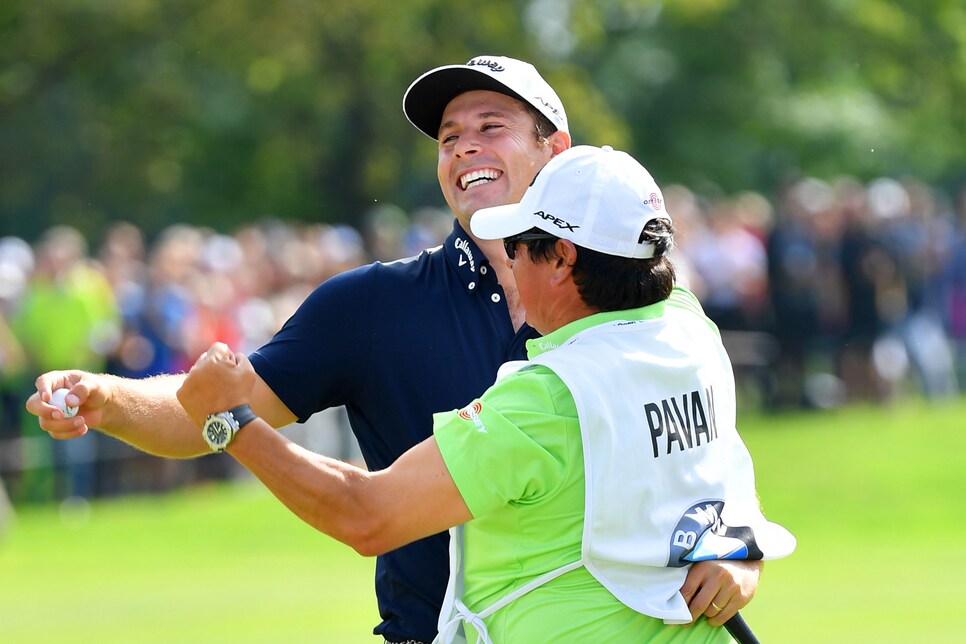 Andrea Pavan celebrates with his caddie on the 18th green after his playoff victoryat ther 2019 BMW International Open, his second and last European Tour win.
Stuart Franklin
Still, courtesy of that 2019 history in Germany—and the freezing of player status because of the pandemic—Pavan will retain his place on the Old World circuit at least through the end of next year. That knowledge has the Texas-resident leaning towards a break from competitive golf until the end of August, one that will give him time with coaches Corey Lundberg and Cameron McCormick and get him "ready for next season."
"I'm trying to get a more even routine and trying to forget a bad shot is not easy," Pavan said. "I think I will work a bit more on the mental side. I've talked to my coach about that. There are some technical things that change when I'm on the course. It's about trying to find a solution and trusting it. It can change fairly quickly if you get it back. But it's not a matter of me going out in practice rounds and flushing it and then going on the first tee and hitting it really bad. It's not as bad on the range, but it feels a little different on the course."
One who can sympathize with Pavan's plight is his playing partner over the opening two rounds in Scotland. Former European Ryder Cup player Ollie Wilson battled similar driving issues before finding a way to revive his career.
"My driving was embarrassing for me," Wilson said. "And it was scary. I had a genuine fear over the ball. I knew at some point I was going to hit one off the planet. My only hope was that I would somehow get away with it. That's why I started hitting driver off the deck. That was my way of getting round. And I've turned it into a strength. My driving off a tee is constantly improving, even if there are one or two demons still in there. I feel like I'm heading in the right direction. But it can be a long, lonely road."
Still, it is one Pavan seems determined to travel.
"I'll see how the game progresses," he said. "I've taken three- or four-week breaks before. And I was off for six weeks after my injury. It's a case of trying to get back where I was—or even better."