Random Daggers
Scottie Scheffler roasts George W. Bush over his . . . handwriting?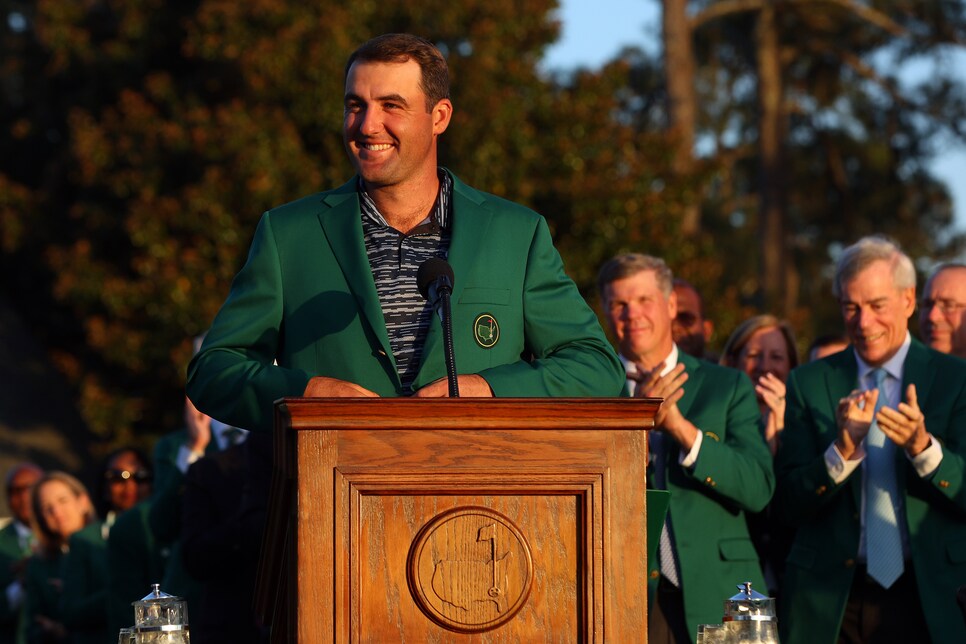 When you're the Masters champ, you must feel like the King of the World. Even in matters concerning a former U.S. President.
We found this out during Scottie Scheffler's Wednesday press conference ahead of this week's Zurich Classic when he roasted George W. Bush over his handwriting. Yes, that George W. Bush. And yes, we're talking about handwriting.
Apparently, "43" sent the 25-year-old PGA Tour star a congratulatory letter (classy) for winning the green jacket. And Scheffler couldn't resist taking a playful crack at Dubya when asked about it.
"Yeah, his handwriting is really hard to read, if he listens to this," Scheffler said. "I hear he's a good artist now. He's got to do some work on his handwriting."
Ouch. This guy is really throwing his weight around, huh? Sure, the World No. 1 has won four of his past six starts including a first major, but that's pretty bold.
Putting aside the fact this man is a former President, he's 75! And he took the time to send you a nice note! Maybe cut him a little slack? Oh, yeah, and he's a great painter! I think I saw a "60 Minutes" on that once. Also, does anyone have good handwriting anymore? I can't even remember the last time I put actual pen to paper.
Of course, Scheffler also said how much it meant to receive the letter, even if it was written in chicken scratch.
"Stuff like that is pretty cool," Scheffler continued. "To have someone like that to reach out just to congratulate me is pretty special. That's probably kind of the only moments I've had where I kind of sit and reflect on what's happened the past month and a half, two months. Obviously the Masters is such a different event than the rest of them. Just getting some messages like that from people I've looked up to for so long is really special."
Scheffler noted that Michael Phelps and Ezekiel Elliott were among those who also congratulated him in some form. But he didn't comment on their handwriting, probably because they used modern technology. Smart move, guys. Because, apparently, if you come at King Scottie with a handwritten note, you best not miss.