World No. 1
Masters 2022: Scottie Scheffler is on top of the golf world...for now. But recent history shows it's a tenuous position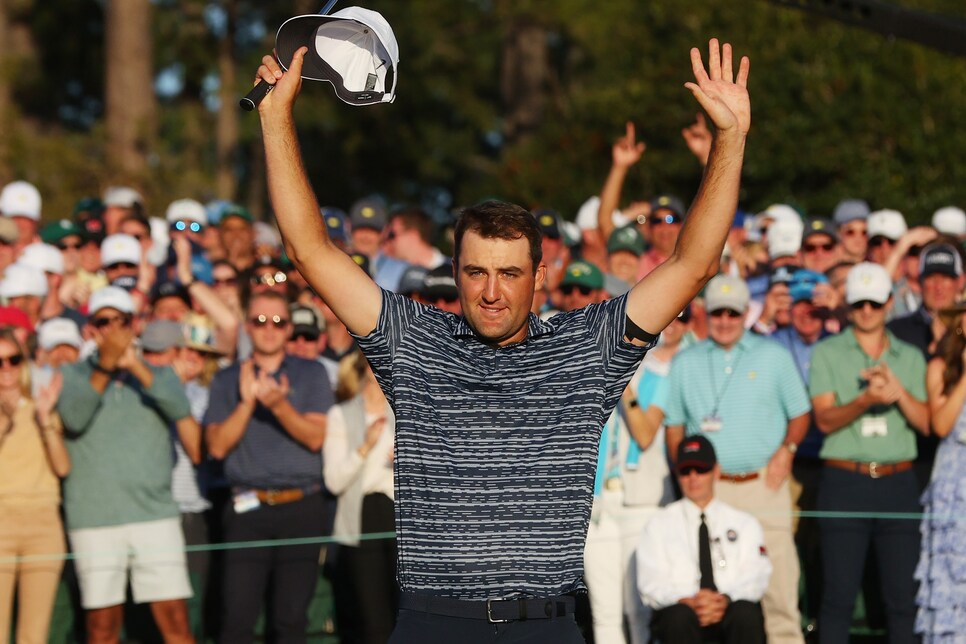 AUGUSTA, Ga. — Tiger Woods limped off the gloriously sun-drenched stage of Augusta National Golf Club much too early Sunday, but although his 24th Masters was completed, he left behind his progeny to bask in the spotlight, a battle of wills having been rejoined for the distinction of trying to follow in his footsteps.
The names keep changing but they are of one identity. Scottie Scheffler is only the latest in line, not just winner of the green jacket after his three-shot victory in the 86th Masters, not just owner of the world No. 1 ranking, but also wearer of the mantle of he who best emulates the game's most dominating player.
They keep climbing over one another for the honor, submitting their streaks of greatness, maybe winning a major, claiming that transient piece of real estate known as the No. 1 ranking whose importance seems increasingly meaningless as it increasingly changes hands.
Thanks to a final-round 71 that included an inconsequential four-putt at the last, Scheffler, a thoughtful, unassuming Texan, won for the fourth time in his last six starts, a searing run reminiscent of many breathtaking stretches Woods orchestrated to help him procure 82 PGA Tour titles and the top of the world rankings for a record 683 weeks. While a prodigious display of uncanny golf execution has propelled Scheffler to these heights, the truly formidable work begins tomorrow—sustaining it while accepting that there is nothing he can do to blunt a challenge from the next determined talent.
"It's a perfect example of the Tiger effect," said reigning U.S. Open champion Jon Rahm, who shot 69 Sunday in the company of Woods and who saw a 36-week run as world No. 1 come to an end two weeks ago when Scheffler overtook him by winning the WGC-Dell Technologies Match Play. "We all grew up watching Tiger. We all grew up wanting to be him, and we grew up with the dream of being major champions."
Rahm rattled off the names since 2015 who have exhibited their spurts of excellence: Jordan Spieth, Jason Day, Dustin Johnson, Brooks Koepka, Justin Thomas, Bryson DeChambeau, Patrick Cantlay. He rightly included himself in the mix as well as Rory McIlroy, who surged with a final-round 64 to abscond with second place. And, of course, he had to throw in the newly minted Masters champion, who calmly led after each of the final three rounds and finished with a 10-under 278 aggregate total.
All but Johnson and McIlroy are in their 20s. "With the advancement in golf, in all of us thinking of ourselves as athletes, you can see the difference," Rahm, 27, added. "Everybody can reach a new level.
Since Spieth overtook McIlroy in August, 2015, the No. 1 ranking has changed hands 32 times among nine players. On 20 occasions, the reign at the top lasted four weeks or fewer. The longest anyone retained it was Johnson's 64-week run from Feb. 19, 2017 to May 12, 2018.
"In all the parity, it seems like tournament wins mean more than maybe getting to No. 1 in the world," Cantlay said. "Unless someone could hold No. 1 in the world for six months or a year at a time, then I think it would mean something. I feel like it gets discounted when you hold it for a week or two and then someone else takes over."
"Since '97, watching Tiger, listening to Tiger, everybody has changed," said two-time Masters winner Bubba Watson. "I think the talent level is through the roof right now. Think about it. We can sit here and debate year after year, week after week the field strength … just a bigger crowd playing the game of golf, so it's harder to stay No. 1 because there's other talent coming after you."
When Harold Varner clipped him with a 92-foot eagle putt on the 72nd hole to win the Saudi International, Watson, 43, told the 31-year-old Varner to enjoy it, but not for too long. "I said you can't party for a week, man. You got to go home and practice. These young kids are trying to beat you," Watson said. "Not that he shouldn't celebrate his victory. But he has to now reset and be hungry again. These guys are hungry.
"Yeah, everybody out here that just won a trophy might have lost a little bit of hunger, and the other guys are hungrier. That's where to be No. 1 or to stay at top 10 is not as easy as it used to be."
Scheffler, 25, shows no signs of slowing down, but neither did Spieth in opening 2015 by winning the first two majors, or Koepka when he won four majors in eight starts in 2017-'19, or Johnson in late 2020 when he won the Masters or Rahm in the middle of last year, or Cantlay near the end of it when he succeeded Johnson as the FedEx Cup champion.
As Woods himself said on Saturday, the top players hope for a two- to three-month window of high-caliber play, preferably during major season, to make their mark. This from the guy whose letdowns—what ones there were—were barely of that duration over the course of more than a decade. Woods bequeathed to the following generation the inspiration to reach the highest level but not his secret for staying there.
A scramble for supremacy has ensued.
"No one has really been able to sustain a run at the top of the world rankings for very long, which is different than the era before where Tiger seemed to dominate the world rankings and was maybe only briefly interrupted every once in a while, usually due to injury," Cantlay noted. "I think it's a different paradigm for the sport with guys getting hot for certain periods of time … and then somebody else takes over."
Scheffler is a man who likes to live in the moment. He's intent on it, in fact. Where did he learn that? From watching Tiger's victory in the 1997 Masters on YouTube. Call it a history lesson; Scheffler was 10 months old at the time Woods triumphed by a ridiculous 12 strokes.
"I remember watching the highlights of him winning in '97, kind of running away with it, and he never really broke his concentration," said Scheffler, who admitted that he wore a shirt this week that resembled one Tiger had worn. "That's something that I reminded myself of today. I tried not to look up. I tried to keep my head down and just keep doing what I was doing because I didn't want to break my concentration. The minute I did was on 18 green when I finally got on there and I had a five-shot lead and was like, 'All right, now I can enjoy this.' And you saw the results of that. Thank you, Tiger."
So, it's head down now and plow ahead for the newest member of the major winners' club. Good idea. The array of talent aligned against him would make his admittedly queasy stomach even more unsettled. Not that he doesn't already know that; they were the impediments to his success until very recently.
Then again, it's difficult to predict who will be the next threat. He might not have yet reached the PGA Tour. Four years ago, Scheffler needed an up and down on the final hole of the Korn Ferry Tour Qualifying Tournament to finish T-34 and earn his card. He converted, won Player of the Year while earning his PGA Tour card, and now he is world No. 1 with a green jacket.
So, yeah, Scottie Scheffler is the new king of golf. But uneasy lies the crown.
"It's really hard to stay up there for a long time," Rahm said. "Some players have been able to do it, but it's just the next guy comes up, gets hot, and there you go. It's a beautiful part of the golden age of golf we're living in right now."