Scandinavian Mixed
Women and men deem first 'mixed' European event a success, as emotional journeyman claims victory
Jonathan Caldwell (right) walks off the 18th green with his caddie during the final round of the inaugural Scandinavian Mixed.
Luke Walker
Foursomes partners at Royal County Down in the 2007 Walker Cup matches, fellow Northern Irishmen Rory McIlroy and Jonathan Caldwell both turned professional not long after playing their parts in Great Britain & Ireland's one-point loss to the United States. Before this week and in the 14 years since, they had amassed a cumulative 261 appearances on the European Tour, winning 14 times and earning €37,211,442 between them.
Unfortunately for Caldwell, the now 37-year-old's contribution to those numbers amounted to just 47 European Tour starts, only €223,079 in prize money and zero victories. As McIlroy went on to have the "can't miss" career his prodigious talent long made obvious, Caldwell struggled. A lowly 243rd on the European Tour Order of Merit at the end of 2009, he lost his card. Since then and in near anonymity, he has largely plied his trade on the likes of the EuroPro (where he won twice) and Challenge Tour. Search the European Tour website for his name and a trio of victories do show up. But all came in different years at various stages of the qualifying school process. Which tells its own story of the professional existence Caldwell has endured.
Until now that is. Less than two years on from finally regaining his card at the 2019 Q school, Caldwell is at last a winner on the European Tour. Starting the day three shots back, a closing 64 over Sweden's Vallda Golf & Country Club just south of Gothenburg gave him a 17-under-par 271, a one-shot edge over Spain's Adrian Otaegui (who three-putted the final green for a crucial bogey), and clinched victory in the inaugural—and historic—Scandinavian Mixed hosted by Henrik (Stenson) and Annika (Sorenstam). For his trouble, Caldwell earned a career best €150,000 from the €1 million pot.
In third place, two shots off the pace, England's Alice Hewson was the leading female in this first-ever collaboration between the European Tour and the Ladies European Tour. With the 156-strong starting line-up split equally, 45 men and 26 women made the halfway cut, the women playing a course 922-yards shorter than the 7,060-yard layout presented to the men. Yes, the blustery last day was dominated by the male members of the field—only Germany's Olivia Cowan joined Hewson in the top 10—but the LET players more than held their own for long periods over the four rounds. Before falling away with a final-round 76, Sweden's Caroline Hedwall led or shared the lead at the end of Days 2 and 3.
In the end though, the dominant storyline belonged to Caldwell, a man who has seen the dark side of his chosen profession. For four or five years he supplemented his income by working behind the counter in the (now closed) Nevada Bob's store in his hometown of Bangor.
"I think most people think professional golf is quite an attractive lifestyle, but when you're playing on satellite tours and levels below the European Tour, you're doing a lot of flying on low-cost airlines, renting economy cars and staying in cheap hotel rooms," he says. "It all adds up though, and it's difficult to get sponsors. It's OK when you're playing well and making money, but if you're missing cuts it's all quite stressful."
Given his long struggle to succeed, it was not surprising to see Caldwell slip up more than once over the closing holes. But the bogeys at 15 and 17 (where he missed from no more than three feet) were more than compensated for by eight birdies and an eagle.
Crucially, the last of those birdies came at the 72nd hole. After a poor drive that found the rough on the right, Caldwell's McIlroy-like gap-wedge approach finished two feet from the cup.
"I'm feeling a bit of disbelief, to be honest," Caldwell said. "I didn't really know where I stood on the 18th. I'd just missed that short putt on the previous green, so all I said to my caddie was, 'let's try and make birdie.' I actually hit a pretty poor tee shot. But I got a good lie and managed to get it up to about two feet and make the putt. It has to be one of the best shots of my life.
"It's been a tremendous week," he continued. "I hope we have more like this one. I've played with some great girls and got a fist-bump from Annika when I came off the 18th, which was pretty special. The golf club at home [Clandeboye] will probably be going bonkers. Put a tab on and crack on boys. My parents have been with me the whole way. I look forward to talking to them tonight."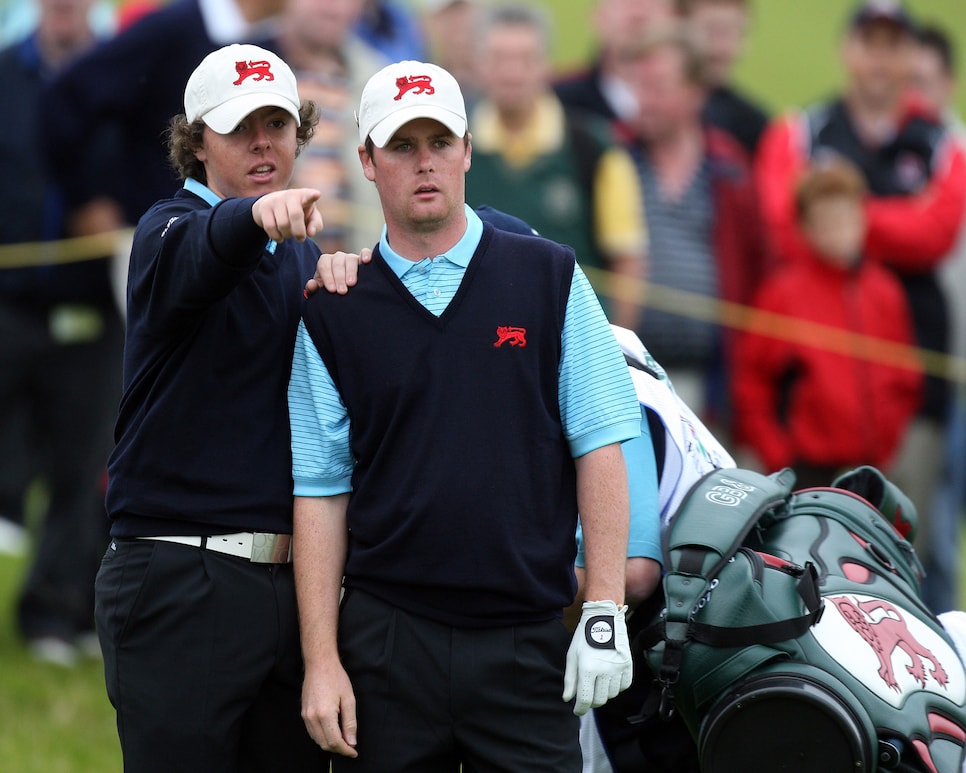 Caldwell teamed with fellow Northern Irishman Rory McIlroy at the 2007 Walker Cup at Royal County Down.
David Cannon
And, no doubt, with his erstwhile foursome partner.
"I have never grown tired of hearing questions about Rory," says Caldwell with a smile. "Any time I'm mentioned in the same sentence with him it has to be good. He's a league above everybody—and he was back in 2007. He's always had a fantastic mindset. He has gone on to do great things. We all knew he would do that. He's the best player in the world. I hope to see him again on tour soon. I'd love to get a chance to play with him again. Especially on the weekend. Anyone playing alongside him then has to be doing alright."
Indeed, but for once Rory has some catching up to do. Caldwell is now one up on his mate in at least one category. The four-time major champion has yet to win on the Ladies European Tour. Come on man, get a grip.