Saudi International
Not taking criticism 'personally,' Phil Mickelson among American contenders after Saudi International 1st round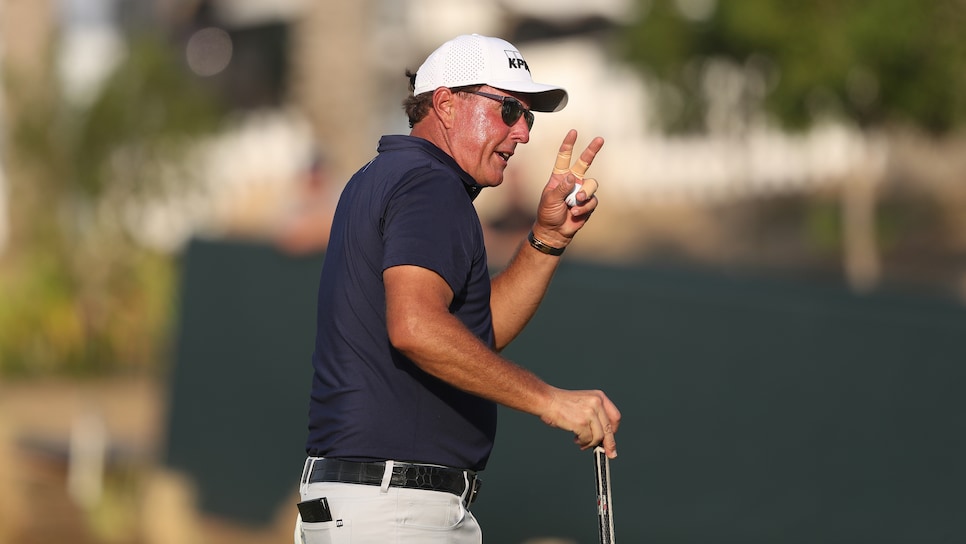 AL NUROOJ, Saudi Arabia — No doubt to the relief of all concerned, the opening round of the fourth Saudi International provided a welcome distraction from the seemingly endless talk of a possible Super Golf League, unfair media rights and so far unidentified Ryder Cup captains. Plenty of good golf was played over the 7,048-yard Royal Greens Golf & Country Club. As many as 55 of the 130-strong field broke the par of 70, Matteo Manassero's 62 the best of the day by two shots from a five-strong group: Adri Arnaus, Sam Horsfield, Ryosuke Kinoshita, Harold Varner III and Bubba Watson.
So, Watson apart, not some of the biggest names in the glittering field assembled on the shores of the Red Sea, which is bluer than blue. But the luminaries are inevitably not too far off the pace, Phil Mickelson for one. A day after dropping bombs on the PGA Tour—by criticizing its handling of players' media rights—the PGA champion was back to hitting them off the tee. Bogey-free with a three-under 67, the 51-year-old Californian left the premises content enough with his day's work, but just a little frustrated by a nagging feeling that it could and should have been a couple of shots lower.
"It wasn't far off," he said. "Playing without mistakes was nice. I'm really close to playing some good golf again. Tomorrow morning is another opportunity to do that."
Mickelson also had a little more to say about the state of the golf world, one day after he caused a stir with his frustration toward the PGA Tour.
"There's a lot of complexities that are working themselves out right now in the sport of golf," he said. "Because of some opportunities that create leverage for the players, we have a chance to get a more equitable position. We're so far behind because we don't have things like player representation and collective bargaining. But for the first time in my 30 years [on tour] there's some leverage. I don't know where we're headed. There are so many different parts needing to be addressed. But I think, in the end, all the things are going to be positive."
No mention was made of any public reaction to his provocative comments. But that's not surprising. Mickelson has a way of dealing with those who abuse him online.
"I do read my own press," he said. "But I'm not emotionally affected by it. I view myself as an object to be discussed. So I don't take criticism personally. If I don't like what someone says about me on social media, I simply block them."
Elsewhere, the best-placed Americans on the leader board are Harold Varner III and Bubba Watson. Both shot 64, with Watson particularly happy with his afternoon stroll around the course in winds that never reached the predicted velocity.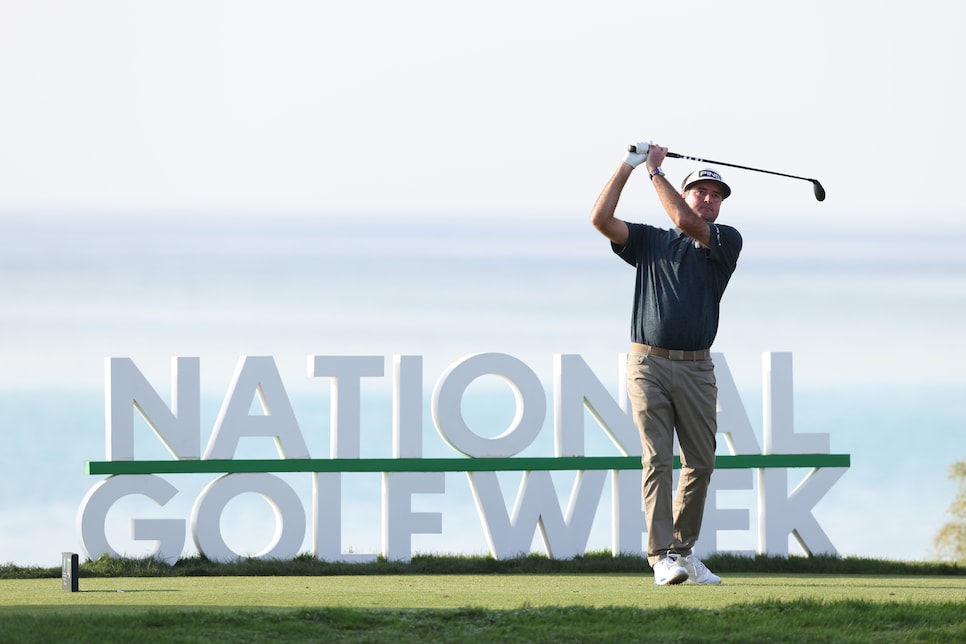 "It's crazy because we had all of this wind the practice rounds," said the two-time Masters champion. "The pro-am was a little less windy. Then today was a lot less windy, which was nice because this is the first time we saw it without wind. The course is a little easier without the wind."
Watson's enthusiasm for the meteorological conditions was matched by his apparent passion for the agronomy. For a player who is never less than interesting, he can be interested, too.
"When you're trying to learn a place, you're trying to learn grass," he said. "Some wind feels heavier than others, so the ball reacts differently. So you have to take that and learn to putt on different grass. This is a different kind of grass than the States on most golf courses.
"I'm just trying to get better," he continued. "And to do that you have to get used to your surroundings. All these other guys are getting better and practicing in these surroundings, so we've got to learn to play everywhere in the world. If you're going to be a golfer in the world, you've got to learn to play at many different places."
Still, perhaps the most menacing figure in contention is that of Dustin Johnson. Twice a winner here, the former U.S. Open and Masters champion was typically lacking in outward excitement after signing for a 65.
"I played better on the front nine, which was my back side," he said. "Birdies on the first two holes gave me a nice start, but I didn't hit it too great my first nine. I hit it much better on the front. I had a putt on eight that horse-shoed. Then I missed a short one on seven for birdie. But I played solid. I drove it better as I went on and hit some decent iron shots. So it's a nice start. The wind is supposed to pick up the rest of the week, so this was a day when I definitely needed to shoot a decent score.
"I liked the course the first time I saw it," he continued. "It sets up well for me. I feel like I can see the lines off the tees pretty well. You have to hit good shots if you want to get close on a lot of holes. I did have a few wedges to greens, but there are others where you have to hit quality shots to get some looks at birdie."
The man to beat then? He usually is in this event.