News
Australian Sarah Jane Smith clubhouse leader after inclement weather pushes second round into Saturday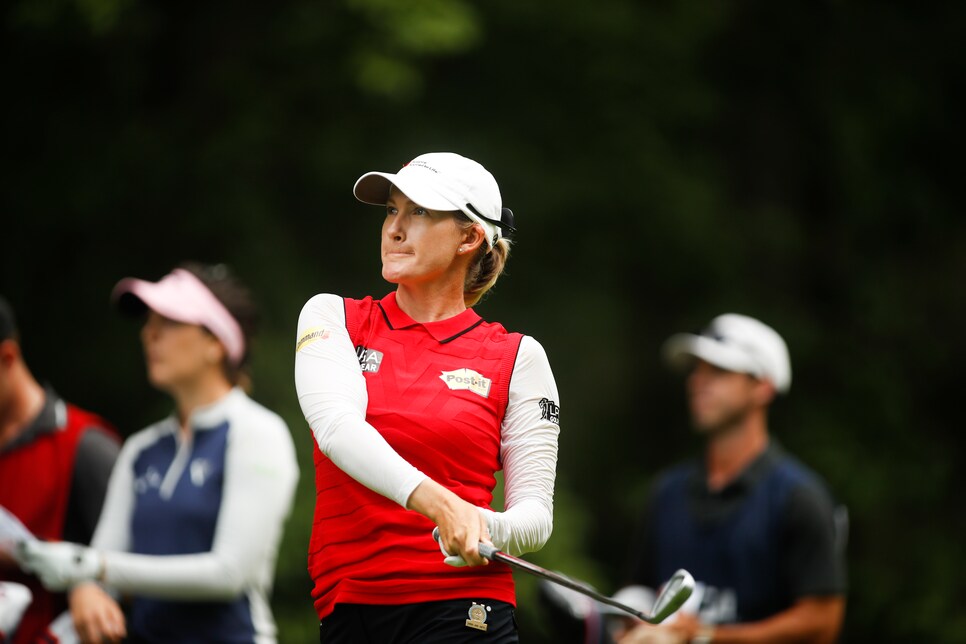 BIRMINGHAM, Ala. — Sarah Jane Smith has not been having a very good season. From mid-April to mid-May, the 33-year-old missed five straight cuts. But you'd never guess that watching her play Shoal Creek at the U.S. Women's Open.
The Australian shot a five-under 67 in the first round on Thursday afternoon. Turinng around quickly to play her second round on Friday morning, she made five birdies over her first nine holes after starting on the 10th hole to turn in 31. She then played her last nine holes in even par to post another 67 and is the clubhouse leader with second-round play suspended by inclement weather with 78 players still on the course. Play will resume at 8:45 a.m. (EDT)
The sweet, mild-tempered Smith was on no one's radar heading into the Open. Her best finish this season was a T-26 at the Kia Classic. She has been on tour since 2006 but has yet to win. Yet, she's in the middle of what could be a breakthrough tournament. And it's happening in at arguably the biggest event in women's golf.
So what gives? There are two main things Smith credits for her good play. One, she recently switched back to some familiar irons. Two, she changed her putting grip.
"I put some different clubs in for Hawaii [in April], and I really liked them. They were really good, but I kind of rushed the process a little bit," Smith says. "I tried to hit my full shots with the new clubs. I just felt so much better with my full shots, but the golf course, I hit a lot of little shots. My little shots are going farther. I had no control."
After struggling to adjust to the new clubs, she went home to get her old clubs at the beginning of May.
As for the putting, she went back to a conventional grip after having putted left-hand low for the last four or five years.
"I like to feel my right hand, which I like doing even with left hand low," Smith said. "But it felt like I wasn't releasing the putter very well, so I went back to conventional and it's felt a lot nicer."
Smith also credits her coach, Sean Foley, who used to coach Tiger Woods, with helping her get her game in shape.
"I sent him a text message on Sunday [after I missed the cut at Kingsmill] and I said, 'I don't know what I'm doing,'" Smith said. "'I'm playing well, and it's just not sort of coming together.' I said, 'Is there a book or something I can read?' He called me on Monday. And he's like, 'There is no book, you idiot. Keep showing up, it's going to turn around.' He just kind of set me straight."
The afternoon wave still has to play, but it is not unlikely that Smith, ranked 97th in the world, could be sleeping on the lead at the U.S. Women's Open heading into the weekend.