wrath of the gods
NFL Network host goes on all-time golf rant, wants men to 'get a less time-consuming hobby'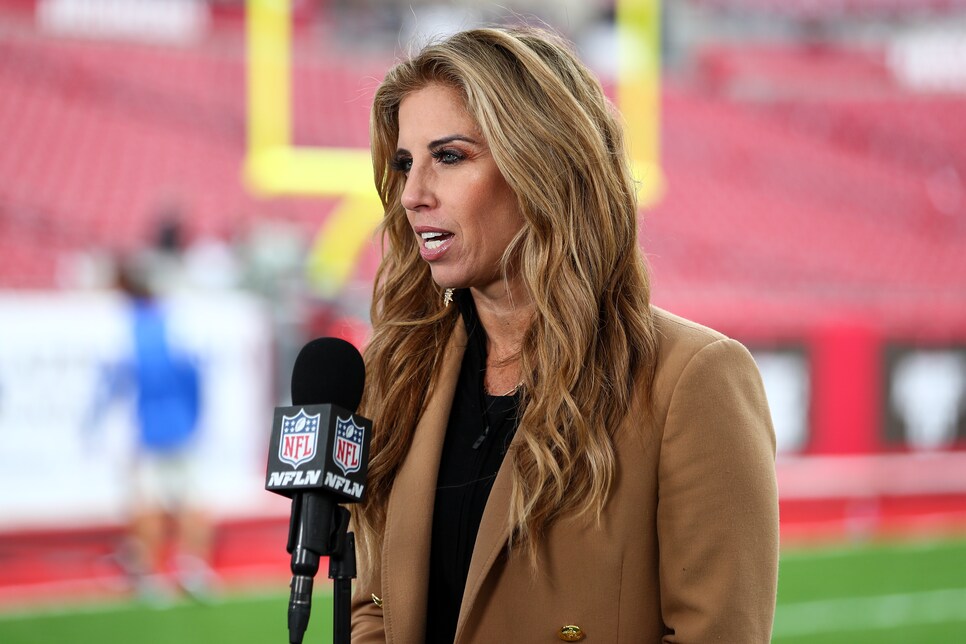 The best rants are the ones that hit close to home. As great as Sara Walsh is as a TV host, she's not a good enough actor to be making this one up. This golf condemnation comes from the heart and it shows as she goes on a diatribe with enough vitriol and disgust to make Twitter look tame.
The NFL Network and former ESPNer is married to retired Arizona Diamondbacks pitcher Matt Buschmann. It seems like Buschmann is quite the golfer to Walsh's chagrin, and now we all have to pay. Let's just get to the three-minute rant, as much as it hurts.
"There's been a lot of talk in the studio this week," Walsh begins her monologue. "It's the grumbling about seeking permission from the significant other and being given a hard time because you just want to play a simple round of golf with your buddies.
"But I just want to put this in perspective, the other side of that equation, the one in which you come to us with utterly unrealistic promises that can never be fulfilled starting with this real unplayable lie. You are not going golfing and it's just going to take three-and-a-half hours. You know how I know that? Because not once in your history of golfing has a round ever taken three-and-a-half hours. Not once. And it's not because the group in front of you plays slow and it's not because they had a dude in jean shorts with a 20 handicap."
The second-best part of the clip, after Walsh's exasperation of course, are the Jim Halpert-esque stares to the camera from the men at the table knowing their significant others have had these talks with them before or are about to when they get home. Even the PGA Tour felt a need to chime in.
She then continues in epic fashion jumping around topic-wise and even getting a thought or two in on golf simulators, "The Real Housewives" and Rory McIlroy. There's a lot of tremendous content in here, but nothing comes close to matching her (hopefully) award-winning line: "It takes the International Space Station 90 minutes to orbit around the Earth. It takes you 90 minutes to shoot six over through the first six holes."
The entire thing is worth watching, for the golfers and for the significant others of golfers that are constantly seconds away from going on Sara Walsh-esque tirades. Hopefully, "A Fore-ward" returns down the line as Walsh's animosity is what televisions were made for and the best comedy comes from the truth.