The Loop
San Diego: Home Of The Open And A Grudge Match
I've been answering this question a lot lately. "How was the Masters?"
It was fantastic. For the first time since 1997 I watched it from my sofa at home. I missed being there, missed my colleagues and missed the Sunday roars from Amen Corner but from all that I've read, a lot of people missed those roars, silenced by a long tough golf course and a stiff Sunday breeze.
I've also been answering this question. "Will you be in San Diego for the Open?"
No. As the travel editor I'm no longer needed to help cover the tour. We have a small army of writers, editors and photographers who take care of the major coverage for Golf Digest, Golf World and golfdigest.com. My jurisdiction is now strictly travel.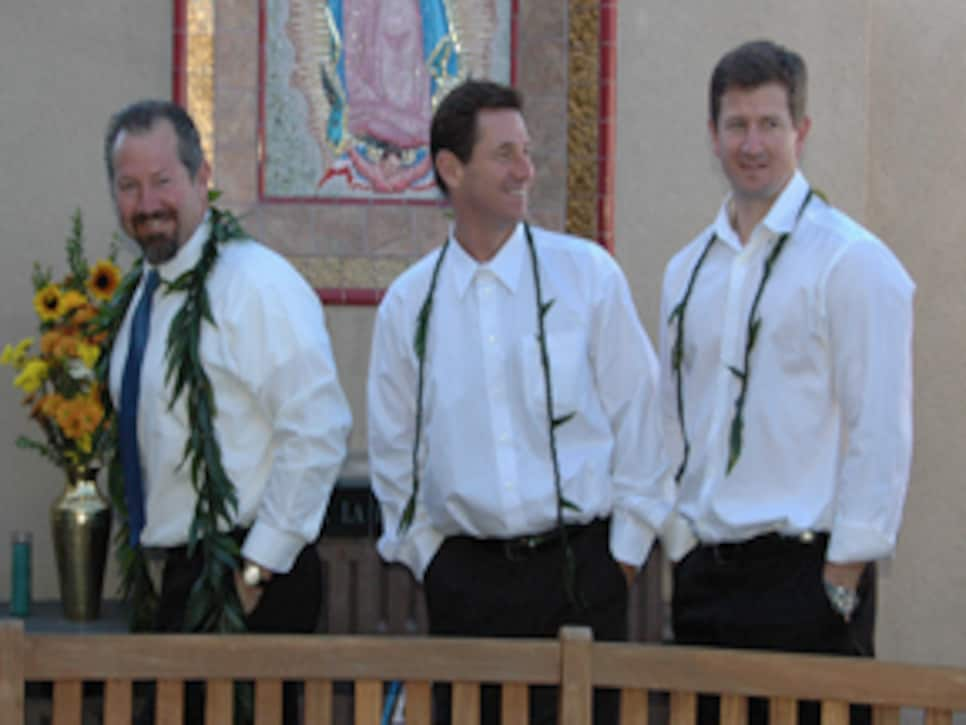 I'm in the San Diego area three to four times a year. I've written about my oldest brother, Sean, and his family in Hawaii. My brother Mark and his family live in Valley Center, about 40 miles from downtown San Diego. Mark's best friend lives in La Jolla and my best friend going back to high school lives 10 minutes from the San Diego airport. Not only do I love the city, the baseball team, the weather and the golf but it's also home to a network of family and friends.
I'm a northern California guy by birth and I can't imagine anyone has had a better 13-year run in New York City (excluding Howard Stern, Mayor Bloomberg, Derek Jeter and Broadway) but if I were to live anywhere else other than Manhattan my first choice would be San Diego.
My brother Mark, much like my dad and my brother Sean, has always had a handicap anywhere from 16 to 26. My brother plays golf like he lives life--there's no such thing as a three-quarter swing. He has Tiger-like intensity and a deep, dark hatred of losing. That only adds to the younger brother joy of a victory. My brother's friend Doug Holmes has been roughly a 7-handicap for the last five years, and he's a member of San Diego Country Club. (In a recent Q&A, Padres pitcher Greg Maddux named San Diego C.C., home of Billy Casper, as his favorite course in San Diego). Last week my friend Todd Curran just broke 80 for the second time in his life but when we play what we call the "Grudge Match," Mark and Doug against Todd and me, Doug and I play even and Mark and Todd play even. We play a high-low nassau, two points per hole. The team that's down always has the option to press. The payouts have been as little as a dollar per man from the two losers, to as high as $250. The older we get, the less it's about the money and the more it's about bragging rights. Strange how that works because Mark and Doug are 10 years older than Todd and I and I think when we lost $250 each, we were probably worth a combined $490. That would've been a better time to have the bets be more about bragging rights.
The Grudge Match goes back more than 12 years and has been played more than 30 times. It's been at both good and bad golf courses. There have been chip-ins, chip-offs, and at times the conversation can be downright chippy. There have been broken clubs, clubs thrown into large bodies of water, and clubs that would rather the Grudge Match take place at an alternate venue. There have been silent treatments, handshakes and hugs at the end of these boys-will-be-boys battles. Regardless of the aggravation or outcome, in the end there's always anticipation for the next time.
Very rarely has a Grudge Match ever taken place anywhere but San Diego.
Golf Digest will feature a travel story about San Diego, Torrey Pines and good golf in the area in the upcoming June issue but here's an appetizer and some local perspective.
First an edited version of an e-mail I received recently. If you're still looking for lodging and a ticket for the Open (no I don't have any) this will serve as help with the lodging. I have not been there but I hear it's nice and it sounds like it's just down the street from Torrey Pines.
Estancia La Jolla Offers Guests Accessible and Accommodating Golf Services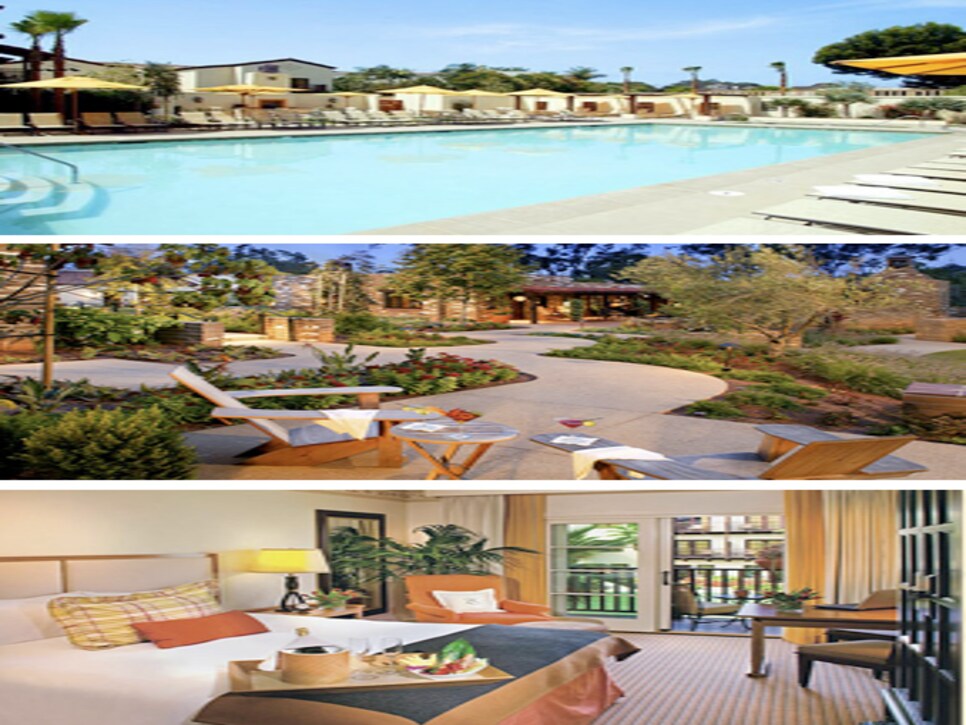 LA JOLLA, California (April 2, 2008) â¿¿ Selected by Condé Nast Traveler as one of the "Hottest New Hotels in the World" upon its opening in 2005 and as one of the "World's Best Places to Stay" in 2006, Estancia La Jolla Hotel & Spa is renowned as a coastal sensory retreat where tradition, environment and design blend to renew and inspire in the setting reminiscent of a sprawling early California ranch estate. Just a "chip shot" away from Torrey Pines Golf Course, host of the 2008 US Open, and a short stroll from the majestic coves, those seeking natural beauty and renowned golf have discovered the perfect location. The property features 210 cleverly aesthetic rooms (including 11 suites), three restaurants, including Bodega wine bar, an 8,000 sq. ft. spa with an adjacent fitness facility, an inviting pool deck with private cabanas, and 25,000 sq. ft. of indoor and outdoor meeting and event space.* *
*Estancia La Jolla Hotel & Spa has partnered with San Diego Golf to launch a convenient new way for visitors to book golf reservations in "real-time".  The first of its kind in San Diego, the sensory retreat is offering guests the ability to reserve tee-times for their favorite sport at eleven top courses in San Diego County, online either from home or from their guestroom.
Guests using this new electronic golf tool will not only have the capability to book tee times at various San Diego County courses, they will also have access to course information, pictures and recommendations. For more information please contact Estancia La Jolla at (858) 550-1000 or visit www.estancialajolla.com. *
I called Estancia La Jolla Hotel and Spa. I was told they still have a limited supply of rooms available for June 11th-14th with a four-night minimum. "It will be a busy time but we do help guests with golf reservations," said Deborah Graham, a concierge at the hotel.
I suggest going to the page of their website that details the service they use to help a golfer get a tee time, San Diego Golf Reservations.  They list 11 courses.
I called my friend Todd and will pass on his comments about each of the 11 courses connected to Estancia and San Diego Golf Reservations. Todd's played 20 rounds this year. He's one of the most athletic and positive people I've ever met. His wife and two daughters support his golf game and a few buddies trips every year. He has lived in San Diego for almost 20 years and he has played about 20 rounds since January 1st. He's forever in search of a great deal (back in high school he used to cobble together lunch by way of our leftovers instead of buying his own). Here are the 11 courses and his comments about each:
Arrowood:"Its new. There are some great holes. It tends to be windy but I'd say it's a good young course."
Carlton Oaks: "One of my favorites. It's top 10 toughest in the area from the black tees. It's a well-kept secret. I highly recommend it."
CrossCreek: "It's in Temecula, which is over an hour from Torrey Pines. It's a good course with very few houses around if you're willing to make the trip."
Eagle Crest: "Not a great course but a very good value."
Eastlake: "A notch above Eagle Crest. It has a lot of houses on the course but it's also a good value."
Maderas: "I've never played it but I hear it may not be worth the money unless you play twilight."
Riverwalk: "It's centrally located. It has three nines. Play Mission and Presidio and skip Friars if you're only playing 18."
Salt Creek: "It's a links course in the South County. The greens have matured and it offers good views. I'd play it more if it weren't so far away. It's about 40 minutes from Torrey Pines but people should look into the new toll road to try and get there faster."
Steele Canyon: "It's in my top 5 in San Diego, especially when considering the price. It has great vistas. It also has three nines. Play Canyon and Ranch, skip Meadow. My favorite of the 11 they've listed."
Twin Oaks: "I played it once. It's narrow. It wasn't memorable."
The Vineyard: "The front nine is pedestrian and crowded. Some holes are awkward but the back nine is gorgeous. It's a great value."
I asked Todd to name his favorite public course other than Torrey Pines and not on the list above.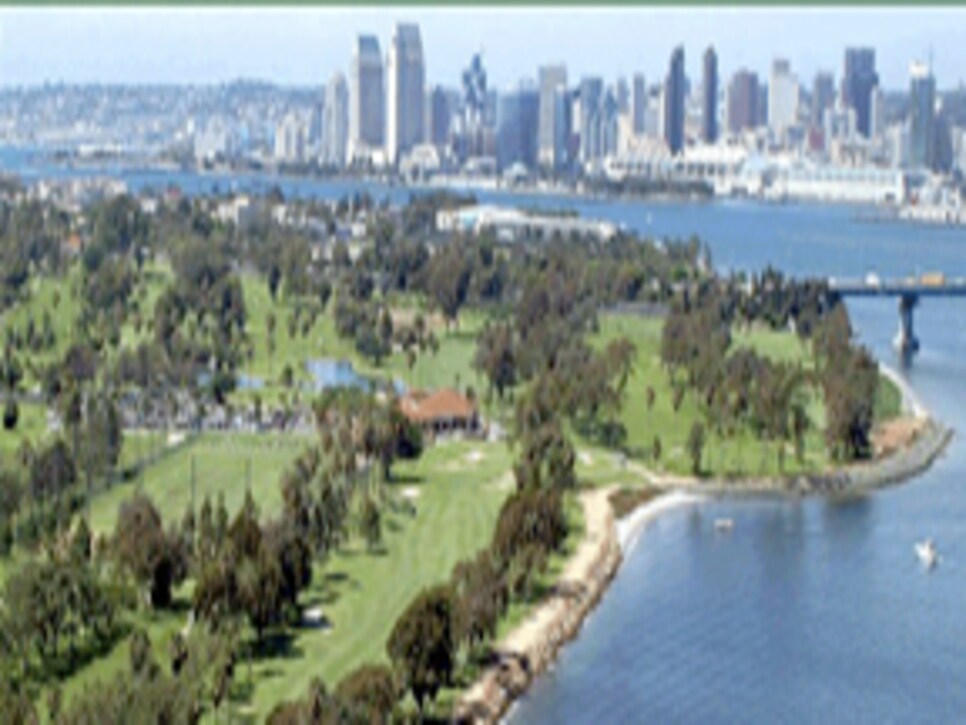 Coronado Golf Club: "It's 20 to 25 minutes from Torrey Pines. It's across the Coronado Bridge (no toll). It's $25 to walk and a $13 twilight rate. There are great views, especially at 16 and 17. It's fantastic. I also use services to help me get a tee time. I suggest golfnow.com and savesomegreen.com. They can get you a tee time for a ridiculous price."
I'm a fan of Coronado, the San Diego C.C. and the Grudge Match.
See you in San Diego, just not the week of the Open.
Captions (from top to bottom): My brothers Mark (left) and Sean at my parents' 50th wedding anniversary last year in San Diego; three shots of Estancia La Jolla Hotel and Spa; An aerial of Coronado Golf Course.