News
Euro Tour up-and-comer Sam Horsfield, born in England, raised in U.S., wins first title on his 'home' tour at Hero Open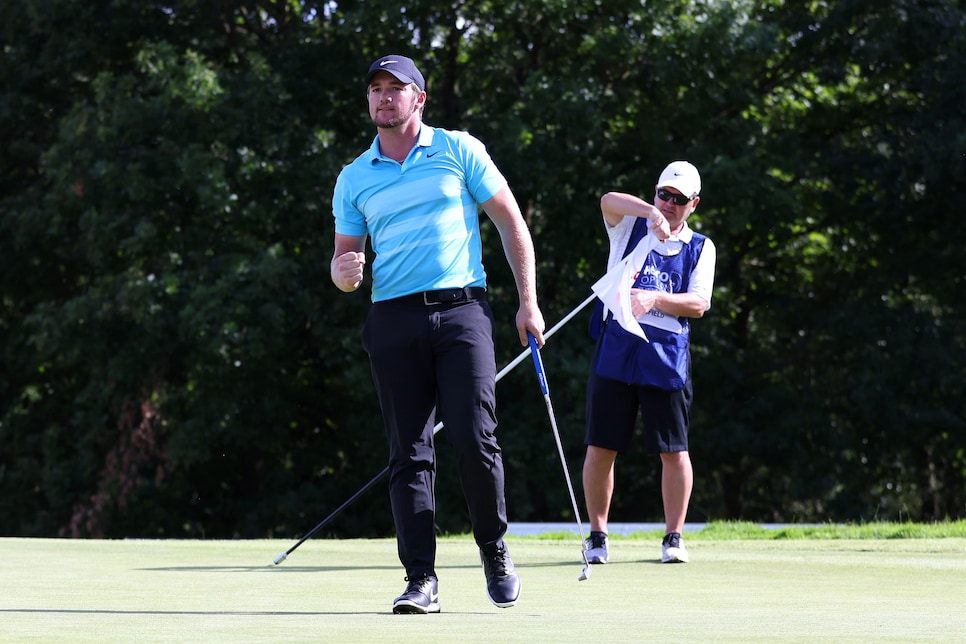 Sam Horsfield celebrates on the 18th hole after winning his first European Tour title, the Hero Open.
Richard Heathcote
You have to go back to last year's Oman Open and Kurt Kitayama's victory to find the most recent American winner of a regular European Tour event (non-major or World Golf Championship). The Californian still holds that mildly esoteric claim to Old World fame, but this week's champion comes close to pushing Kitayama aside. The record book will show that England's Sam Horsfield won the Hero Open at Forest of Arden by one shot from Thomas Detry of Belgium. But any audio of the event will quickly reveal Horsfield's accent is a twang grown in Florida, where the Manchester-born 23-year-old has lived since he was 5.
Whatever, Horsfield's maiden victory on his "home" tour was achieved with a curious mixture of aplomb, alarm and, ultimately, some semblance of serenity. Six shots clear of the field and 18 under par after making his sixth birdie of the third round at the 422-yard par-4 11th, the former Palmer Cup player (yes, he represented Europe against the U.S.) stumbled all the way back to 14 under before getting into the sanctuary of the clubhouse. By the time he signed his Saturday scorecard, his advantage was down to a single stroke.
Ten holes—five birdies, four pars and one bogey—would pass in the final round before Horsfield made it back to 18 under par, his fragile overnight edge doubling in size as a result. That was the good news. Not so cheery was the fact that the 3 he made at the 435-yard 10th was his last dip under par until the 516-yard par-5 17th, a hole Horsfield reached tied with Detry on 17 under the card. The Belgian had actually gotten to 18 under, but a miss from no more than four feet on the final green meant a closing bogey.
Cue the shot of the week, given the context. After finding the fairway with a 3-wood from the tee, Horsfield's 5-wood approach from a slightly downhill lie—Sky Sports on-course commentator Wayne Riley described as "both fluffy and cuppy"—flew the water front and right of the putting surface and finished just off the back edge, no more than 20 feet from the flag. Two putts later the world No. 224 was back (yet again) to 18 under and armed with a vital advantage, one that proved to be just good enough. A two-putt par from 50-feet on the difficult 211-yard par-3 18th saw him round in a closing 68 and, more importantly, over the finishing line.
"I wasn't aware of what Thomas had done on 18 until I got to 17 tee," said Horsfield, a long-time protege of fellow Englishman Ian Poulter. "So I knew we were tied. My caddie and I were like, 'Go do this thing, just hit some good shots coming in.' I wanted to leave myself a good 5-wood number. That is my favorite club. I had 233 yards with the wind into and off the left. So it was playing maybe 245. It was a perfect hold-up, cut 5-wood, but I had to 'man-up' and hit a good shot, which I did. That's my favorite shot in the bag and I executed it perfectly. It was one of the 5-woods of my life."
All of which sounds pretty straightforward. But it wasn't long before Horsfield, who shot a third-round 61 in last week's British Masters en route to a T-10 finish, was showing a bit more emotion. Confronted by a FaceTime link with his mother, sister and grandmother back in Florida as he left the 18th green, Horsfield was barely able to speak.
"That was awesome," he said. "My mom has always told me that she hoped I would be the first person I call after I win. And when I was talking to [Sky's] Tim [Barter] by the green I could hear her and my sister celebrating. So it was pretty emotional."
Speaking of which, a ways down the leader board, Miguel Angel Jimenez rounded off his record-breaking 707th European Tour appearance with a even-par 72 that left the 56-year-old Spaniard at seven under for the week and in a tie for 34th place.